Greek life means more than wearing ancient letters and making shapes with your hands.

Becoming Greek is a "life changing event," said Joseph Oquendo, president of Lambda Sigma Upsilon fraternity.
"First, you gain a second family of individuals who are always there for you," said the senior biology major from Grovetown. "Second, this second family turns into the biggest networking and marketing tool for finding a career path. Third, you gain necessary skills to become successful."
Oquendo said he's gained "countless networks by being Greek," that are mostly exclusive to Greeks.

"Being Greek has made networking easier at career fairs, as you are constantly networking within your organization," he said. "Yes, networking is possible not being Greek but your network will dramatically improve by becoming Greek."
Claudia Shamp, the director of the Greek Life Office, said another benefit of Greek life is the academic support most organizations offer their members.
"Fraternities and sororities keep academic achievement as one of their top priorities," she said. "There's always focus on academic excellence."
Shamp said students in Greek organizations tend to have higher GPAs than those that aren't involved in Greek life.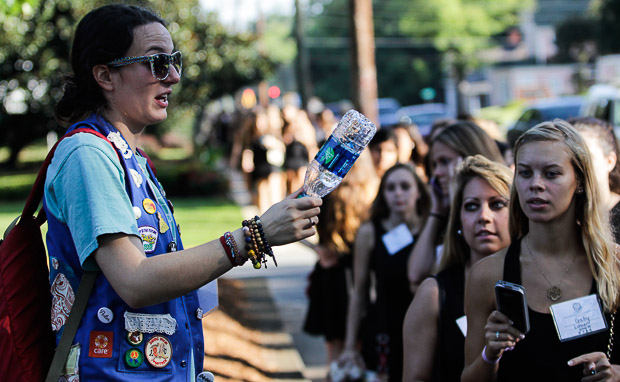 According to the UGA Panhellenic Sorority Grade Report for the Fall 2013 semester, the average GPA of all 6,923 Greek students was a 3.33. The undergraduate average, which is 26,298, for all UGA students was 3.21.

Josh Brito, a junior management information systems major from Washington and president of Phi Kappa Psi, said he became more involved on campus with the help of his fraternity.

"I joined a fraternity because I didn't know anybody at UGA," he said. "When I first came down, I knew it would be a good quick way to make friends and get involved in campus events."

But there are some drawbacks to going Greek.

Leanne Harb, a senior political science major from Johns Creek, said she knew joining an organization was not the right decision for her.
"I don't regret [not going Greek] because it's a commitment I don't have time for," Harb said.
Brito said the time commitment can be a drawback of Greek life.

"[Interfraternity Council] rules state that fraternities can have their new members participating in activities any time between 7 a.m. to 11 p.m. and every fraternity is different," he said. "From what I've seen, usually the bigger the chapter the bigger the time commitment, during the pledge period and once you've become an official brother."

On average, Greek students are expected to contribute two to four hours per week for meetings and mandatory activities, according to the UGA Greek Life website.
Brito said another drawback to Greek life is the expenses.

Students who want to rush IFC have to pay a recruitment fee of about $100 and chapter dues vary by fraternity but they can go anywhere from about $1,000 to $5,000 per semester.
Oquendo said procrastination can become a problem when being a part of something as time consuming as Greek life. He said being Greek requires members to maintain a high GPA while still actively participating in chapter events and meetings.

"The procrastination issue is something that I have witnessed with some of my Greek friends before," Oquendo said. "There's always something that needs to get done, and without proper time management, it can become easy to procrastinate."

Megan Lee, a sophomore film studies major from Conyers, said she was never exposed to Greek life other than what she saw in movies.

"Greek was never really an option for me, even beyond the money aspect," Lee said. "I didn't even learn what rushing was until I came to UGA."

Not being affiliated with a Greek organization gave Lee more opportunities to meet people from different groups and organizations on campus, she said.

"Benefits to not going Greek, at least for me, was getting to meet a bunch of people who, like myself, were just not into the Greek scene," Lee said. "We bonded over other things — shared passions mostly — and I'm really grateful to have met them."
Being Greek-affiliated may not be for everyone, but Shamp said joining a Greek organization, or any organization, varies depending on the student.
"I think that affiliation with organizations is certainly an individual choice," Shamp said.