Miss Sandra makes UGA second home to students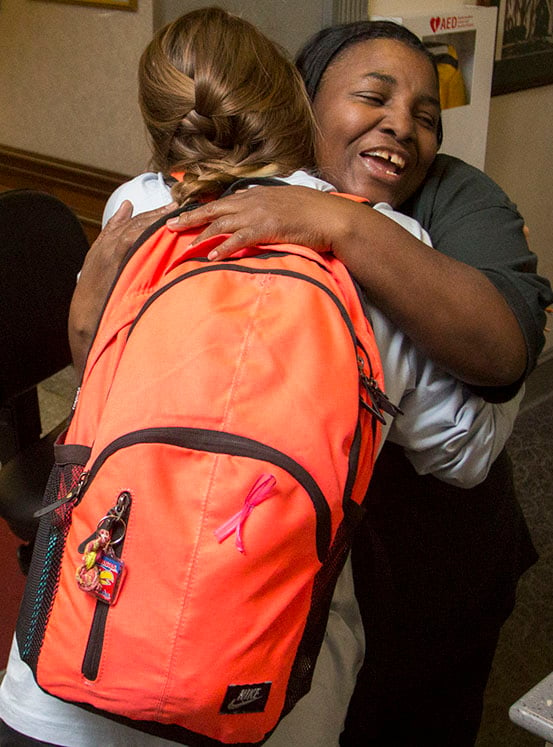 The first time Sandra Patterson meets you, she'll flash you a smile, embrace you with a hug and affectionately call you "baby."
Patterson, a cashier at Snelling Dining Commons, wants all students to feel at home while they're at the University of Georgia.
"I see myself as a mom figure," Patterson said. "When you first come in and you miss your mom so much, I try to fill in some of the roles as the mom. That way, you might get used to being here, and it'll help you get through college."
Greeting about 4,000 students every Monday through Friday, Patterson, known as "Miss Sandra" on campus, doesn't cease being a mom figure after clocking out at 3:30 p.m.
Patterson is a single grandmother who is raising her 9-year-old granddaughter, Dynasti.
Patterson starts her day at 5 a.m. to get Dynasti ready for school, and then she goes to work at a job she holds dear to her heart.
"I see the students like they're my children," Patterson said. "All of y'all are my children. I try to keep you in check, make sure y'all go to class, make sure you come in to eat, and when you do wrong, I'll get on you, too."
Since her employment began 26 years ago, Patterson has loved being a part of the UGA community.
"My experience has been wonderful," Patterson said. "It's been good. Sometimes it gets a little shaky, but it's always been good."
Loved by all at UGA
Students have come to look forward to Patterson's warmth each time they visit Snelling.
"Every time I walk into Snelling, she's always there," said Jordan Dawson, a freshman pre-ournalism major from Stockbridge. "She always greets me with, 'Hi Darling, How are you? How's your day?' And it always makes me feel welcome."
Ladd Morgan said he was taken aback by her kindness when he first visited the dining hall after transferring to UGA last semester.
"She was the first person I saw," said the junior sports management major from Douglasville. "She called me 'baby,' and I thought it was weird at first, but then she went on to give me a hug, and I was like, 'This lady is incredible.'"
Darnell Tate, food operations manager at Snelling, said it's this kind of service that creates the home-like atmosphere at the dining hall.
"[Miss Sandra] has a great smile and an ability to connect to the students," Tate said. "Our students sometimes have better days than others, and when they come in, and she's greeting them with a smile and a "Hi," it's not just a meal we're providing, but we're also providing a little love and compassion."
From Tate's perspective, it's Miss Sandra's consistent warmth that creates this level of customer service.
"Because of the qualities that she brings — the smile, the compassion, the caring, the genuineness — and she's very accurate in her cash register keeping — that's what makes Food Services at UGA what it is," Tate said. "That's what she brings, and she brings it not just once in a while. It's day in and day out."
John Carroll, a sophomore classical culture major from Vidalia, said Patterson has been able to lift his spirits before on a bad day.
"She just gave me a hug and made me feel better about myself," Carroll said. "I think she is one of the nicest ladies on campus and has a big heart. She cares about everybody, even when she doesn't know them."
Jacqueline Van De Velde, a senior international affairs and English major from St. Simons, previously expressed similar feelings for Patterson to The Red & Black.
"I just love [Miss] Sandra," Van De Velde said. "No matter what, she gives me a hug, calls me 'princess' and definitely brightens everyone's day."
Once, students hosted a large surprise birthday party at Snelling for Patterson to return this kindness.
"Cake, presents — it was just such a surprise. It was so joysome. I was crying, I was so happy," Patterson said.
Some students visit Snelling after they have graduated to thank her for being there for them.
"It's been overwhelming," Patterson said. "It's also helped me transition through my life. As you age, you've got this thing going on, so with y'all around, it's more young people for me, so I feel good about myself."
Many students meet Patterson at summer orientation before the beginning of their freshman year, and Patterson said making these students feel welcome is what she loves most.
"That's the best thing about this job," Patterson said. "Without y'all, there would be no job. No, I could've moved along a long time ago, but the students are the best thing about Snelling.
Patterson continues in her role as a motherly figure because the students remind her of her own family.
"When y'all first come in, at orientation, that's the best," Patterson said. "I feel needed. My kids are grown-ups now. They're grown, and they have their families. I'm still needed, and a lot of moms aren't."
Outside of work, she still smiles
This wasn't, however, the job Patterson had in mind for herself growing up.
"I wanted to either work with older kids or younger kids, but I hadn't ever anticipated working with older students," Patterson said. "But I started out at a daycare center. I'd always wanted to work, growing up, to be a teacher or work with students, all my life, probably because I have a big family."
When she isn't at Snelling, Patterson enjoys spending time with her family, often bringing them to events on campus.
"All of my kids love to come to my house," Patterson said. "I like going out to a movie, going to sporting events. A lot of times I'm hanging out here. I take my granddaughter to the gymnastics meets, sometimes we go to the basketball games and I go to some football games."
Her younger sister Kathy Lumpkin said Patterson often refers to the football players as "her boys."
"One time, when we were watching a game, [the football team] was losing," Lumpkin said. "So she called their cell phone, and she told them that they'd better start playing right. And then, they started playing good. They won the game that day."
Even when she isn't at Snelling, Patterson is making a difference in her students' lives.
Lumpkin said she can't go out with Patterson without several UGA students coming up to greet her.
"They'll come up to her and say 'Hey, Miss Sandra,'" Lumpkin said. "A lot of times, she talks about when they give her little gifts and stuff, and she'd be liking that. She talks about how everyone's doing. She just loves her job to death."
Two large families
The students are her second family. And keeping her family close is an important part of Patterson's life.
"My mom passed away when I was 3-years-old," Patterson said. "I was raised by my dad and grandma. And I'm the eighth daughter out of 10, and no brothers. I'm a divorcee, and I have three children and six grandchildren."
Kathy Lumpkin said she and her sisters have had a strong relationship ever since they were children.
"All of us, we grew up together, we were always close," Lumpkin said. "It was just girls, and we did a lot together. She was just as cheerful then as she is now. She ain't changed. That's a loving person. She loves kids. She loves her kids and other people's kids. She takes them in like her own."
Patterson's nephew, Ahmad Lumpkin, said his aunt never fails to get the family together for the holidays.
"She's very family-oriented," Ahmad Lumpkin said. "She makes sure all of us stay in touch and see each other, by having cookouts throughout the year."
And like many students, he sees her as a mother figure.
"She was like my other mother," Ahmad Lumpkin said. "Her and my mom are very close. Her kids, we're actually like brothers and sisters."
Patterson said she enjoys spending time with her family, as often as possible.
"I have a big family, and each one is very important to me," Patterson said. "I try to be there for them and give them support when they need stuff."
When she isn't with her family, Patterson is likely to be at church.
Her faith, she said, is her biggest source of joy in life.
"My God — that's what keeps me happy," Patterson said. "Knowing I love him and knowing he loves me. So with everything else around, he's blessed me with that, so I have no need to be unhappy. I have a job, and people around me that keep me happy."
Always a mom
To Patterson, it's important for students to have a sort of mom figure when they're away from home at college.
"You kind of can grow up without [your mom], but you still need someone here," Patterson said. "And I'm here. If you have a personal problem, I will take time to listen. It helps you out a lot, too. I have heard a lot from a lot of students, personal things people don't know I know."
Patterson said she would take time to help any student who needed her.
"Because if they need someone to talk to, I'm here as a mom, and I listen," Patterson said. "I try to give them advice, and I also listen to what they want to tell me about their lives. Just like your mom, she gives it to you, and you might take her advice or you might not."
It's her love for her students keeps Patterson coming to work each day with a smile on her face.
"I feel so honored that y'all feel that way about me, but I really love y'all, deep in my heart, and I feel like y'all are my kids that didn't get to go to college," Patterson said.
And Patterson returns the sentiments, feeling as though students also brighten her day.
"It makes me feel good that y'all love me like a mom figure. That helps my job around here because I don't think of this as going to work. I think of it as coming to my kids."