Madagascar hissing cockroach races are a more sedate than a horse race and the participants have to be marked so spectators can tell them apart. This was the blustery day filled with entertainment for all viewers at the 29th annual Insect Zoo.
On the mall in front of the University of Georgia's Miller Plant Sciences building Friday, college students, pre-K and kindergarten students and parents alike enjoyed cockroach races, face painting, cricket-spitting competitions and bug-filled snacks.
Marianne Shockley said the zoo is part of her outreach and service learning class and the students in the class host it.
"This is our annual spring event," said the academic professional associate in the entomology program. "The students are getting academic credit for doing these volunteer activities at this specific event. There's a lot of work involved in getting ready for it — promoting it, actually working the event, setting up the event, cleaning up the event. But it's basically just to educate the public and have an appreciate for insects and the arthropod world."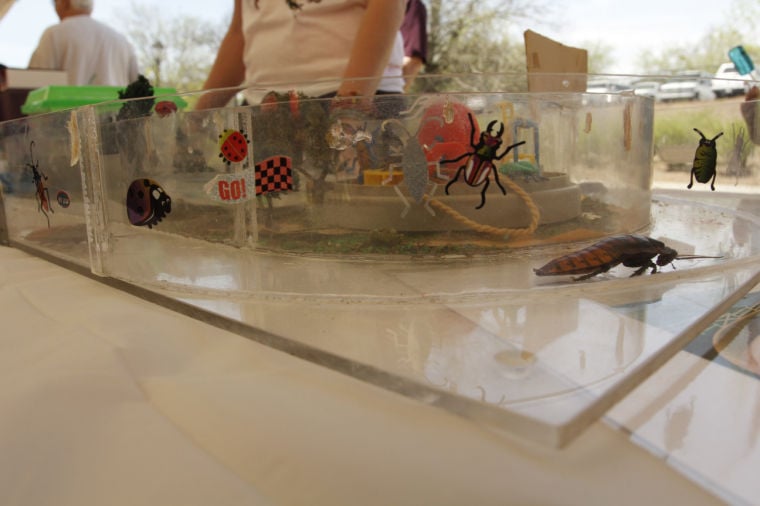 Ellis Lane, a junior risk management and insurance major from Statesboro, and Rachel O'Neal, a senior risk management and insurance major from Eatonton — both in Shockley's class — scooped Dixie cups full of buggy trail mix for visitors to try.
"It's different, the only reason it's weird is because it's different," Lane said. "And that's the reason people don't eat it."
He said some of the younger visitors are hesitant about eating bugs, but others are enthusiastic.
"It's been about 50-50, half of them really want to do it and think it's cool," O'Neal said. "The moms have been a little hesitant, but once we tell them it's good protein then they're all about it."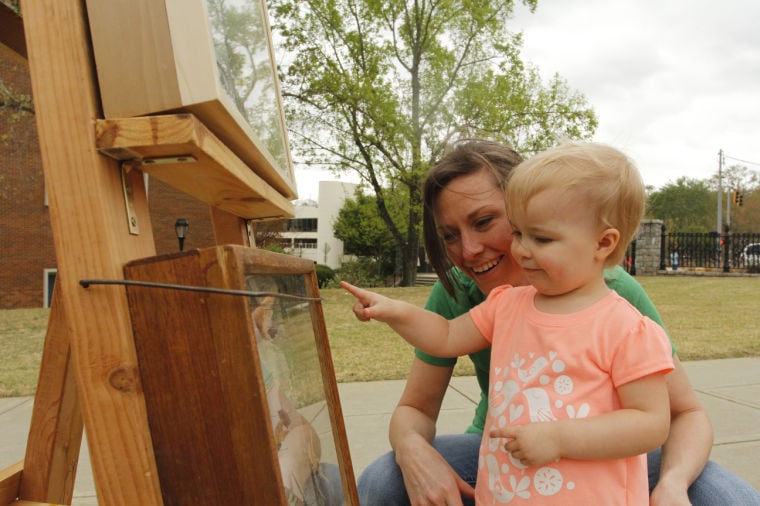 Sherri Turick, while pointing out butterflies in a glass case to her daughter Alessandra, said her family enjoyed having close interactions with the insects.
"We got to hold the Madagascar hissing cockroach," said the DVM with HOPE Animal Medical Center. "[Alessandra] was cool with it. It took a couple of tries, like I held it first and it walked up my arm and then there were a boy and a girl holding one each and then she held the next time."
The next stop for Turick after the Insect Zoo was the College of Veterinary Medicine open house across the street on the lawn of the school — which was filled with llamas, a camel and a bison for the occasion. There was also an event where visitors could watch a sheep shearing.
Celeste Pressley and her son Jackson said it was their first time to the annual event.
"We're part of a homeschool group, so a friend in that told us about it," Pressley said. "We've loved it, this has been neat."
The camel and other exotic animals, such as the bison and a wallaby, were on loan from a farm in Madison, said Ian Trestman, a veterinary medicine student from New Orleans working at the event. The other animals, such as the cows and horses, belong to UGA.
In addition to the animals there was face painting, a cookout and bake sale for visitors to enjoy.
"The food sale is a fundraiser for our class," said Laura Quilling, a veterinary medicine student from Dallas who is on the event's committee. "The big point of it is to raise awareness of vet med and what we do and just get the community involved in the vet school and for us to show why we love our school."