A common way to make pottery is by throwing clay on an electric wheel and then mass producing pieces that look identical. Handmade ceramics are becoming more difficult to find. Maria Dondero and Rebecca Wood are two established artists who truly care about their craft and use traditional techniques to process their ceramics.
The two artists have unique methods which make their works stand out. While both use red clay, neither uses electricity to create their pottery. Wood uses a slab method and vibrant glazes while Dondero uses white slip to glaze every one of her works.
Similar in their thought processes for painting designs, each drawing comes to them naturally without much thought. They love what they do and are charismatic about their work.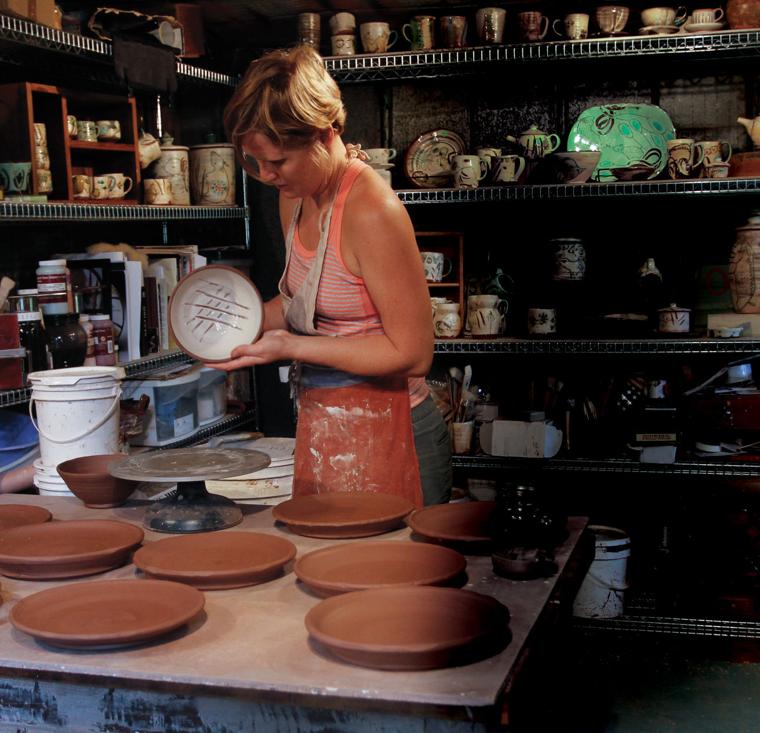 Maria Dondero
Maria Dondero is owner and artist behind ceramics studio Marmalade Pottery. Dondero creates quirky and unique products, each handmade and waiting to be displayed in anyone's home. Scrolling through images of mugs, bowls and plates on her website, a few pieces are accompanied with witty descriptions such as, "If you like furniture (and why wouldn't you really, we all need it) then this is the mug for you!" 
Drawing inspiration from eating, Dondero personally handcrafts her ceramic tableware for customers.  
"Eating inspires me most," she says. " I really love sort of the ritual of drinking hot tea with people and eating delicious food. I think presentation is important to the whole experience."
Born in West Africa, growing up in Atlanta and spending time in Mexico, Dondero has experienced a wide range of cultures and has an appreciation for all things handmade. Dondero took a pottery class with her dad at age 11. 
"It was supposed to be an adult class, but my dad vouched for me and said I would be good," she says. Dondero had no idea that she wanted to do ceramics until she got to the University of Georgia. "In college I just couldn't stop. I just kept staying in the ceramics department," she says.
Straying from the modern technique of using an electric pottery wheel, Dondero chooses to manually spin her pieces with kick wheel. By using her foot to kick a stone that in turn spins her pottery wheel, she is able to have more of an effect on how each piece is made to have its own unique story. Dondero handmakes all of the pottery with the occasional help with glazing from her assistants.
"Handmade objects are important to me. I think they hold a lot of value," she says.
Her pottery is rustic earthenware with soft tones and quirky doodles. "Hopefully, its lighthearted and kind of silly," she says.
Her drawings range from flowers to "spirit animals" to one of her oldest characters, a bicycle with an umbrella inspired by when Dondero went on a ceramics study abroad trip to Japan in her early 20s. 
"I wasn't actually a student, so I wasn't quite fortunate enough to be in the classes, but I was the babysitter for the teacher, and I took care of her one-and-a-half-year-old, so I got to spend five weeks in Japan for free," she says.
Fascinated by the prevalence of ceramics in Japanese culture, she was also amazed with their biking skills. That in turn lent itself to her design.
"We were in Kyoto, and it was a rainy day and there was a woman riding her bicycle through the rain holding both an umbrella and a cell phone," she says. "I was really impressed, and she even stopped at a red light so I just like bicycles and umbrellas together because of that woman."
Dondero tries not to think too much when she's etching designs into her pottery. 
"I feel like what happens is I sort of, when I draw something when I end up liking, I try to not think too much about what I'm drawing, but when something comes out that I like or tells a story or references a time in my life that I want to remember, I just try and incorporate those characters into the language of things I draw," she says.
Not only is Marmalade Pottery functional, but it brings a unique flavor to the home of each customer, providing a bit of Dondero's care and quirk with each piece.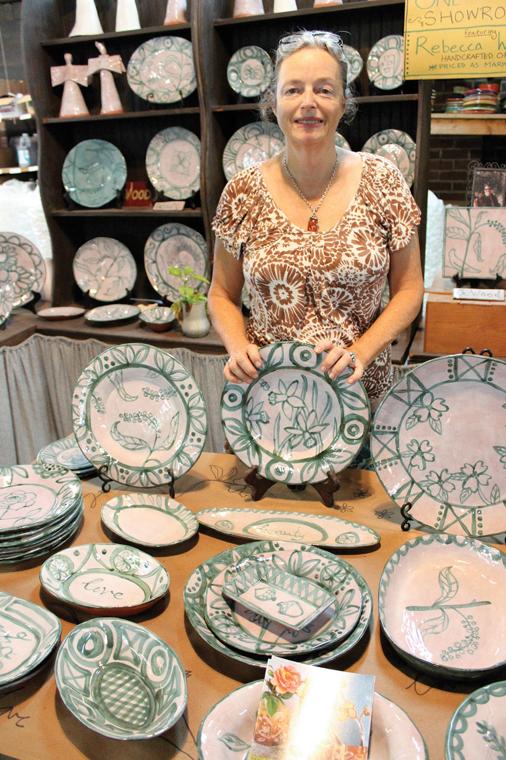 Rebecca Wood
As I'm leaving her studio Rebecca Wood says, "Stay cool!" I'm not quite sure if she means to physically make sure my body isn't sweltering from the July heat or if it is a remark on my character. It's hard to tell because Wood herself is quite cool. She hums softly as she leisurely hand paints designs on her ceramic works. Her calm, laid-back and creative personality shows through in her colorful pottery.
After graduating from UGA with a degree in drawing and painting, Wood had zero experience working with ceramics. 
"I was never interested in pottery because everything I saw at craft fairs was either dark brown or gray," she says. 
Wood's pottery is handmade from start to finish, which she says is something that makes her ceramics unique. Instead of using a pottery wheel, each piece is rolled out into a slab and then shaped into a variety of plates, mugs and bowls. The edges of each piece are cut and smoothed out, dried, glazed and fired in one of the various kilns. 
"There are hardly any 'Made in America' ceramics anymore," she says. "No one is sitting around hand brushing." Selling to stores across the country, R. Wood Studios is the largest handmade ceramics shop in the Southeast. 
Wood is currently working on a seasonal collection that she deems "easier on the eyes." The soft lilac colored pieces designed with dark green patterns are actually glazed with white and black. 
"The glaze is called black ice and it comes out green. I was surprised, but it looks cool!" Wood says. In order to get more depth and texture, she says they will coat the pottery with several different glazes to form new colors. 
Her favorite part about what she does is "hanging out with all the awesome people" in the studio. With several workers helping her shape and glaze the terracotta red clay, she says she never has to tell anyone what to do. They all work on their own time. Wood says, "Everyone is brainy, creative and helpful; we all support each other." She encourages her employees to create their own pieces for sale. 
Wood is also a photographer, blogger and lover of nature. 
"I'm constantly creating," she says. Even when she's not in the studio, she's either on the road to a show, at home painting or drawing or exploring nature. Her blog, Beauty Everyday, is a collection of photographs intended to inspire anyone who comes across them. She has collaborated with photographers Rinne Allen and Kristen Bach, creator of Athens children's craft center Treehouse, on her blog, and together the three artists published a book in 2013. The book, entiteled "Beauty Everyday: A Year of Southern Beauty," features 365 exceptional photographs.
She says the blog gives her an excuse to hit the road. 
"For someone who hates the Internet like I do, I have a lot of blogs," she says before telling me about her side project, Southern Shacks. Wood wants to document the shacks before they are gone because she thinks they help spark creativity. 
As busy as ever, Wood doesn't seem like she's slowing down anytime soon.