It's been a big year for Warehouse. The group first saw a rise in public interest after Deerhunter lead singer Bradford Cox gave the band a shoutout in an interview with musical trend-setter Pitchfork Media in late 2013. Half a year later, the group self-released its debut album "Tesseract" on Bandcamp only for it to be taken down a few months later. And while the album's mysterious deletion shortly after its release worried many, it turned out that "Tesseract" had been withdrawn for a re-release on Bayonet Records, a new label started by Beach Fossils frontman Dustin Payseur—all topped off by a profile from music blog Stereogum earlier this month. With this string of events, Warehouse has deservedly transposed from a local to a national setting relatively quickly.
Assembling on The Globe's stage Sunday night for the group's third performance on a 15-date tour, the Warehouse instrumentalists hardly looked up from their hardware. It wasn't until vocalist Elaine Edenfield stepped up to the microphone that eye contact was made between anyone on the stage and audience members, but even then it was just in passing glances. Even when the performance started Edenfield's body language mirrored that of a young child nervously giving a presentation in front of her schoolmates, with hands clasped behind her and head swiveling in a new direction every few seconds.
Observing its stage presence alone, Warehouse may come across as a band unsure of itself. Their physicality, however, is a juxtaposition to the confidence the group exerts in its sound.
Guitarists Ben Jackson and Alex Bailey's bright chords act as colorful ornamentation for the rhythm section made up of Doug Bleichner's driving percussion and John Hughes' tasteful bass lines. The culmination is a perpetually mobile collage of hues that comes across from Warehouse's impressive sense of balance, something that wasn't always the case.
The post-punk collective's past couple of shows in Athens found the group persistently on the brink of falling apart with every instrument fighting for the limelight, yet never actually collapsing. It was a controlled chaos anchored by Edenfield's voice, altering between a ghoulish growl and piercing caw.
It's been a year since these shows, and like the group's status, it feels as though much has changed in its sound. While all three stringed instruments still refuse to sit still for any amount of time, their blend now shows uniformity and lines up more precisely with Bleichner's pulse. With this in place, Edenfield's dynamic vocals are cushioned by the instrumentation rather than holding it all together—a total shift in where the band's security lies. The result is a tighter, more invigorating Warehouse, something that only came about when the group found a way to tame all of its musically striking members to coordinate for a single sound.
I've always been impressed by the performance it manages to put on, but Sunday night showed a group more polished than I could have imagined would come in just a year's time. Needless to say, it was probably the best show I've seen all year.
Watch out for these guys. I'm sure you'll be hearing much more from and about them soon.
---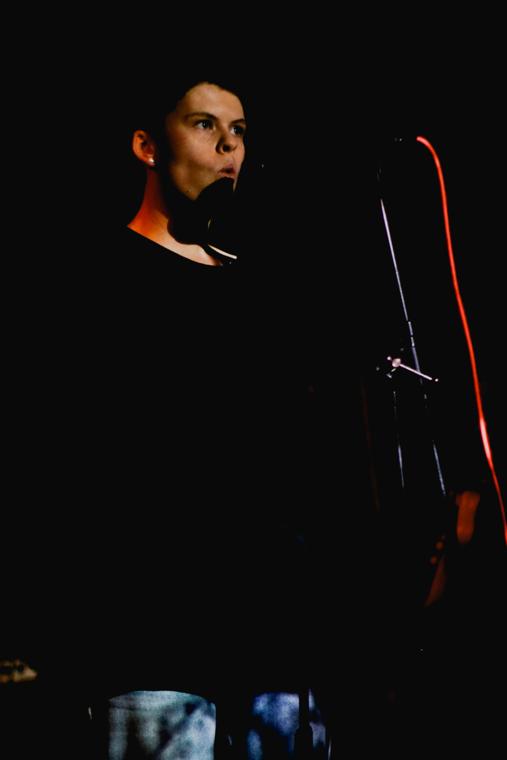 Photo by Emily Schoone
---