Going to a concert and seeing a band perform with nothing more than its instruments is a system unquestioned in music. And why should it be? There's something to be said about an artist's ability to move an audience with music alone.
And yet, there's also something to be said about musicians who go beyond that, taking the chance to step outside of the expressive limitations of music. It's a chance to have further control on audience reaction, a chance to turn a typical concert into an enveloping experience.
Incorporating components beyond audio isn't unusual for Edgar Lopez. In fact, it's hard to call his persona, Ginko, a musical endeavor considering how vital physicality is to the performance art project's success. It's the central reason why he hasn't recorded any music in the act's year-and-a-half lifespan.
"I grew up being a theater kid," Lopez says, "so I really wanted a visual accompaniment with the sounds that I create because I don't feel like my music is very approachable without some visual stimuli."
Lopez's performances are hard to classify, consisting of harsh electronic instrumentation, indiscernible, altered vocals, colorful projections covering the stage, small props, costumes and his Butoh-inspired movements (Butoh is a Japanese style of dance). The many elements form what Lopez describes as a "romantic nightmare," a sensory-overloading musical production with an overarching aesthetic of pain that music alone doesn't express.
"Because it is difficult to understand my lyrics due to how heavily affected they are, I feel that my movements aid in the comprehension of interacting with the sad love child that lives within me," Lopez says.
For Kristine Leschper, expanding on her live production as Mothers, much like her decision to transition from a solo act to a full band, came about from a desire for wider artistic expression.
Earlier this year, Leschper's vision came into fruition with the performance of "In The Evening I am Forgotten," a conglomeration of live music, spoken word, installation, projection and visual performance that explored the human condition — all cohesively orchestrated by Leschper herself.
Needless to say, the emotional production far exceeded the scope of her previous shows as a solo artist, which, though effective, typically consisted of Leschper standing under a spotlight with only a guitar or mandolin to accompany her piercing vocals.
While these performances were always enough make one's heart sink, Leschper has never made as many jaws drop as when she had her own hair cut on stage by one of the show's characters during her solo finale. It was a moment reminiscent of the shows she played independently, but the presence of the masked figure, along with its shocking act of cruelty, heightened the intensity dramatically.
With the addition of anonymous actors donning homemade costumes, specific colors in the lighting, abstract film playing above the band, ivy covering the stage and even dirt to give the room an earthy smell, Flicker was successfully transformed from your typical Athens venue into a moonlit forest. It was an aura Leschper was able to create only with the addition of physical elements.
"I like to pull a lot of imagery into [my songs] and give the listener kind of a visual experience, or at least I try to, and so it just gave me a way to do that more physically and kind of require the viewer to feel a certain way because I was putting this image in front of them," Leschper says. "I think it just makes it an immersive environment, and that's what I was trying to do with the visuals ... make the experience unavoidable, like you're just inside of it."
William Kennedy, who was part of Mothers' "In The Evening" success as the video editor and light operator, too, understands the importance of audience captivation. Though predominantly known as the keyboardist of Reptar, Kennedy plays an enormous role in his own band's visual presentation for live shows.
---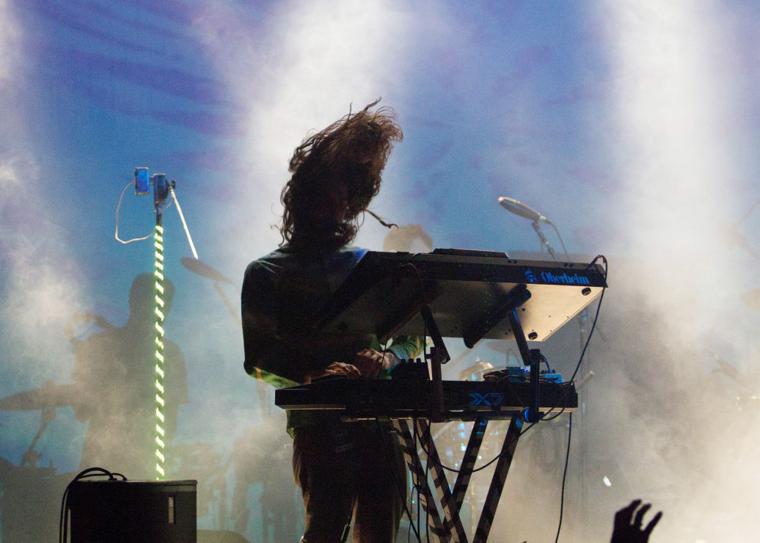 Photo by Mercedes Bleth
---
For instance, the group's performance at the 40 Watt this past New Year's Eve featured dancing windmill type structures covered in LED lights of Kennedy's design. With them, he was able to control everything from light color to the angle at which the rods spun, adding a wild visual component to Reptar's equally as exuberant music.
And though it may not seem like much — especially considering some of the more dynamic visuals Kennedy has created, including a functioning dumpster-turned-synthesizer — being in a band for years has taught Kennedy that audiences tend to grow tired of the typical live set-up.
"But if you add a visual element or something that you've thought of to go with your band, complement it, you're creating your own environment for people to exist in for this short moment," Kennedy says. "And that's the idea — get people totally in that moment and not be on their cellphones or whatever, just be part of the music, be part of what's happening visually."
From the minor visual touches Kennedy incorporates into live shows to the encompassing environments created by Leschper and Lopez, giving more than just the music audiences have come to expect can create an unreplicable atmosphere. It's an extension of expression that benefits both the artist in what they are trying to convey and the audience with a chance to witness not just a concert, but a performance.
"The music is going to be there and it's going to be great, but then to have other elements that are unique and creative that you couldn't see anywhere else — you can't listen to the album and get that," Kennedy says. "You have to come to the show and see that."