You've heard of Frat Beach on St. Simons Island, where students partake in an all-day drinking festival the day before they head to Jacksonville for the Georgia v. Florida game. But you may not know about "Redneck Beach" that stars a sweet waterfall, swimming hole and rope swing and the best part is that it's right here in Athens.
If you have never explored behind a run down gas station or stood under leaning, rusty water towers you're missing out. Across the street from Athens Ridge, behind a dilapidated gas station there is a trail that leads to an Athens gem. If you hike about 2 or 3 minutes down the trail you will quickly come across a waterfall and swimming hole. Undiscovered by many until recently, this is one of the best places to de-stress, go for a swim or get your tan on. Bring your dog! If you don't have a dog, bring your roommate. No roommate; no problem…grab a six-pack (if you're legal that is).
Recognize these falls yet? Have you seen "The Spectacular Now"? If not, let me give you the run down. Basically it stars the beautiful Miles Teller who falls in love with Shailene Woodley and takes places in our wonderful city. You probably won't find Miles at Redneck Beach now, but it's worth a shot. If you don't know what I'm talking about, just Google "The Spectacular Now waterfall" and Miles will appear holding a red solo cup with this glorious waterfall in the background. So let's look at the positives: you can bring your dog, drink beer and Miles Teller has set foot on this sandy embankment where you are about to tread. You have no reason not to go now!
---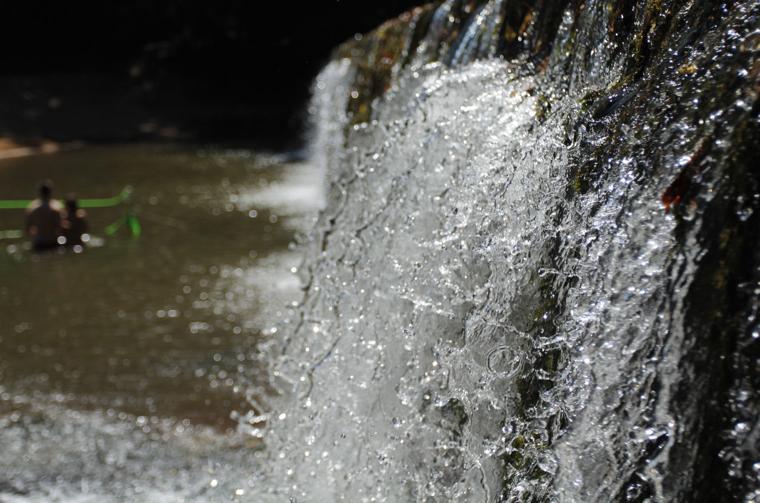 Photo by Kaitlin M. Kent
---
Directions: Put Athens Ridge in your GPS. Park at the realty office across the street and then carefully dodge traffic. Hop over the guardrail, past the gas station and walk straight to the woods (with the gas station being on your left). Cross over a small black plastic fence and follow the trail.
Best days to go: Weekdays are the best times, especially in the mornings if you don't have class. The crowds come in on Saturdays and Sundays no matter what the weather is doing.