Before starting the June 5 mayor and commission meeting, a seat that's been vacant since February was filled by a first-time politician and progressive Athens leader: a foreshadowing of what the new commission will look like when the rest of the winners of the May 22 election will be sworn in.
Mariah Parker took Harry Sims' District 2 commission seat, a spot that was up for a special election because Sims resigned to run for mayor, which is why she was sworn in so soon and her signature 'fro can already be found under the commissioner biographies on the Athens-Clarke County website. 
"I went into it curious as to what to expect regarding the dynamic between myself and othe other commissioners, and I learned a lot that evening and feel a lot more prepared after experiencing that to do my job well moving forward," Parker said. 
The election was a sweep for the progressives of Athens, with every single winner being endorsed by the left-activist organization Athens for Everyone, including mayor-elect Kelly Girtz.
Welcome Mayor Girtz
Girtz went home with 60 percent of the votes on May 22, surpassing Sims' 30 percent and Richie Knight's 9 percent.
"You have blessed me with the opportunity to fill this seat, but this seat does not belong to me. This seat belongs to each and every one of you," said Girtz at his watch party at Little Kings Shuffle Club. "This is your seat, this is your town, this is your time."
While the crowd at his party was obviously ecstatic about the news, not everyone is happy with the results. 
Mayor Nancy Denson, who endorsed Sims, is worried that Girtz will not represent all of Athens.
"My concern about this election is that Athens for Everyone, which is what they call themselves, basically just swept the board," Denson said. "I personally don't believe that's the voice of all of Athens. That's the voice of a very loud, relatively large group of people, but I don't think they represent all of Athens."
---
"You have blessed me with the opportunity to fill this seat, but this seat does not belong to me. This seat belongs to each and every one of you."
- Mayor-elect Kelly Girtz at his election party 
---
Sims was the more clear choice to her because of his moderate views and long experience in Athens politics, which dates back to before Athens-Clarke County unified its government in 1990. 
"Mr. Girtz is a great, charming man," Denson said. "He's energetic, he's smart. I don't think he's going to come in here and wreck Athens by any means."
Girtz has served as the District 9 commissioner since 2007 and currently still sits in City Hall as he awaits for his seat to be moved to the middle come January. 
In a previous interview with The Red & Black, Girtz said he plans to focus on inclusion and opportunity as mayor by working specifically to combat "this persistent poverty that has plagued Athens for nearly all its life." 
"I am looking forward to drawing people together in common cause for equity, for housing needs, for economic development and job creating," Girtz said at the watch party. "That's the biggest set of things I am thinking about right now."
In January, Parker predicts that her and her fellow commissioners will have to push Girtz further left, and she's "optimistic about his willingness to entertain these conversations."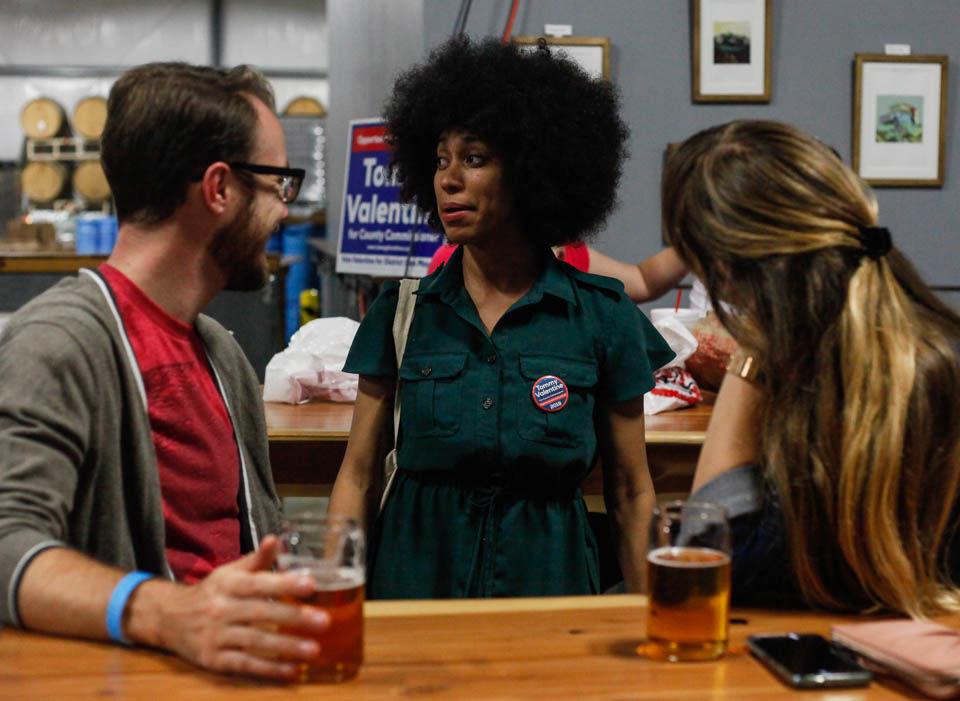 New commissioners
Whereas Parker was lucky to be able to start her position right off the bat, others still have to bid their time before taking a swing. 
After one meeting under her belt, Parker found the current commission "unwilling to engage in hard conversations about the community moving forward."
Parker looks forward to working with the commissioners-elect, who she said have already been having these hard conversations with people in the community for years through their activism and campaigning. 
Patrick Davenport will represent District 1, Melissa Link will continue to serve District 3, Tim Denson will represent District 5, Russell Edwards will represent District 7 and Ovita Thornton will represent District 9. 
All except Link are new to the high seats in City Hall and Thornton is the only other with experience in the policy-making of Athens-Clarke County government by her involvement as a Clarke County School District Board of Education member for 15 years.
---
"Mr. Girtz is a great, charming man. He's energetic, he's smart. I don't think he's going to come in here and wreck Athens by any means."
- Mayor Nancy Denson
---
While they may not yet know the nuts and bolts of governing, the others are no strangers to the government's effects on the community. 
Specifically, Parker, Denson and Edwards have made their voices particularly loud from the sidelines. 
Parker was the former campaign manager of Tommy Valentine, a fellow Athens progressive, before choosing to run herself. She is also involved in the hip-hop scene as Lingua Franqa and could be spotted attending numerous protests, including the Women's Marches. 
Tim Denson is the founder of Athens for Everyone, a title that speaks volumes about his viewpoints and activism, and Edwards has acted as a liaison between the business and political communities of Athens, including speaking out about the Clayton Street renovations timeline.
Parker pointed out the new commission will have three black members, a variety of ages and different socioeconomic classes represented in January. 
Meanwhile, the progressives of Athens are continuing their goals to evoke change, with Parker noting that her and former progressive commissioner candidate Valentine want to keep the people previously involved in their campaigns politically active. 
---
 Ashley Soriano and Maggie Holland contributed to this article.