After more than a year of disputes among community and district leaders, the Clarke County School District Board of Education now faces a massive test with implications for the district's reputation and students: the accreditation agency is coming.
Accreditation agency Cognia, formerly AdvancED and Measured Progress, will investigate potential standard violations filed against members of the board by outgoing Superintendent Demond Means on Jan. 26-28.
The education nonprofit assesses and accredits more than 30,000 schools and districts to help them maintain standards through third-party quality control evaluations and assistance, according to Cognia's website. It notified CCSD about complaints in August 2019.
Cognia does not disclose who files complaints nor the exact nature of the complaints, a spokesperson for the company said. However, Means provided documented evidence about the allegations and formally requested a special review on Sept. 13.
"The situations involving specific board members demonstrate that the current situation in the district is dire, and intervention from AdvancEd is necessary to make significant and sustainable change in governance protocol," Means wrote to Cognia.
After this letter, Cognia noted five standards CCSD may be violating, three of which point directly to strife among governing leaders. The other two violations regard whether or not the district produced "equitable opportunities" for students and data showing student improvement.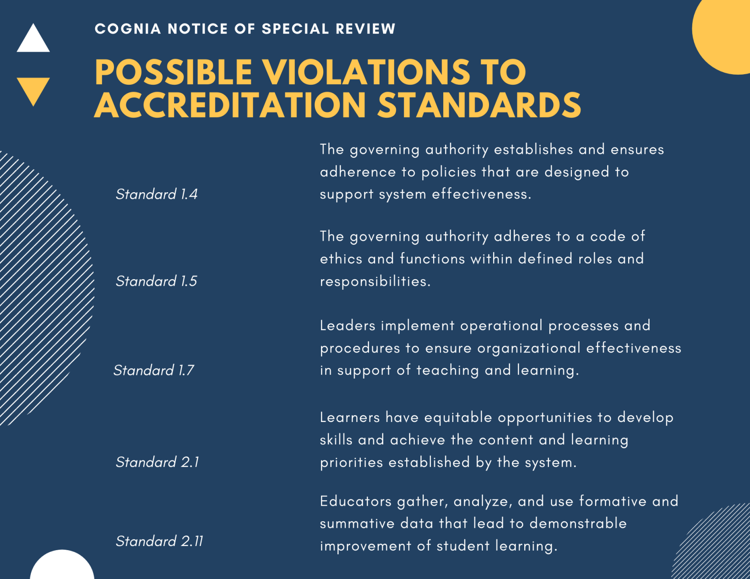 "In addition to our ongoing training through the Georgia School Boards Association (GSBA), the members of the Board of Education embrace this opportunity to improve its effectiveness," said LaKeisha Gantt, school board president, in a statement. "We will accommodate and support all aspects of the review."
A 'dire' situation
In his September letter, Means provided evidence to show board violations. In the December 2019 notice of special review, Cognia noted that more complaints had been filed with the agency after the initial one in August, which may explain the two other alleged violations.
---
"At no point was I intending to demean or mistreat the Superintendent."
-John Knox, Board of Education member
---
Means pointed to District 1 member Greg Davis and District 8 member John Knox for not cooperating with a teacher hearing and District 9 member Tawana Mattox for "micromanaging" Means' authority.
Means said emails from Mattox about her concerns of hiring people outside the district were "an indirect form of micromanagement."
Means said "special interest groups" in the community have opposed his reforms since he started in May 2017. Means sought to increase student achievement, close racial achievement gaps and ensure educational equity.
Means expressed further concern to the board president in May 2019 regarding a meeting he had with Knox. He said Knox made "attempts to intimidate me in performance of my responsibilities." Means said this complaint about Knox to the board was never addressed.
However, Knox remembers the meeting differently and said he only wanted to take on the role of adviser, refuting the claims of the Cognia complaint.
"I praised the Superintendent for his decisions regarding several principals, but I felt duty-bound to indicate some possible consequences in the event of another principal's loss," Knox wrote. "At no point was I intending to demean or mistreat the Superintendent."
What is a special review?
Representatives from Cognia, who include trained educators and administrators, will come to CCSD during three agreed-upon dates to investigate these violations. CCSD is responsible for all costs, which include a $4,200 fee and all travel costs.
The team will investigate any violations to Cognia's accreditation standards or the board's own policies by conducting interviews and reviewing evidence, a spokesperson said in an email.
If violations to these standards are found to be severe enough, the special review team could withdraw CCSD's accreditation. There were devastating effects for Clayton County in 2008 when the district made national headlines because it lost its accreditation due to dysfunction on the school board.
When a school or district loses accreditation, it can make it harder for students to attend college. Applicants from non-accredited high schools can apply to a University System of Georgia institution but may demonstrate certain USG requirements in other ways, per USG policy.
Loss of accreditation has a domino effect in the community because parents who are financially able may move away, and the loss leaves a lasting ding to the district's reputation.
However, revoking accreditation is a last-resort move. In 2017, the Savannah-Chatham County Public School System faced similar alleged standard violations as CCSD and hosted a special review from AdvancED, which has since become Cognia.
The special review report outlined "Improvement Priorities" and set up a monitoring review to see the standards are met with the district's accreditation remaining intact.
Drama in the district
Despite Means's assurance in his September letter to Cognia that his office and the board were in the process of reconciling their problems, the district's current upheaval doesn't reflect any changes.
That November, Means publicly complained about how the board handled ethics complaints filed against him to the Professional Standards Commission and indicated he wanted to leave the position.
He then retracted his statement, but the board went into closed-door meetings in early December, resulting in him being placed on administrative leave and his chief of staff Xernona Thomas filling his place as interim superintendent.
Disagreements spawned over his tenure regarding his hiring picks, implementation of the AVID program and renovation plan for the West Broad Street School property. Means said his Cognia complaints "do not capture the totality of the situation the Office of the Superintendent has been subject to since July 2017."
Once Cognia reviews the district, the company will release a report outlining its findings and the next steps CCSD should take to get back on track.
---
Correction: A previous version of this article misstated the year Clayton County lost its accreditation. The Red & Black regrets this error and it has since been fixed.