The Athens-Clarke County Police Department made headlines last year, capturing state-wide attention for a series of controversial events. A local officer fired for excessive force and later exonerated, a 10-year-old boy restrained to the ground by another officer and the dismissal of the city's police chief — all within a span of four months — left the community in a state of uncertainty.
After former Chief of Police Scott Freeman was forced to resign by ACC Manager Blaine Williams in September, Williams set an extensive search and selection process in motion for a new chief by 2019.
Right on schedule, Cleveland Lee Spruill, Sr., former chief of police from Huntersville, North Carolina, was selected and will start his duties on Feb. 4.
"I think I have all the qualifications, and I see Athens-Clarke County as an opportunity for me to use some of the tools that I have to improve the police-community relationship, to reduce crime and to build trust between us," Spruill said.
---
"I am a different chief than the previous chief. What happened between the last chief and the rank and file is in the past, that's in the rearview mirror."
-Cleveland Lee Spruill, Sr., chief of police
---
As an avid football fan with family in Atlanta, Spruill is excited to begin his position in ACC. He believes Athens is an "up-and-coming community" with opportunities for economic growth, a "high functioning" police department and a strong understanding of the importance of a police-community relationship.
Coming from Huntersville, North Carolina, — and Alexandria, Virginia, before that — Spruill feels prepared for the transition.
He will be relying on existing officers and department personnel to provide "historical knowledge" of the community. He said the first three to six months will involve lots of listening, both to his staff and community members.
His internal access to the scope of this "historical knowledge" is more narrow now due to the high turnover of ACCPD officers in the last six months.
According to ACCPD documents from an October investigation, 44 individuals left the force in 2018. Of those, 15 left in August and September alone.
According to exit interviews from some of the officers who resigned in 2018, staffing problems, promotional issues, benefits, pay and lack of support from the county and the community were all issues that contributed to their decision to leave the department.
But low morale wasn't isolated to the police department.
At a town hall meeting at Hendershot's Coffee after Freeman left, District 5 Commissioner Tim Denson, Athens Anti-Discrimination Movement president Mokah-Jasmine Johnson and others voiced concerns of police-community relations.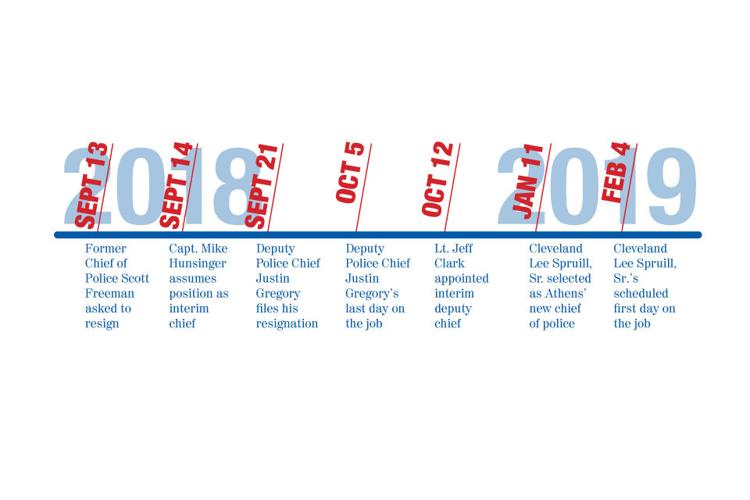 "There are deeply-rooted problems that existed before Freeman and will continue to exist after if we don't find a way to collaborate and find mutual grounds of understanding," Johnson said at the October meeting.
Similar to the worries voiced at the town hall meeting, Spruill recognizes that in Athens, and across the nation, there exists a "sense of anxiety" regarding law enforcement, especially coming from communities of color that experience disproportionate levels of police violence.
In light of this, one of Spruill's core goals is to improve and maintain effective communication and partnerships with the community to build trust.
"The way to do that is to engage the community, be out in the community, but also to educate the community about what our policies and procedures are, why we do things the way we do them," Spruill said. "Then to involve the community in helping us to build or change policies so that they are viewed as more fair to the communities that we serve."
Looking forward to February, Spruill has chose to look past the events that set the stage for his employment in Athens.
"While I'm aware of what went on in the past, I can't spend a whole lot of time worrying about that. I've got to spend my time and focus on the future and what's in front of me," Spruill said.  
If the shoe fits
In order to select a new chief of police, Williams said ACCPD contracted assistance from the International Association of Chiefs of Police, a nonprofit organization for the advancement of law enforcement professionals. Final candidates for the job went through experience training, and Williams said Spruill received the highest scores. 
Williams also released a public survey asking community members to provide input on the new chief's selection. He received around 150 responses, a small number compared to the ACC population estimate of 125,691.
---
"While I'm aware of what went on in the past ... I've got to spend my time and focus on the future and what's in front of me."
— Cleveland Lee Spruill Sr., chief of police
---
After narrowing it down to four finalists, Williams picked Spruill as the best fit because he believes Spruill's diversity of experiences will help him connect with all members of the Athens community, no matter their age or political stance. Williams said "one thing that ran true" was Spruill's obvious "personal connection" with the officers from the Huntersville Police Department.
"That's the type of thing I think we need right now in the police department," Williams said.
The ACCPD has a Community Outreach Division whose members organize events focused on improving the relationship and communication between law enforcement agents and community members. However, a triad of local groups –– Athens Anti-Discrimination Movement, Athens for Everyone and Athens Immigrant Rights Coalition –– released a petition after Freeman's departure asking for more specific, tough policies to tackle what they see as unjust over-policing and lack of transparency. 
"It takes more than just the barbecues. It takes more than just the friendly photos. It takes you challenging the current system," Johnson said on behalf of AADM regarding establishing trust between community members and officers.
Johnson and her organization have been a vital force behind community conversations surrounding local law enforcement. 
With the selection of the new police chief, Johnson said AADM will continue to try and foster communication with ACCPD as well as encourage as much community engagement as possible. 
"Anyone that comes to Athens taking on a leadership role has to be willing to engage with these people that are on ground level, not just on a government level or on a corporate level, that are trying to make a difference in this community," Johnson said. 
Also included in the petition is the creation of a Citizens' Police Accountability Board, an entity of community members focused on monitoring and making decisions regarding police department operations. A4E board member Briana Bivens said the groups will continue to ask for this. 
Bivens hopes Spruill considers the "ills of the past" in his decision and policy making in order to properly "confront our history as a community," specifically regarding policing in disenfranchised communities. 
Turning the page 
Johnson thinks a new direction for ACCPD officers is necessary to move forward and create coexistence between police and the community. 
However, she hopes Spruill is "someone that is not afraid to do some of the things that Chief Freeman did," like attending local forums and meetings as well as helping host the first Athens in Harmony, a concert aimed to "break racial barriers," Freeman said at the 2016 event. He continued to attend through 2018.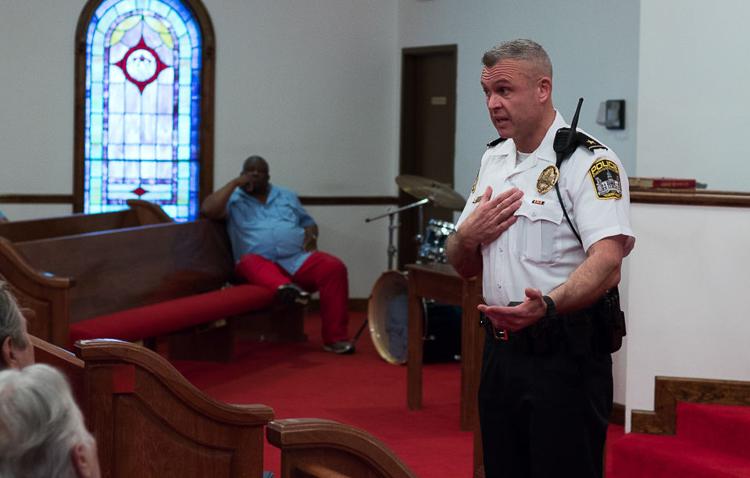 Spruill wants to make sure ACCPD officers are "skilled enough" to navigate difficult situations, specifically those involving racial tensions. He plans to bring a new attitude to the police department. 
"I am a different chief than the previous chief. What happened between the last chief and the rank and file is in the past, that's in the rearview mirror," Spruill said. "What I can tell my officers and my civilian employees is that I will be committed to looking out for them, making sure they have their training tools and resources to do an effective job."