The state of Georgia has been holding its breath since the night of Nov. 6 when neither Republican Brian Kemp nor Democrat Stacey Abrams definitively took home the title of Georgia governor-elect. While Kemp has declared victory, resigned as Georgia Secretary of State and begun his transition, Abrams has yet to concede, claiming more absentee and provisional ballots have not been counted.
Thousands of votes have been counted since election day, but as of press time, Abrams still needs more than 18,000 votes to force a December runoff, according to the Atlanta-Journal Constitution.
Georgia law mandates a runoff must occur if no candidate receives more than 50 percent of the votes — Kemp has 50.23 percent as of press time.
In the midst of accusations of voter suppression and multiple lawsuits, ballots have been reexamined and recounted, including in Athens-Clarke County.
---
"This is about the integrity of our elections"
— Jesse Evans, Board of Elections member
---
On Nov. 13, ACC finished recounting absentee ballots and uploaded its official results to the Georgia Secretary of State's Office. The uploading finished around 6 p.m., an hour after the deadline mandated by state law. On the morning of Nov. 14, the results were given to Georgia State Patrol to be taken to Atlanta.
Additionally, 25 fewer ballots were counted for the eight precincts that were initially recounted, though the board went on to recount all 24 precincts. In each of the eight precincts, at least one fewer ballot was counted in the recount than in the unofficial totals as of Nov. 12. Precinct 3A was the largest difference, with 10 fewer "cards cast," according to election summary reports.
Chaotic counting
At a Nov. 12 meeting attended by many community members, a decision was made to recount the precincts' ballots after an unexpected presentation of petitions by ACC Board of Elections member and Cedar Shoals High School teacher Jesse Evans. The petitions had been filed under a Georgia statute titled "Recount of recanvass of votes" (21-2-495) alleging provisional and absentee ballots were counted incorrectly.
"This is about the integrity of our elections, this is about what the voters in our community want," Evans said at the Nov. 12 meeting. "If you choose not to do it and not to try, then basically you're throwing these back in their faces. That's what you're doing. And you're saying that they don't matter."
Board Members present at that meeting — Chairman Charles Knapper, Vice Chairwoman Michele Simpson and Evans — made the decision to move forward with a recanvassing, or recounting, of votes for the eight precincts that put forward petitions.
Questions of legality
The BOE missed the 5 p.m. deadline on Nov. 13 due to a decision made in the afternoon to hastily recount all paper ballots for all 24 precincts, not just the eight. The decision was made after a 2 p.m. meeting of the Board. The 2 p.m. deadline had originally been self-imposed to ensure the Board certified the results so they could be uploaded to the Secretary of State's office before 5 p.m.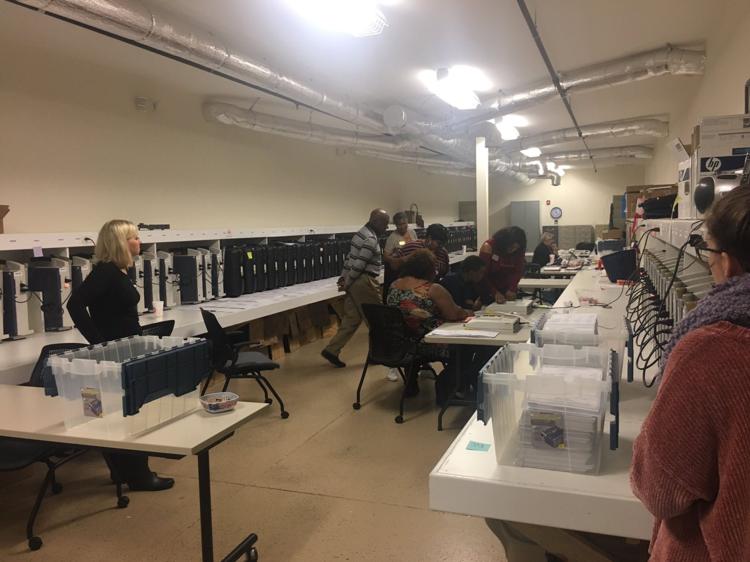 A quorum, or three members of the Board being present, was required to certify the results, but only Evans and Knapper were available all day on Nov. 13. BOE member Allison McCullick had to leave after 2 p.m., hence the deadline. Simpson was with her husband who had a medical procedure in Atlanta that morning, and Secretary E. Walter Wilson was out of town.
The failure to upload results in time violated Georgia statute 21-2-493, which lists the 5 p.m. deadline.
"That's the concern I've had all along," said William Berryman, ACC attorney on Nov. 12 as the petitions were being debated. "You're trying to do something on the fly, and if you don't have all your poll workers here, you don't have a quorum, if you haven't given your notice right … Are youmaking the process more vulnerable than it was before?"
Charlotte Sosebee, director of elections and voter registration for the BOE, said failing to submit the results by 5 p.m. would result in the Board having to go before the State Election Board and could expose ACC to fines.
"This is what happens when you rush," Sosebee said on Nov. 13. "You've got to take your time."
A ruling from a federal judge on the morning of Nov. 13 said the Secretary of State's Office could not certify results statewide until Friday, Nov. 16, instead of Wednesday, Nov. 14, but counties were still beholden to the 5 p.m. deadline on that Wednesday.
Both the electronic upload and physical delivery of the certified results on Nov. 14 are legally required by the state.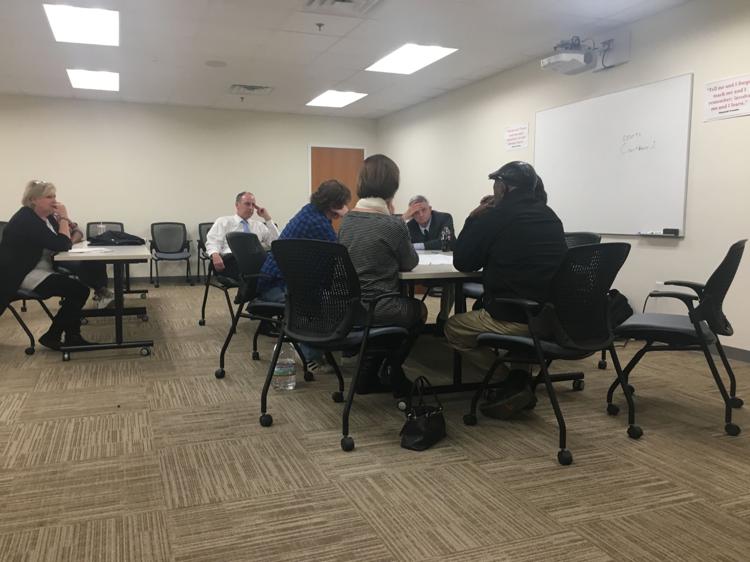 Knapper and McCullick, who had returned shortly after 6 p.m., both signed a document certifying the results. Evans, the only other member present, refused. 
Evans said "a series of events that unfolded" on Nov. 13 made him lose confidence in the recount process. He believed the recount was not conducted carefully enough and potential discrepancies between the unofficial and the recount numbers were not made available for other precincts which were recounted at the last minute.
"You will bear the responsibility of not signing," said Berryman to Evans. He reiterated the consequences of not certifying the results and later added if the Secretary of State's Office asks why the document only has two signatures from Board members, "We will ask you to go to Atlanta and explain."
"We're looking at numbers on a page — that represents the votes of people in our community," Evans said after the Board adjourned. "I've got the county attorney coming after me in [the Nov. 12] meeting and [the Nov. 13] meeting."
More questions than answers
It was unclear why 25 fewer ballots were counted in the recount, although board members and staff said it may have had something to do with optical scanners misreading or incorrectly counting the paper ballots.
In addition to the discrepancies from the recount, 43 provisional ballots were presented by the 7 p.m. deadline on Friday, Nov. 9 for verification. These 43 ballots had been cast in the wrong precinct, Sosebee said. The ballots were accepted, with two pending ID verification. Those two voters never came in to verify, Sosebee said. In fact, she said no voters who cast provisional ballots came in to the BOE to verify their information on Friday or when the deadline was extended to Monday.
From the original count, 161 other provisional ballots were rejected because of five different reasons, including registration in a county other than Athens-Clarke, voting inactivity for two consecutive elections, lack of registration at voting time and the inability to identify a voter.
"We gave the people what they wanted," Sosebee said shortly before the Board and its staff failed to meet the deadline. "We're taking the bullet."