"Not our p***!" "My body, my business!" "Stronger together!" "Not my president!" These are just a few of the chants that have been ringing out on East Broad Street tonight.
Around 60 anti-Trump protesters have gathered at the Arch at the University of Georgia since 6 p.m. Wednesday, Nov. 9.
Three girls huddled together in a LGBTQ flag surrounding them as the night grew colder: Jessi Riley, a senior English major from Woodstock, Madison Olds, a junior biology major from Kennesaw, and Alexandria Talley, a junior avian biology major from Germany who moved to the United States for college — her parents are American.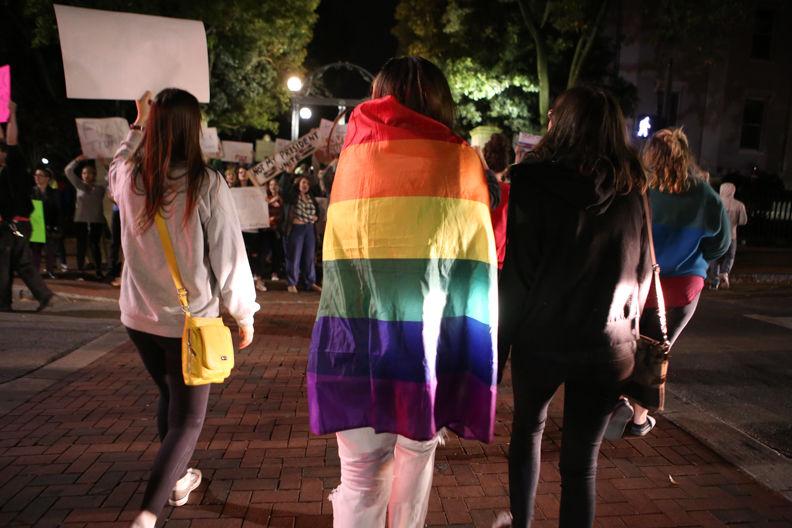 Olds and Riley wore t-shirts with the words "To Write Love On Her Arms" which represents a campus organization that dedicates itself to finding help and giving hope for people struggling with depression, addiction, self-injury and suicide.
Talley had decided to come to the rally because of a tragic event the previous night.
"One of my really close friends actually committed suicide last night mostly because of the election," she said. "It makes me feel better [to be at the rally.] It makes me feel like I'm doing something."
Many brought signs with them that had sayings like "F*** Trump" and "Hitler was elected too" written on them.
Students that attended the protest who were immigrants or whose parents were immigrants said they were worried about their safety in Trump's presidency.
Fernanda Carbonell, who moved from Chilé when she was 2, and Suman Barat, who moved from Bangalore, India when she was 4, were protesting together.
"I'm just here to stand up for who I am as a person just because Trump has degraded females, hispanics and immigrants and I fall into all three of those categories among many other categories of people that he's degraded who I would like to stand up for," Carbonell said.
"I'm here for everyone who is feeling scared today and has felt scared for so many years. So I think it's just important to know that people haven't been angry just now, they've been angry for a long time," Barat said. "I'm here to just stand up for everyone that's been mad."
Counter protesters and spectators stood nearby making comments about how ridiculous the gathering seemed. As people drove by in cars, many honked in solidarity, but others revved their engines and spewed smoke out of the tailpipes while yelling "Make America Great Again."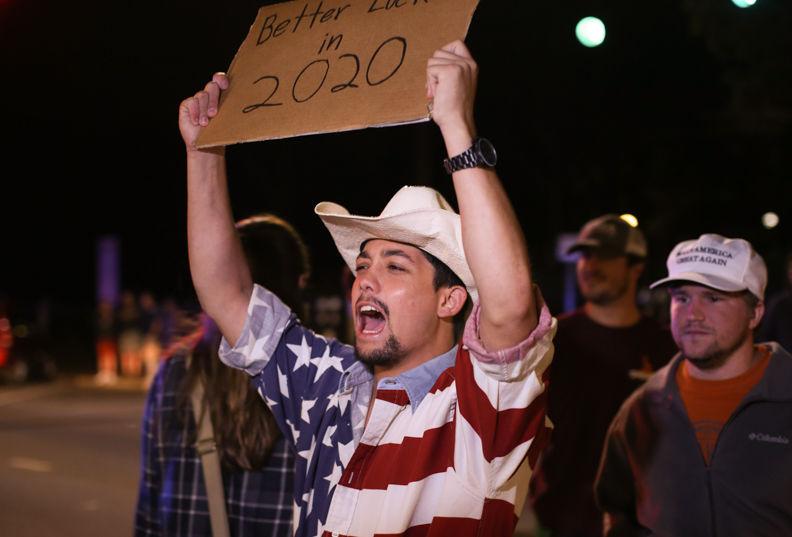 Some of the counter protesters said they just weren't sure what good any of this was doing since the president had been chosen and the election over.
"I think what's done is done and there's nothing you can do to change it so why not just accept it and everyone be unified." said Lucas Mason a freshman English major from Houston, Texas.
The anti-Trump demonstrators got ahold of a plastic Trump flag or sign and lit fire to it. The police were nearby and as the flame got smaller they put it out with a cup of water.
Many of the spectators stood off to the side and talked among themselves. A group of three men that appeared to be UGA football players, offensive lineman Ben Cleveland, fullback Glenn Welch and center Brandon Kublanow, stood back and watched as many others did.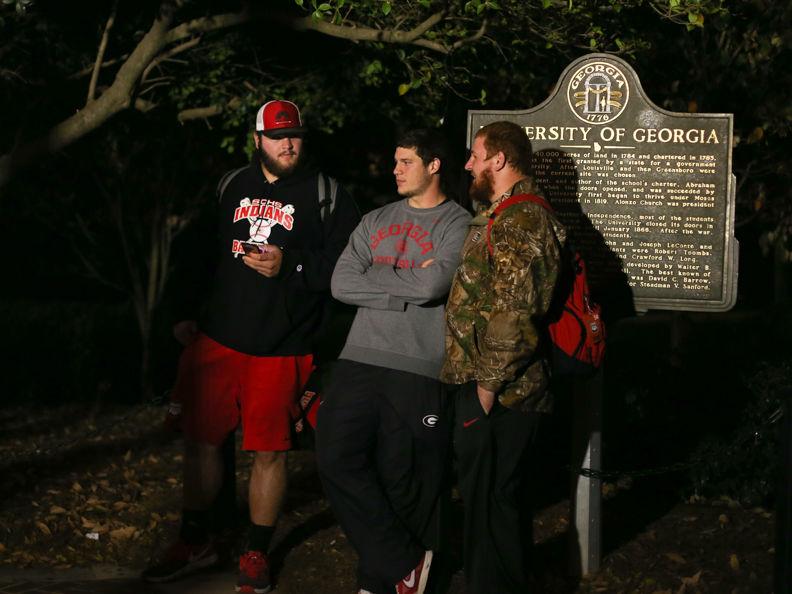 There was a small Athens-Clarke County Police presence among the crowd near Five Guys but no violence or confrontation has occurred. Around 30 protesters remained as of 10 p.m. but by 11 p.m. all had left.
The anti-Trump demonstrators chanted about all kinds of issues in the country today from Black Lives Matter to Standing Rock to women's health.
"What I'm really hoping to see is that even though so many people did vote for Trump I really hope that not all of them have same values. That even though right now it seems that all of America is for racism and sexism and homophobia and everything — that it won't turn out that way," Talley said.
One common theme of hope persisted among many protesters.
"I feel hopeful in a way because I know there's a lot of people that are here that care," Barat said. "It's important that we're all here for each other. It's honestly more unity than I've felt in a while."
Talley said she hopes Trump will be able to do something everyone stands for.
"I do think that lots of people are good, but scared, and sometimes you're irrational when you're scared. Love should prevail."