During his first year, Georgia head football coach Kirby Smart transformed the annual G-Day scrimmage from a 46,000-fan affair to a 93,000 fan-packed stadium.
Not only do fans look forward to G-Day, but businesses in the downtown scene also anticipate the crowd it brings. Attendance for G-Day has increased dramatically over the last four years, nearly doubling between 2015-2016.
"The introduction of Kirby Smart has really made G-Day more of an event," Blind Pig Tavern Manager Clint Swords said.
As attendance for G-Day grows, foot traffic downtown increases as fans search for food and souvenirs. Businesses hope the increase in anticipated customers comes with an increase in sales.
Touchdown for business
Chase Kessler is a manager for The Red Zone, an apparel store which sells UGA merchandise. A normal Saturday brings around $4,000 in sales, but the last G-Day game brought in $40,000, if not more.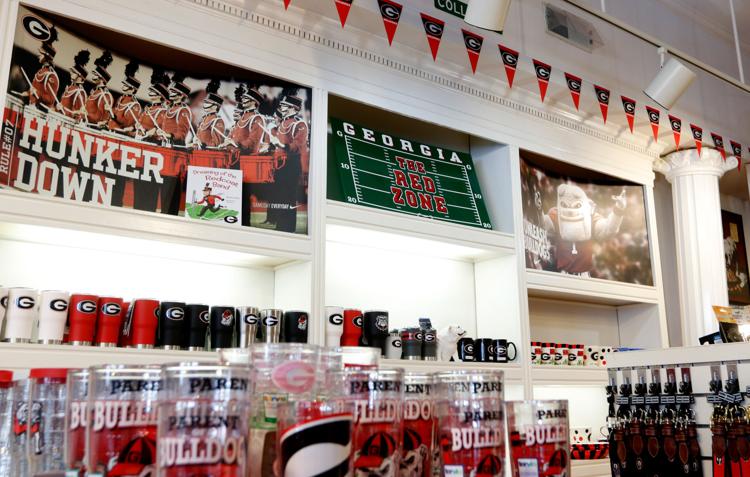 In preparation of G-Day, The Red Zone has all of its staff on hand and the owner ordered more inventory for the majority of the store's items. Despite being a scrimmage, Kessler expects high sales on G-Day like he would for a regular home football game.
"We're stocking everything on the floor, stocking everything on the shelves to make sure that we're prepared for with G-Day," Kessler said.
Swords said Blind Pig will make between 30-40% more on G-Day than a normal Saturday. This is similar to the sales bump the restaurant sees on a regular season gameday, he said.
Thomas Royals, a manager at The Clubhouse, another apparel store on College Avenue, has seen sales grow by about 75% during G-Day, an expected increase based on a rise in attendance from around 20,000 to almost 100,000 over the past few years. 
Gameday gear and grub aren't the only items fans buy when in Athens for the annual scrimmage. The manager of Wuxtry Records, Nathaniel Mitchell, used to believe G-Day and other gamedays took revenue away from the store. Usual customers avoided downtown due to the crowds.
But he believes sales have actually increased on Saturdays like G-Day in the past few years since Smart came to UGA. With a bigger crowd, more families come to town to enjoy what downtown has to offer, including his store, which has existed in Athens since 1976. 
"Our main clientele is probably students and their parents, and now they're both coming in [together]," Mitchell said. "[It's] like a family activity to come in and look for records." 
The Kirby effect 
Kessler and Swords partly attribute the increase of attendance to Smart's hiring as the head football coach in 2015. Smart's #93KDay initiative in 2016 attracted a G-Day crowd of approximately 93,000 fans, breaking the spring game attendance record for the Southeastern Conference. 
Georgia football has seen high levels of success under Smart. The Bulldogs appeared in back-to-back SEC championship games in 2017 and 2018 and played in the national championship game in 2018. 
Georgia also finished in the top 10 of the Associated Press Top 25 rankings the last two seasons. Expectations remain high for the Bulldogs. G-Day serves as Georgia fans' first glimpse of the upcoming football season, and attendance has grown along with the hype surrounding the program. 
G-Day is treated differently now than it was under former head coach Mark Richt. While the Bulldogs enjoyed successful seasons under Richt, the highest attended spring game was the 2015 game, which saw 46,815 fans come to Sanford Stadium. Even the timing of this year's G-Day game, which falls on the day before Easter Sunday, is not enough to dampen the game's allure. 
'A perfect storm' 
The fact G-Day overlaps with Easter weekend raises the risk of fewer customers showing up for the game, especially families. Swords, the manager at Blind Pig, said he thinks Easter being the day after G-Day won't affect his traffic on Saturday.
"I wouldn't bet on it, because football pretty much trumps everything around these parts," Swords said. "People plan weddings around gamedays, they won't plan a wedding on a gameday, because they know people won't show up."
James Kopecky, the kitchen manager at Mellow Mushroom, not only said that Easter won't hurt G-Day traffic, but will help business throughout the weekend. Kopecky said he expects plenty of families to come out to restaurants for brunch Sunday morning, giving restaurants like Mellow Mushroom two days of increased business. 
"I don't really think Easter will affect G-Day or the weekend as a whole," Kopecky said. "It's really just a perfect storm of business."
---
Editor's Note: A previous version of this story misstated the sales increased experienced by The Red Zone on G-Day. The story has been updated. The Red & Black regrets this error.