In about the same short amount of time it took the "Heartbeat Bill" to pass through the Georgia House of Representatives, a protest was organized primarily by University of Georgia women to oppose its official passage.
House Bill 481, or the Living Infants Fairness and Equality Act, restricts abortions once a heartbeat is detected around six weeks into pregnancy — before many women might be aware they are pregnant. Current law allows abortions until 20 weeks.
First introduced on Feb. 25, it passed the House on March 7, and passed the Georgia Senate on March 22. It will go back to the House for another vote before landing on the desk of Gov. Brian Kemp, who has openly supported the bill.
"The bill makes no sense," junior art education major Alena Skyer said. "It's not going to stop abortions. It's just going to make them unsafe."
Skyer, donned in a vagina costume, protested passionately with about 50 other students on Wednesday, March 27.
The Commit to Choice protest started in Tate Plaza with a presentation from three speakers and ended at the Arch. Protesters walked through campus touting signs and shouting different chants: "Show me what a feminist looks like!"
Final efforts
Though the bill's passage seems inevitable, the protesters' goal is for as many people as possible to call their representatives in opposition to the bill.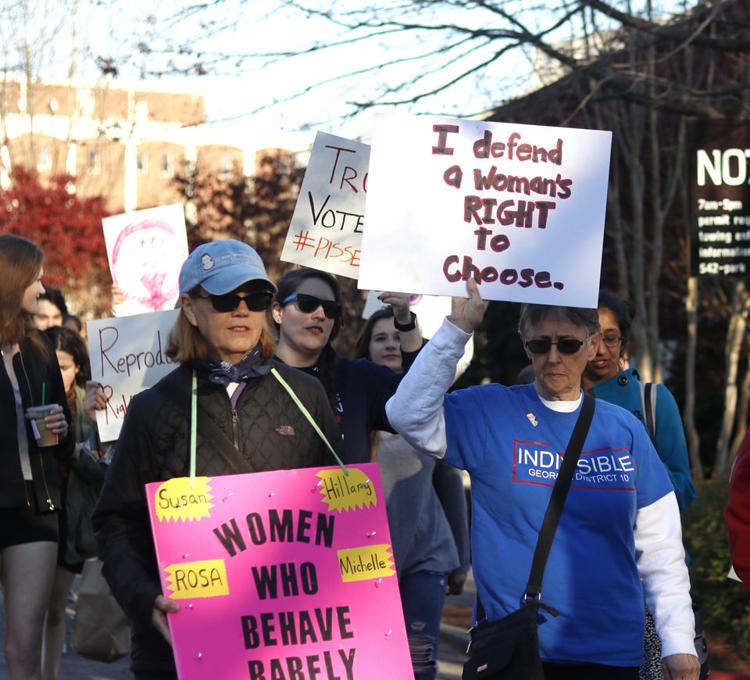 In addition to the heartbeat rule, the bill would allow parents to claim the fetus as a dependent on their taxes, and fetuses will count toward the population in the census.
Exceptions to the restrictive heartbeat stipulation include if the pregnancy was caused by rape or incest and if a police report is filed, if the mother's life is threatened or if the fetus is non-viable, meaning not capable of living or developing.
"The people pushing this bill do not trust women to make decisions about their own bodies," former District 119 House Representative Jonathan Wallace said to the crowd. "I'm here because I trust women. You have freedom and liberty to decide what happens to your body."
Abortion bills threatening Roe v. Wade abortion rights are cropping up in state legislatures across the nation, including Mississippi and Tennessee. With a majority of conservative-leaning justices, overturning the famous Supreme Court case seems more realistic.
Wallace and former District 117 House Representative Deborah Gonzalez, who also spoke, said this national change is the purpose of the bill and will waste money and resources in lawsuits against its constitutionality.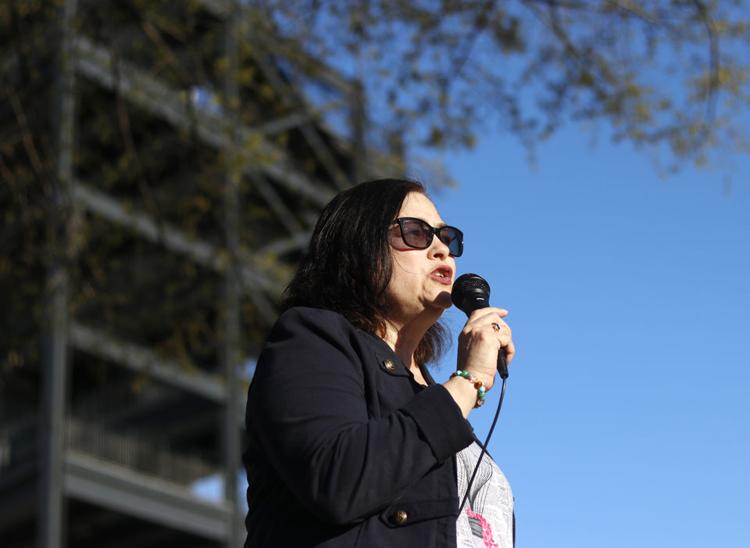 The Commit to Choice brand is supported by a coalition of student organizations, including the Young Democrats of UGA and Unite for Reproductive & Gender Equality. Caitlyn Gegen, co-organizer of the protest along with Anu Cheemarla and Rachael Smith, said she received donations for the banner and poster supplies.
At the Capitol
Georgia Republican Senators Bill Cowsert of District 46 and Frank Ginn of District 47, both of whom represent Athens-Clarke County, voted in favor of the bill. Cowsert did not provide a comment, and Ginn did not respond to request for comment.
Republican Representatives Marcus Wiedower of District 119 and Houston Gaines of District 117, covering Watkinsville and West Athens, respectively, voted in favor of the bill. The pair released a joint statement in defense of their vote, saying they ran as pro-life candidates.
"Gov. Kemp has made this issue a top priority, and we agree with him that we must promote the sanctity of human life," the joint statement said.
Democratic Representative Spencer Frye of District 118, which covers East Athens, voted against the bill and did not respond to request for comment.
National backlash
Major companies like Coca-Cola and Amazon have joined a number of other businesses, large and small, in signing a letter to the state legislature in protest of the bill. Actress Alyssa Milano called upon Hollywood to withdraw from Georgia in retaliation, targeting the state's booming film industry.
The ACLU is set to sue the state for the passing of this bill. Andrea Young, the executive director of the ACLU of Georgia, said in a press release that HB 481 "represents a callous disregard" for women's health and wellness.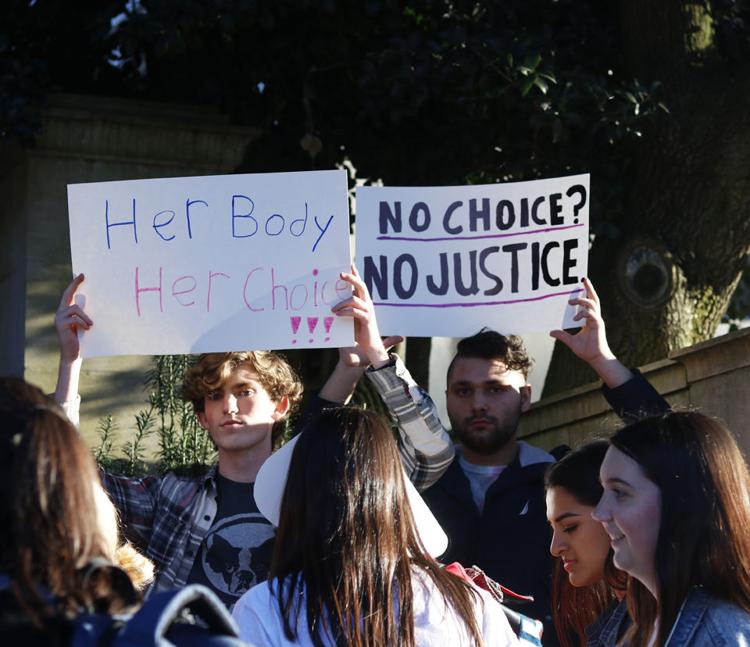 Members of Indivisible Georgia, a political advocacy group located in Athens-based District 10, expressed disapproval of the bill at an impromptu meeting with Deborah Gonzalez earlier this month. Member Vicki Krugman worries the bill would worsen Georgia's maternal mortality rate, which was the highest in the nation in 2018, which Gegen echoed at the protest.
"They're going to have to fight all of us to get this passed," Gonzalez said. "Go out and vote — it's the only way to get anything changed."
---
Clarification: A previous version of this article did not list all the organizers. This has since been clarified. 
Correction: A previous version of this article incorrectly referenced one of the stipulations of the bill. The error has since been corrected.