When Athens-Clarke County Commissioner Tim Denson was making his list of new year resolutions, he didn't expect to organize a protest just four days into 2020.
Denson and about 45 other people came out to the Arch on Saturday, Jan. 4 to protest the possibility of a war in Iran after President Donald Trump authorized a drone strike that killed Iranian Maj. Gen. Qasem Soleimani Jan. 2.
"I was trying to start out the New Year a hopeful way for my community and my country, but instead I wake up and realize that we were potentially on the brink of war because of rash actions by our president that ultimately jeopardizes the lives of millions of people," the District 5 commissioner said.
U.S. leaders told reporters that Soleimani was planning "imminent," violent attacks that would put American citizens at risk, according to The Washington Post. Controversy has followed the president's decision to kill the Iranian military leader because of the escalation of tension it caused between the U.S. and Iran. Iran vowed "severe revenge" against the U.S. a day after the attack, The Washington Post reported.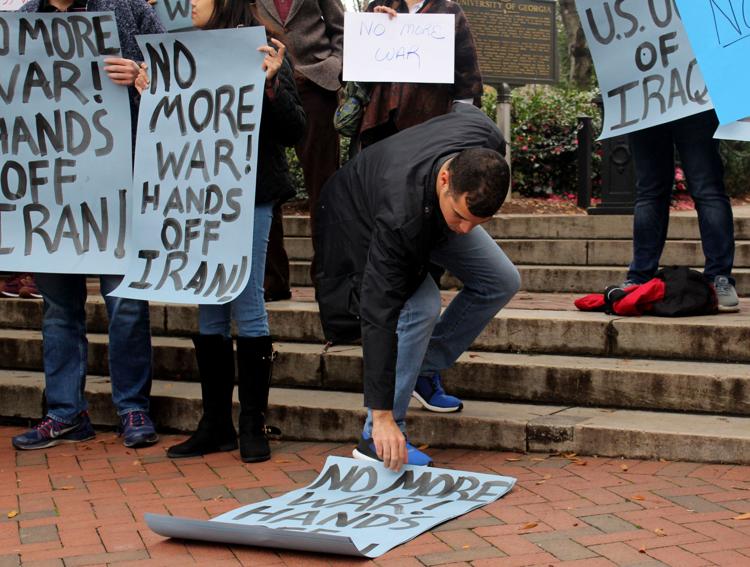 The protesters brought handmade signs with phrases such as "No More War! Hands Off Iran!" and "No War with Iran" written in bold letters.
District 2 Commissioner Mariah Parker led the protesters in a chant "Hands Off Iran," and cars and passersby honked or waved their support at the group.
Speakers told protesters to channel the anger they feel about the potential act of war into political and social action.
Several candidates and political figures spoke on the November election power to resolving the issue at hand. Richard Winfield, a University of Georgia philosophy professor, announced his candidacy for Johnny Isakson's U.S. Senate seat and reminded protesters that the 2020 special election has the potential to be a big win for Democrats.
Andrew Ferguson, who is running for Georgia's 10th Congressional District, also encouraged the group to vote for candidates who will "end endless wars."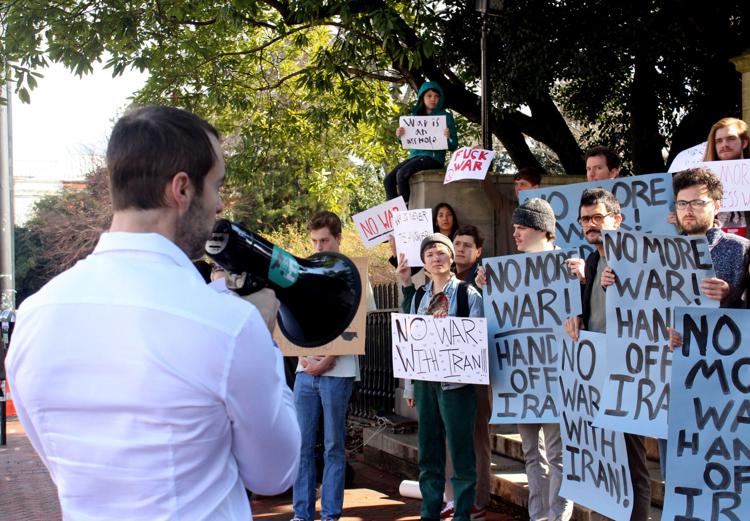 Two speakers, Parker and UGA junior Ramin Zareian endorsed Democratic presidential candidate Bernie Sanders in their speeches as a move toward peace and more liberal policy.
Zareian told protesters this incident isn't just a rash move by Trump. Rather, they said it is indicative of U.S. imperialism, the root of foreign policy issues throughout multiple presidencies for the past 50 years.
"I'm against most foreign policy efforts of the United States simply because they are motivated generally by their own imperialist, hegemonic interests as opposed to the interests of the people who are more relevant to these issues," Zareian said.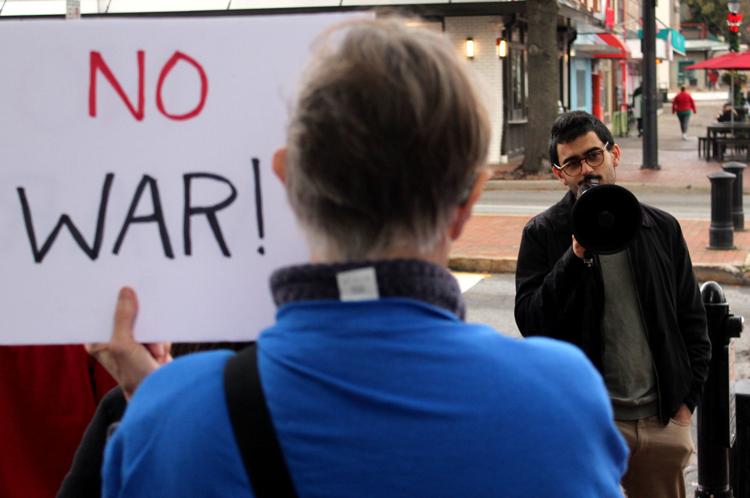 Zareian said their family members in Iran are concerned about the rising tensions between their country and the U.S. Other speakers agreed the war would cause disastrous effects for the everyday citizens of both countries.
For those seeking to do more, the speakers encouraged attendees to become involved in community organizations and educated in the government's and businesses' involvement in Iran. All in attendance were told to vote for Democrats in November.
"Do not give up," Parker said. "Do not stay silent. Do not wait for someone to do the work for you."