Athens-Access to Justice Initiative provided free legal counsel for 75 Athens-area residents, its largest crowd ever, at its pop-up legal clinic on Feb. 23.
Attorneys, University of Georgia School of Law students and other volunteers in the Athens legal community have held monthly clinics since December 2017. The March iteration will be held on Saturday. Organizers seek to fulfill the "justice gap" in Athens, where most people represent themselves in civil cases, said UGA School of Law Associate Dean for Clinical and Experiential Learning Eleanor Lanier.
"You've kind of got a safety net if you have a criminal case because they'll appoint a public defender," Lanier said. "... We have this huge justice gap where people who really need legal help in civil cases are unable to access that help."
Former Western Judicial Circuit Superior Court Judge Regina Quick and attorney Debra Finch saw a need in the community for family legal counsel, which both women practice. Most people come to the clinic in need of advice on adoption, child custody or divorce cases, Quick said. The volunteer attorneys provide help with immigration services and other non-criminal issues as well.
---
"We have this huge justice gap where people who really need legal help in civil cases are unable to access that help."
- Eleanor Lanier, UGA School of Law associate dean 
---
Athens resident Jackie Harrison learned about the clinic from someone she knew, who learned about it from Facebook. She asked a probation officer for help with sentence modification for felony probation, but the probation officer did not give her specific information on the steps she needed to take.
"It was perfect. They gave me all the information I needed, [and] I wasn't here for a super long time," Harrison said. "It was direct and to the point."
Joshua Moore, from Bogart, has been trying to regain custody of his daughter for a year and a half. He spoke with Clarke County Division of Family and Child Services but did not get much help. At the clinic, Moore was able to speak with a volunteer attorney who gave him specific information on the process to regain custody he said.
"This [clinic] has catapulted me, really," Moore said. "[I] didn't really know which way to go."
It takes a village
The clinic relies on word of mouth within the community, as well as support from the local bar association and Clarke County judges, nearly half of whom attended the clinic. Judges cannot give legal advice, but their presence encourages volunteer attorneys to keep coming back.
"... Because judges are public officials, you know, it's nice for people [and] members of the community to see them out in the community doing some good work," Lanier said. "They play a big important role of being kind of the glue in a sense that holds this together."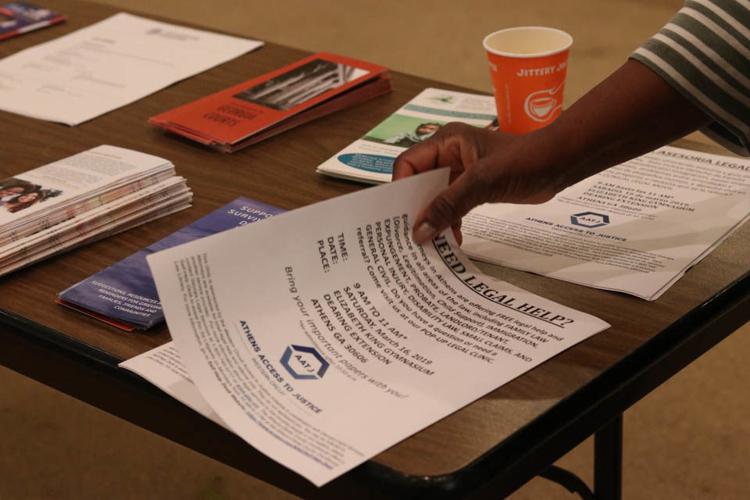 Part of Lanier's job is managing law students and undergraduates who volunteer at the clinics. Undergraduates help with checking in guests, while law students observe attorney-client interactions and help clients complete forms under attorney supervision.
"It's really interesting to see how many different legal issues were brought in today, and how one person can help all of these people," UGA law student Sydney Aronson said.
Aronson, who is from Peachtree City, described her experience as a "crash course in family law." She is part of the UGA Law Public Interest Practicum led by professor Elizabeth Grant.
Leading by example
Organizers said the AA2J clinic is one of the first of its kind in Georgia outside of Atlanta.
"Some other places in Georgia are doing some similar things, but we're kind of on the forefront in a lot of ways on trying to pull some of these pieces together," Lanier said. "And because the University is here I think we have a lot of additional resources to bring to bear."
UGA Law Students volunteer with the Athens-Clarke County Self-Help Desk at the ACC Law Library, where people can also seek free help for simple legal matters through access to forms, research tools and assistance on weekdays 8 a.m. to 5 p.m.
The next AA2J pop-up clinic will be at Elizabeth King Gymnasium at the H.T. Edwards Teaching & Learning Center from 9 a.m. to 11 a.m. on March 16.