Members of the Athens-Clarke County and Oconee County communities gathered Saturday at Harris Shoals Park in Watkinsville for a remembrance ceremony honoring residents Aron Birdsong, Wes Hale and George Lowe on the 100th anniversary of when the three Black men were lynched by a white mob from Oconee County.
Attendees gathered at the Harris Shoals Park picnic shelter. Volunteers distributed free racial justice literature provided by the Equal Justice Initiative, a nonprofit based in Montgomery, Alabama. Event organizer John Cole Vodicka began the remembrance ceremony.
"[Those of us who are classified as white] need to come together to talk about how we can repair what's happened, how we can make reparations and what in our communities needs attention, even today," Vodicka said.
Afterward, a volunteer read an excerpt written by Black theologian James Cone. Vodicka continued with a brief history of how the men being memorialized had died.
Vodicka said that in 1921, Aron Birdsong was a farmer living near Watkinsville. He approached Bud Lovern, a prominent white citizen, about the possibility of renting land from him and was turned down. Birdsong allegedly then went to the Lovern residence while Lovern was out and his wife and daughter were at home. Birdsong was accused of frightening Lovern's wife and daughter and a posse formed in response. As the armed posse approached Birdsong's house, Birdsong, who was afraid for his safety, fired at them in preemptive self-defense. He injured two people and fled.
After Birdsong was caught and shot, word got out that two other men, Wes Hale and George Lowe, had helped Birdsong's escape attempt by providing him with cover and ammunition. This incensed the posse, which had now evolved into a mob. In response, they found Hale and Lowe in their homes and took them to the spot where they'd killed Birdsong. The mob tortured both men before killing them.
Vodicka reflected on how this was not an isolated incident.
"I was here the other day just to check out the site and how accessible it would be for all of us to be there," Vodicka said. "I was struck by standing here in this spot, I'm literally within 10 miles of 17 different lynchings."
Once opening remarks were concluded, Vodicka gave attendees instructions on how to safely reach the memorial site. The attendees left the park, crossed Highway 53 and followed a trail through the woods to the spot where the men were killed.
---
"There needs to be some conversations going on about things that took place, things that were wrong, so that a true repentance can take place in this country."
— Reverend Joseph Nunnally
---
After the crowd regrouped, there was space for community members to share their thoughts on the victims.
Robert Harrison, who is Birdsong's great-nephew, was the first to speak.
"I just want you to know that we really appreciate it," Harrison said. "It certainly makes it real for us, you know, that all y'all thought enough and cared enough to come out and celebrate."
The group also took a moment to remember the work of Athens activist Richard Rusk. Vodicka said Rusk was instrumental in bringing attention to the Moore's Ford Lynchings, another set of lynchings that occured in the Athens area in 1946, and installing a memorial marker about a mile away on Highway 78.
Reverend Joseph Nunnally, who worked with Rusk on the Moore's Ford Memorial Committee to bring justice to the victims of the lynchings, spoke of the difficulties they faced when they sought to honor them.
"Some people say the system is broken. It's not broken, it works in the ways it was originally designed," Nunnally said. "And it takes somebody who's an agitator, somebody who's willing to say, 'We're not gonna roll over and deny things,' and to take a stand."
Nunnally said now that more people are aware of lynchings that have happened in the area, he believes individuals have the opportunity to contribute to the fight for racial justice.
"There needs to be some conversations going on about things that took place, things that were wrong," Nunnally said. "So that a true repentance can take place in this country."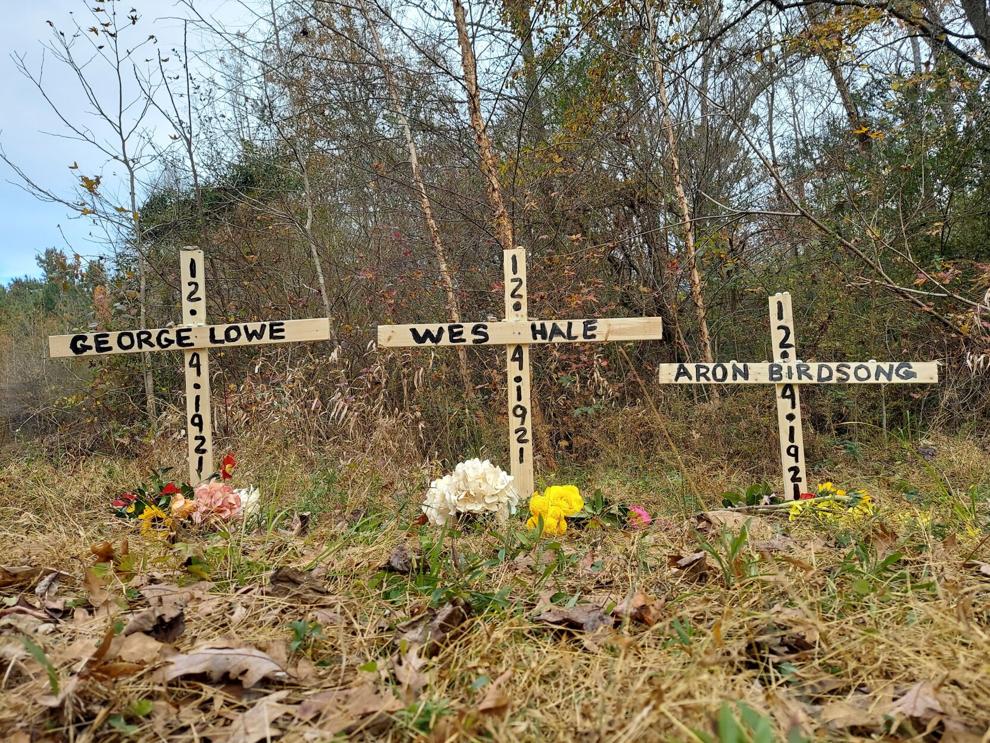 After everyone had the opportunity to share their thoughts, three wooden crosses with the names of the victims were planted. A jar of soil from the site was collected, and attendees had the opportunity to leave flowers and stones at the trio of crosses.
"Of all the souls God watches over, we wish to add these stones to symbolize the weight of our departed: Aron Birdsong, Wes Hale and George Lowe," Vodicka said.
The memorial concluded with attendees joining together to sing the hymn and protest song "We Shall Overcome."
Vodicka said that more memorials are in the works for victims of other hate crimes. He anticipates that the next one will take place in spring 2022, and said he will provide updates through his weekly racial justice newsletter.
"A lot of times we think 'Oh, that's awful, but that's not my community, that's those other bad people over there.' No. It was right here. Right in our own backyard," Oconee County resident Jeanne Wesson said. "We need the memorial. We need the acknowledgement. We need public acknowledgement that it's everywhere. It's right in your own backyard."