Austin Jackson came up with the idea for his home-run bakery, Cakesmith, after his coworkers at the Athens-Clarke County District Attorney's office kept asking him to bring in something sweet.
During his first year at the DA's office, Jackson, an assistant district attorney for ACC, offered to bake something for a retiring coworker. After it went "over really well," demand increased, and Jackson soon realized baking "could be a possible source of revenue in addition to my current job."
Although he grew up in Jackson, Mississippi and graduated from law school at the University of Mississippi, Jackson pursued a career in Athens — much of his father's family lived here. After passing the Georgia bar exam three years ago, he accepted a position in the district attorney's office of ACC. There, he is a part of the special victims unit, which handles cases related to sexual assault, elder abuse, child abuse and domestic violence.
Jackson said his passion for cooking took flight when he was a law student, cooking most of his own meals and expanding his culinary skills.
"Some people call me a chef, but I don't really claim to be a chef," Jackson said. "I've never been to culinary school or anything like that. It's just always been a passion of mine to cook."
Soon after joining the staff at the DA's office, he found himself cooking more for others. One request turned into five, and five into 10, Jackson said, and eventually he decided to pursue baking and obtain a cottage food license through the Georgia Department of Agriculture. The license allows Jackson to prepare foods that he can sell directly out of his kitchen.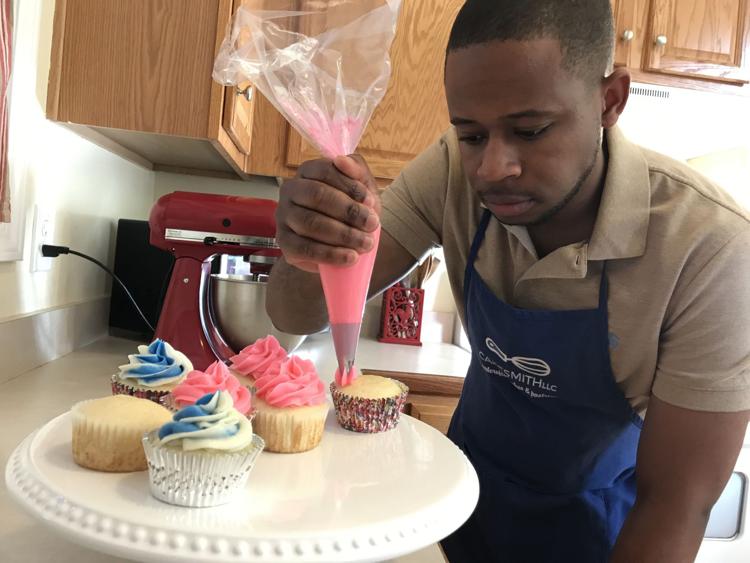 After obtaining a cottage license last year, Jackson could begin selling his products out of his own kitchen, and his bakery, Cakesmith, was born.
Jackson's bakery focuses on sweets such as pies, cookies, jams and cakes. Cakesmith also offers custom orders.
"What I love about him is that we didn't have to continue speaking every day all day about the same thing," said Nichole Thomas, a Cakesmith customer and pharmacy tech at the University of Georgia Health Center who commissioned a cake for her daughter's 13th birthday. "He took my thoughts and created a masterpiece."
Jackson was the sole owner and employee of Cakesmith until he met his girlfriend Molly Laughlin, a native of Warner Robins and a coordinator for the South Enotah Adult Felony Drug Court.
"We met through a coworker who works in the office," Jackson said. "And on our first day, we got to talk about how much Molly likes to bake as well, and so that's one thing we realized we had a lot in common. And that evolved into a partnership."
Quickly after joining Jackson in the baking venture, Laughlin helped him expand the business beyond baked goods to canning, as well.
"And so now we do jams and jellies," Laughlin said. "We can do, like, apple butter during this season, and that kind of setup, or, like, a lot of people buy apple pie filling, and they don't want to do all that and have all the spices and stuff, so we can [jar] that, too."
Jackson is also interested in expanding Cakesmith, whether that means a brick-and-mortar bakery, a food truck or a catering service. However, Jackson would have to deal with more licensing.
For now, he's content with running Cakesmith out of his kitchen, where customers are given the option to pick up baked goods or have them delivered.
"I do have a full-time job at the DA's office, and I work 40-plus hours a week," Jackson said. "So right now, it's a challenge to manage the cottage food aspect of it and my full-time job."
However, Laughlin is convinced of the originality of Cakesmith's products.
"Sometimes, when you buy from a big bakery, like the commercial stuff, you kind of lose the love that's baked into southern food," Laughlin said. "And so that's something that I feel like we've been able to reintroduce, and it really just comes from a passion. Absolutely, [we] really like to make people happy."
---
Correction: The original version of this story incorrectly stated Molly Laughlin's job title. The Red & Black regrets this error.