Representatives from the Clarke County Board of Education and the Athens-Clarke County Mayor and Commission gathered to discuss career development for students and school population growth at a Feb. 10 public meeting.
"The schools and the community, you all know we're in a collaborative relationship," interim Superintendent Xerona Thomas said. "The success of our community depends on the success of our schools. When there are problems in our community, our schools are just the microcosm of what's happening in their neighborhoods and the communities around them."
School board President LaKeisha Gantt said the two governing bodies restarted these collaborative meetings last year, and the meeting ended with planning agenda items for their next session.
Half of the meeting focused on zoning and population growth.
John Gilbreath, CCSD director of Special Purpose Local Option Sales Tax, noted there has been an uptick in building permits around Cleveland Road and Timothy Road Elementary Schools, which indicates population growth and possibly a need to expand the schools.
However, there is not a concrete causation between building permits and school growth because it does not necessarily indicate a rise in school-aged children of the area.
Gilbreath said planning for expansions needs to happen soon because SPLOST projects take a lot of time to complete.
Mayor Kelly Girtz reminded the meeting members about the importance of the 2020 census in documenting the county's population. He said estimates show the last census may have underpopulated ACC by 5,000-10,000 people, mostly children under 5 years old, impoverished people and the immigrant community. Better population documentation allows for better local need assessment and better political representation with state and federal entities, Girtz said.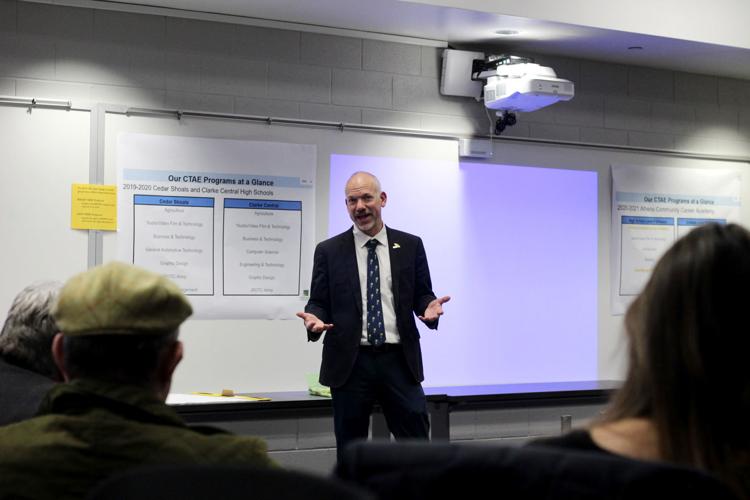 In a breakout session, commissioners and board members discussed the possibility of rezoning, a possibly "politically controversial" move. They also talked about different transportation possibilities, such as using ACC buses for students.
Because of how mutually dependent schools and the community are, commissioners and board members also discussed creating community schools, which aim to give more educational opportunities for adults in the area, and wanted to expand on that in the next meeting.
Presentations were also given about student career pathways and work-based learning opportunities.
Wesley Mellina, the CCSD workforce development coordinator, talked about his vision to expand work-based learning opportunities, both in terms of student and community involvement.
His presentation showed that work-based learning, which is when a student interns or works outside of the classroom instead of being in classes for the full school day, correlates with higher graduation rates and college readiness scores.
Right now, about 100 CCSD students participate in work-based learning, which is up from 47 in the 2015-16 school year, according to Mellina's data. However, he said some community partnerships have less slots available for students and some students who apply may not qualify.
Commissioners and board members discussed how the program could better recruit community partners. Mellina suggested the school district could provide internship opportunities, and District 2 Commissioner Mariah Parker challenged every commissioner to hire an intern as well.
Lawrence Harris, the executive director of community engagement and strategic partnerships, led the meeting and got feedback for what people wanted to see for the next one.