Mariah Parker has a plan to transform policing in Athens.
The District 2 Athens-Clarke County commissioner led as many as 2,000 people Sunday through the streets of downtown to protest against police brutality and in support of black lives.
In an interview with The Red & Black before the protests, Parker said the ACC Police Department should operate more like social work to help people receive mental health support and avoid ending up in the criminal justice system in the first place. Athens police officers shot six people in 2019. Although the district attorney's office determined the deaths were justified, several of the people appeared to be having mental health crises when they were shot.
Her plan would replace half of the armed officers in the police department with mental health professionals, social workers and other "forms of non-violent response" over the next 10 years.
Parker, a Louisville, Kentucky, native, is running unopposed for the District 2 seat on June 9. She won the position in a special election in 2018 after longtime Commissioner Harry Sims stepped down to run for mayor. She said she plans to stick around for a while to work to undo systemic racism in Athens.
"There's a lot of seeds that have been planted that need tending to over the next four to eight to 12 years. And there's a lot of harm that's been done over generations in this city that will require generations of undoing," Parker said.
Since Parker has been a commissioner, the commission has taken some steps toward criminal justice reform. The county commission eliminated cash bail in June 2019 for local ordinance violations. The commission accepted a resolution in March supporting a pre-arrest diversion program to reduce recidivism, which is the tendency for a person to commit a crime again. Parker voted for both of these.
But the rapper and University of Georgia doctoral student said she wants to further reform the system by pushing the commission to decriminalize marijuana. The conversation on issues like these is only just getting started in Athens, Parker said.
She said the local government should create social programs for the East Side — like the $3 million resiliency package proposal to combat the coronavirus pandemic — even when there isn't a pandemic. The pandemic put issues like providing more affordable housing and expanding fare-free transit in the back seat, but Parker said she still supports these.
She said she supports a worker's center, a wage of $15 per hour and wants the commission to pass more resolutions in support of workers' causes across Athens. Although state law bars local governments from changing the local minimum wage, Parker said the commission can attract corporations and businesses that pay well.
But despite her two years of policymaking experience, Parker said she views herself as a "vessel for progressive action."
"I don't come up with any good ideas. I do good work by working collaboratively with folks on the ground who are doing the grassroots work for those ideas," Parker said.
Parker said she's been in talks with community leaders about organizing the East Side. She said East Side residents need easier access to fresh food and fare-free transportation options.
Broderick Flanigan, a visual artist, community organizer and District 2 resident, said he admires Parker's ability to understand the "many different voices" in District 2 and how responsive she is with the needs of the community.
"I feel like she will step up and advocate in ways that other people are afraid to do," Flanigan said.
He said he was especially impressed when Parker protested alongside UGA students and Athens community members during the dedication of the Baldwin Hall memorial in November 2018. The memorial honored the remains of people who were likely slaves that were uncovered during the Baldwin Hall expansion project in 2015. UGA moved the remains to Oconee Hill Cemetery.
Protestors have said UGA needs to do more to acknowledge its history of slavery and provide reparations to the descendants of the people who were buried at Baldwin. Slaves worked for professors and completed tasks on campus.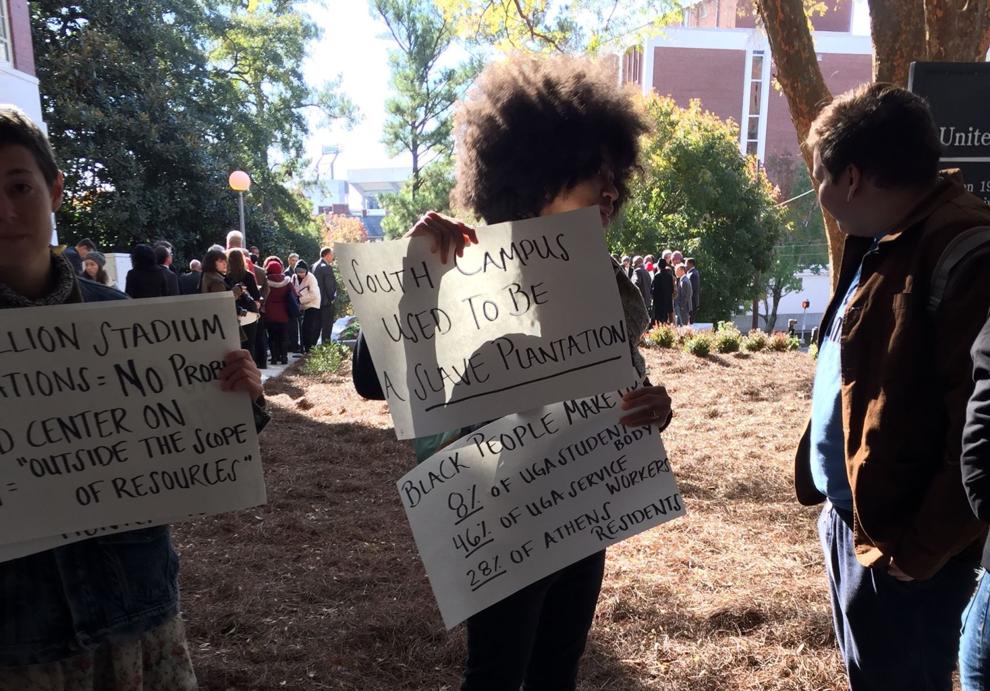 "This gesture, while nice, is not enough. It's not going to bring justice to the descendants of the folks who are buried here," Parker said at the dedication protest.