A sophomore at Clarke Central High School spoke to a crowd of hundreds of people gathered at the Arch in downtown Athens and said the explanation to the problem of violence in schools is simple -- guns.
"The common denominator in every one of these mass shootings in schools is guns," Katie Grace Upchurch said. "Not a lack of security in schools, not an unfriendly school environment, not mental health, not any other excuse our NRA approved legislatures can make up. It is guns."
People were gathered at the Arch as part of the nationwide movement, March for Our Lives, on Saturday, March 24, demanding action against gun violence.
Athens was just one of the many locations across the nation that hosted protests to advocate for more gun control after the shooting at Marjory Stoneman Douglas High School in Parkland, Florida.
Locally, there have been two Clarke County students killed by gun violence in 2017.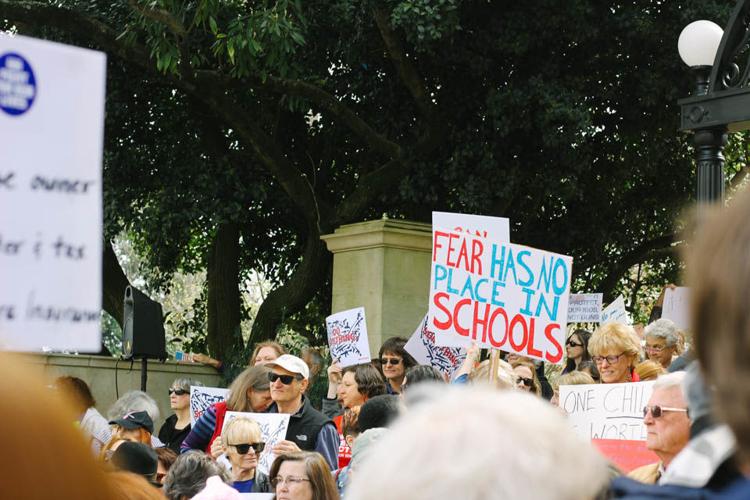 UGA senior Mallory Harris, an organizer of the event, said the three goals of the march were to educate the community on gun legislation, memorialize the 19 students killed in schools since the Parkland shooting and lastly demand action from state and local politicians.
Upchurch cited lack of action from politicians as a reason these school shootings keep happening.
"Because of our incompetent and insensitive representatives that willingly ignore students and our teachers that are dying in a place that is supposed to be safe, warm, and a place for us to grow up, nothing changes," Upchurch said.
March for Our Lives
Throughout the event, speakers stressed registering to vote, finding out who their representatives were on the local, state and national levels, and voting in the primaries on May 22 and the general election on Nov. 6.
Other speakers at the rally included local politicians, members from Moms Demand Action, representatives from Project Safe and Athens-Anti Discrimination Movement, along with several students at Clarke Central and Cedar Shoals high schools.
Though many March for our Lives protests were organized by high school students, the Athens March for our Lives demonstration was organized by UGA's Keep the G Gun-Free, Moms Demand Action and Athens-Anti Discrimination Movement.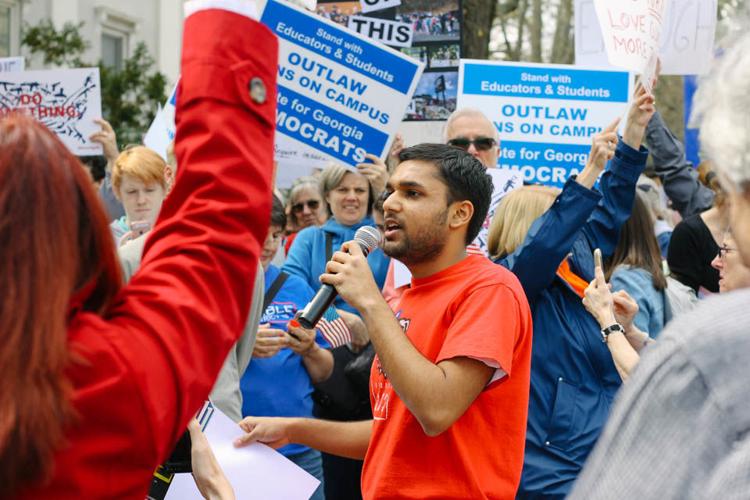 Other Clarke County High School students who spoke at the rally agreed with Upchurch and also said gun control is the answer, not arming teachers.
A Clarke County student used an analogy of a Kinder Surprise Egg and guns, similar to the analogy Piers Morgan gave days after the Las Vegas shooting.
Kinder Surprises, an egg-shaped chocolate candy, are banned under the 1938 Federal Food, Drug and Cosmetic Act because of the toys inside that could cause a swallowing risk for children.
However, guns, which have been the cause of thousands of deaths in the United States, do not receive the same amount of regulation as a small candy.
The youngest participants in Saturday's rally were at the forefront of the memorial ceremony held in the middle of the rally.
Seventeen children, some as young as 5, held up posters with an image of a victim from the Parkland shooting, their names and age in front of the rally.
One by one, the children read off the names of each student and faculty member killed.
Later on, protesters had a moment of silence for 96 seconds.
The 96 seconds represents the average number of Americans killed daily from a gun-related incident, according to the U.S. Centers for Disease Control and Prevention.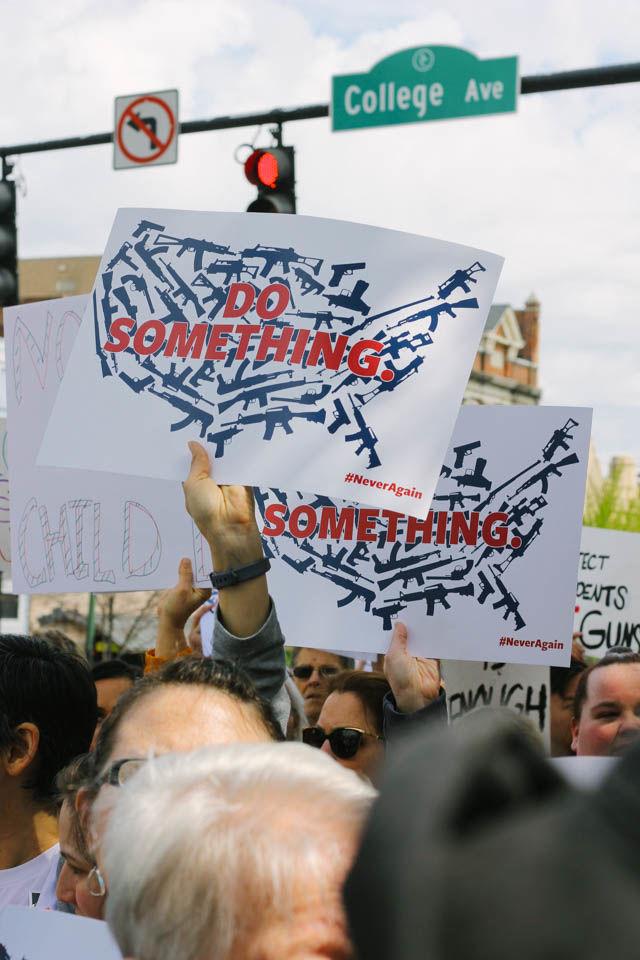 Politics of gun control
In 2017, Georgia Gov. Nathan Deal received 14,873 calls against putting guns on college campuses.
Deal supported the legislation and, as rewards from the National Rifle Association (NRA), Deal has accepted $28,900 over his political career, according to OpenSecrets.org.
Harris said Deal figuratively put a price on students' lives and sold them out. For the rally on Saturday, Harris and several other students put a price on theirs by wearing a price tag of $1.94 around their wrists.
$1.94 is the amount each college student in Georgia is worth if someone divided up the donation Deal received from the NRA.
But Deal was not the only politician under fire for his relations with the NRA at Saturday's rally.
"Senator Perdue, Senator Isakson, and Representative Hice have each received thousands of dollars from the NRA," said a Clarke Central sophomore. "Time and time again, they put their money over our lives and regulated my body more than your guns. But we aren't standing for it any longer."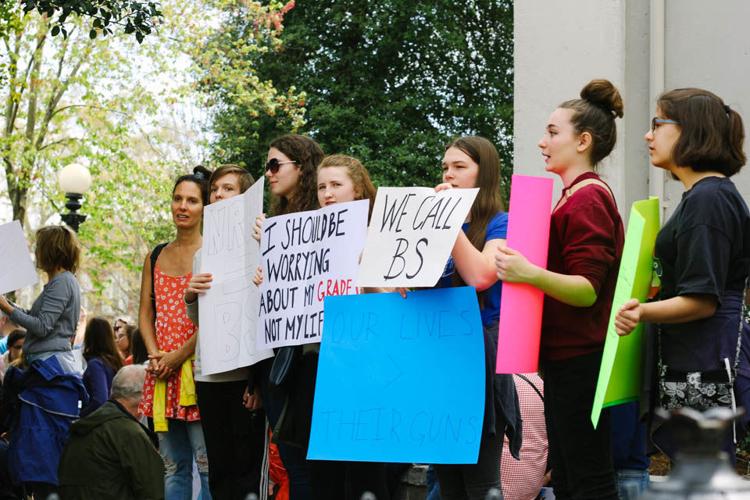 One thing is certain amongst all of the rally's participants: "the NRA has got to go."
Politicians and candidates among Saturday's crowd who spoke out against gun violence and/or the NRA's participation in politics included: Georgia Representatives Jonathan Wallace and Deborah Gonzalez, 10th Congressional District candidates Chalis Montgomery and Richard Dien Winfield, state senate candidate Dawn Johnson, and mayoral candidate Kelly Girtz.
Gonzalez said prayers and thoughts are not enough--action is. She pushed for protesters to continue the conversation and vote for gun sense candidates who acknowledge there are common-sense solutions to gun violence.
"This is not the time to sit at home behind a Facebook screen," Gonzalez said. "For those parents who think this isn't a dinner conversation, this is not what we talk to our children about. Talk now before it's too late and we don't have them at the dinner table anymore."
Montgomery said she will "fight like a mother" to pass gun sense legislation since she is a firm supporter of broad bipartisan legislation.
"I support our second amendment and our hunting tradition, but if it takes an AK-47 for you to kill a deer, you need your eyes checked," Montgomery said.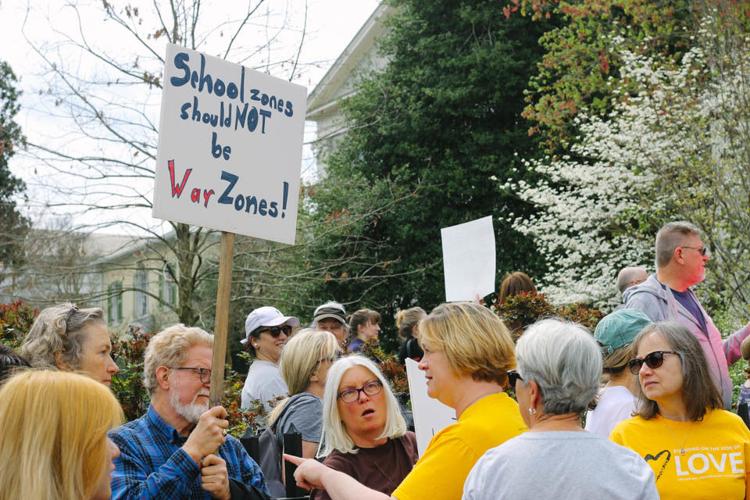 Winfield, Montgomery's opponent in the primaries, has been involved in the fight against legislation protecting gun rights since before campus carry was proposed.
Winfield suggested that the nation adopt legislation where gun owners pay liability insurances in addition to other laws concerning background checks for guns and ammunition and a buyback program similar to Australia's.
Moving forward
For the three organizers of Saturday's march, this is only the beginning of their fight to prevent gun violence in the community.
Keep the G Gun Free plans to continue to start dialogues and educate students on the facts to more effectively advocate for gun safety, Harris said.
AADM will focus on racial and gun violence prevention as well as lifting youth and minority voices in the community.
Moms Demand Action will continue their two goals of educating the community on gun safety and gun sense legislation.
As part of their Be Smart initiative, Moms Demand Action teaches community members, especially those with young children, to safely store their guns. The organization also educates the community on suicide prevention.