The walk from Athens City Hall to the Board of Elections isn't far, but the distance between the two was enough to change one man's status from an Athens resident to a county commissioner candidate.
Tim Denson, now a registered candidate for district 5 commission, was joined by several progressively minded Athenians for this memorable journey on March 5, the first day for candidates to qualify to put their names on the ballot for the local election.
Russell Edwards, district 7 candidate, and Patrick Davenport, district 1 candidate, were also present at the event and supported by those in attendance.
Before making the quarter-mile walk to the Board of Elections, Denson gathered with the crowd in front of the steps at City Hall to thank everyone for coming and to remind everyone why they were there - to create change.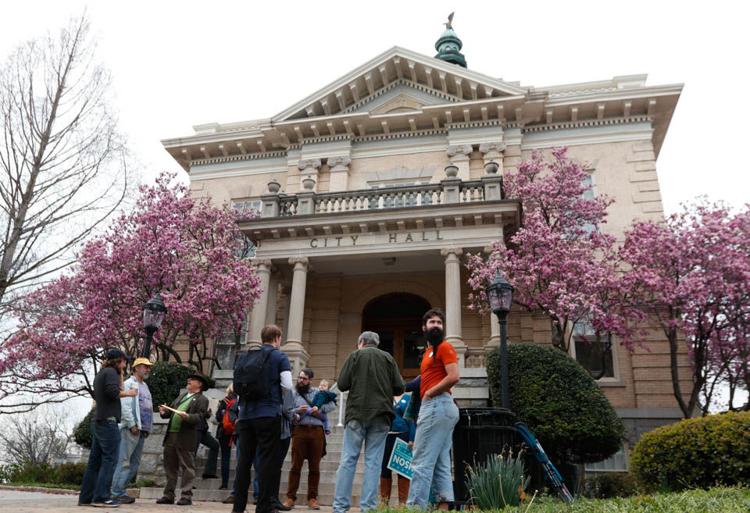 "If we're going to do this right, we have to do it together," said Denson with his 11-month-old daughter, Sarah, on his shoulders.
Adam Lassila, Athens for Everyone organization coordinator, sang and played his guitar while Edwards played a flute pipe in harmony. The song, a self-written take on the conditions of the current Athens community, echoed Denson's remarks as it called for a need for "change" in the local government.
The music continued as the walk began from City Hall to the Board of Elections so the candidates could fill out and turn in their paperwork.
Briana Bivens, Denson's campaign manager, said they chose to organize the event with other candidates to "give a glimpse of the progressive solidarity in Athens."
"There is a strengthening grassroots movement here that is really starting to turn the tide on what politics look like in Athens," Bivens said.
The local election for Athens commission seats will be held May 22.
---
Correction: A previous version of this article misstated Adam Lassila and his job title. The Red & Black has since corrected this mistake and regrets his error.