Last summer, former Gov. Nathan Deal signed criminal justice reform bill Senate Bill 407 into law. This law capped Deal's work on improving the state's criminal justice system and implemented change across the system, including in bail reform.
Athens-Clarke County Mayor Kelly Girtz recently expressed support for cash bail alternatives after doing his own research.
Criminal justice agencies in Athens seek to issue citations rather than arrest suspects on certain non-violent misdemeanor offenses as allowed by SB 407. This will go into effect July 1 as long as current SB 222 passes.
Under the new law, the ACC Police Department and the University of Georgia Police Department would write citations for people suspected of possession of less than one ounce of marijuana.
Studies show releasing non-violent offenders on citation improves public safety and reduces recidivism, Municipal Court Judge Ryan Hope said. The longer someone stays in jail, the greater the likelihood the person commits more serious crimes. Non-violent offenders may make worse decisions than smoking marijuana or shoplifting when they are released.
"That's what's made me a believer about some of it is the studies… you're getting people out of confinement quicker or diverting confinement on the front end altogether, especially when they're still presumed to be innocent," Hope said.
More than half of the 205 people who were charged with misdemeanor marijuana possession in ACC in 2018 could have been issued a citation rather than arrested, according to court data provided by Hope. More than 9 out of 10 of the people charged with misdemeanor theft by shoplifting during the same period could have been issued a citation rather than arrested.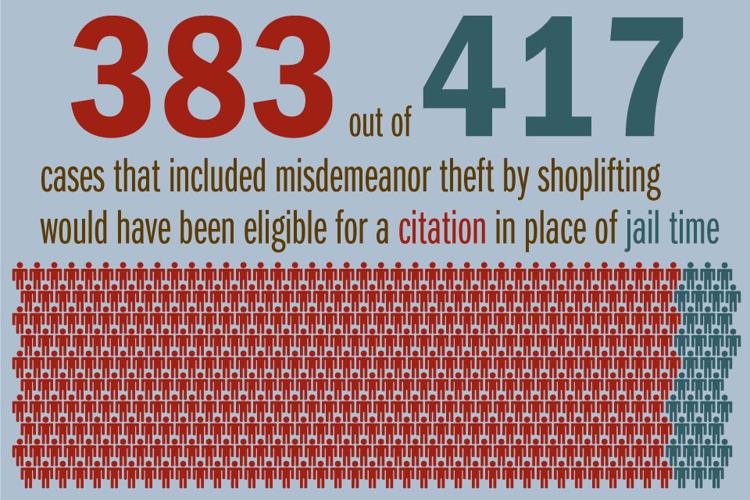 The rule does not change the penalties for these offenses. Suspects would still see a judge and face up to 12 months in jail or a $1,000 maximum fine. People would not have to pay bail, which hurts people of color the most. 
People would not have to pay bail, which hurts people of color the most. In a city with a 28.4% poverty rate, when college students are excluded, a two-month stint in jail can cause many Athenians — especially the most impoverished — to lose their job or their apartment while in jail.
A citation brings about the possibility an offender will not show up to his or her court date, but the ACC government is examining options to address that issue. Hope has been working with Girtz and the ACC commission to institute a text-based and email-based system to notify offenders of their court dates. People issued a citation would be more apt to appear on their court date. Police currently issue paper citations to offenders.
"They threw [the citation] in their glovebox, stuffed it in their book bag and never thought of it again," Hope said.
SB 222, which amends SB 407, will require the Georgia Bureau of Investigation to create a new uniform misdemeanor citation document for all state agencies. Police cannot use the current traffic citation because they need more information for misdemeanor crimes.
Although the reform intends to fix bail issues, the measure will benefit local law enforcement too, ACCPD Public Information Officer Geof Gilland said.
"A trip to the jail can turn a very small offense into a long process," Gilland said. "Being able to write this citation at the point that it occurred is easier on everybody."
Suspects must be identified by police, but SB 222 will allow police to identify suspects "through other means" than fingerprinting, which gives more discretion to individual police departments on how to approach the process. Officers can identify suspect if the individual is carrying a valid license or state ID at the time of arrest, Hope said. Otherwise, the individual will be taken to the ACC Jail for fingerprint scanning.
As of now, law enforcement officials are waiting on the GBI's UMC document. Athens agencies hope to implement UMC within a month of the bill's likely passing.