The Athens-Clarke County Mayor and Commission added five items to its unanimous 2020 legislative recommendations to the local state delegation on Sept. 10 at City Hall. The list was given to Athens' mostly Republican state legislators as the commission's recommendations for the 2020 session of the state legislature.
The Commission called its Sept. 10 special session after each voting item failed to receive unanimous support during the Sept. 3 regular session.
Two items on the list were passed with changes to their language. The Commission further specified the language on its item addressing increased gun control measures by removing a mandatory registration of firearms and adding a ban on assault weapons.
The changes in the gun control item were in addition to the repeal of campus carry and universal background checks. The changes in the language were worked out by District 6 commissioner Jerry NeSmith and District 3 commissioner Melissa Link after discussions around the issue at the Sep. 3 meeting.
The second item passed under new language was a measure for increased wages for lower-wage University of Georgia employees. The new language called for increased wages of University System of Georgia employees.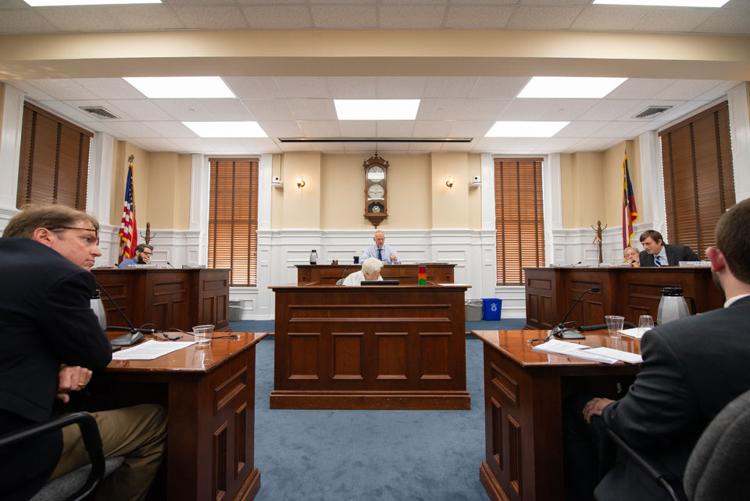 Other items passed included minimum compensation for school board employees, a reverse on the ban of undocumented residents recieving drivers licenses and re-establishing the income gap on the HOPE scholarship.
The special session featured nearly 30 minutes of impassioned citizen input. Seven of the 12 speakers addressed the issue of gun control, with over half voicing opposition to the legislative item on increased gun control, often citing concerns over self-defense.
"This list of things is not an action this commission is taking," Commissioner NeSmith said. "It's a request to our state delegation."
Commissioner Link also addressed those that participated in the citizen input by reading the opening line of the Second Amendment regarding "a well regulated militia."
"We are simply asking for some fairly meager regulations to do whatever we can to increase the safety of our citizens," Commissioner Link said. "This does not prevent anyone from protecting themselves in their homes."
In the later work session with the state delegation, one topic that generated discussion amongst the body was Medicaid expansion. Medicaid expansion was on the list unanimously passed by the Commission at the Sep. 3 regular session.
"This is desperately needed," District 5 commissioner Tim Denson said. "Georgia has one of the highest uninsured rates in the entire country. We are doing our community here in Athens a disservice."
Multiple members of the Commission also vocally expressed their support of Medicaid expansion, including District 9 Commissioner Ovita Thornton who addressed the delegation, excluding State Representative Spencer Frye, to ask about the issue. There was a long pause before any response.
State Representative Houston Gaines offered a response to work being done in the General Assembly, citing an application to the federal government for a waiver program.
"I think we all agree that we want to increase access and increase coverage and lower costs," Gaines, the Republican who represents House District 117, said. "It's just different approaches and so I am hoping the waiver is just one step."