From the front porch of his house in the Parkview Extension affordable housing community on Baxter Street, a Clarke Middle School student can watch as University of Georgia students walk by.
Glued to a cell phone, the 11-year-old seemed unphased. But his mother said they both recognize the clear discrepancy between what UGA students own and what children in affordable housing have access to.
"You see students walk by every day with so much. Bookbags, nice shoes … kids living here notice," the mother said.
She's in her 30s and unemployed. It's been difficult to nail down a job since she graduated from Clarke Central.
"I've applied to hotels, downtown …" she said. "But students get those."
Her story is not uncommon in Clarke County, where the poverty rate sits well above the national average despite housing the state's flagship institution. But for her son and others like him, achieving economic mobility will involve several hurdles, the first of which involves graduating from high school.
As poverty becomes a growing concern to locals and advocates, many are calling upon the public school system, the university and local government to initiate structural change.
Hurdles and helping hands
Wick Prichard picked collard leaves from a student garden outside of Clarke Middle School on Baxter Street on Monday, as he does every week, to sell at a picnic table outside the school.
Prichard is the coordinator of Grow It Know It, a program through the Clarke County School District and UGA Extension that seeks to help students in the public school system understand and address issues of poverty and food insecurity.
Of those in poverty in Athens, more than 8,000 are children under 18.
"The garden -- it's not sports, it's not music, it's not competitive, it's not stratified in terms of ability or access," said Prichard. "In a cheesy kind of movie way, the garden is a little bit of common ground."
The food grown in the garden is served in the cafeteria at the school, where more than 64 percent of the students qualify for free or reduced lunch.
"It's that 'it takes a village to raise a child' mentality here. When a child is born into that lower percentile, the likelihood of that child moving up is grave," Lemuel LaRoche, a local advocate and father said. "Athens is considered one of the top places to retire, but in the same breath, we are one of the poorest counties. How do you even put those two in the same sentence?"
LaRoche said he looks at structural issues, such as lack of funding within the public schools,with a new lens since becoming a father.
"My son is 4, and he is going to have to go to the schools," he said. "You build the community you want to see."
John Knox, a school board member and professor at UGA, said he has seen the school board prioritize making "substantive differences now" in the public schools.
"There's no one silver bullet for deeply embedded societal problems," he said. "But education would be, and has been for several generations, one of the closest things we've got to a silver bullet for lifting people out of poverty."
School board member Greg Davis said he has seen the board and superintendent push for more career-technical education that allow for students to explore fields they would be interested in.
Despite the efforts from educators to provide more to students, the district struggles with a lack of funding for these programs.
"I think the 20 percent of our dropout rate could be cut in half easily if you had opportunities for kids to learn something that they value," Davis said. "But I think a big issue is the funding."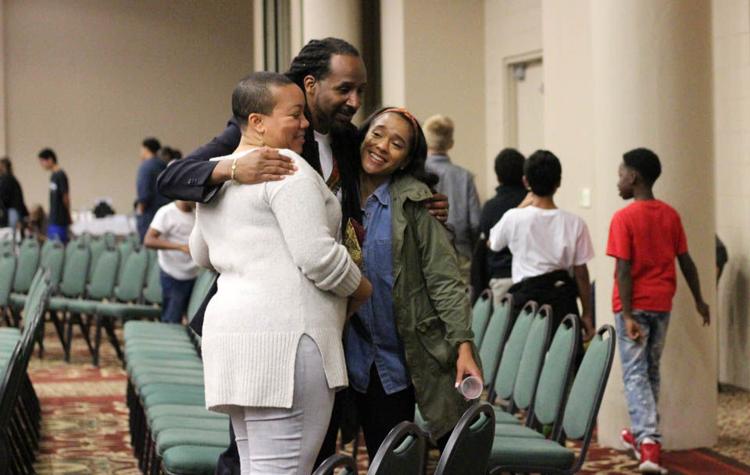 Treating the 'symptoms'
Broderick Flanigan considers himself a product of the Clarke County School system, growing up in New Town near Barber Street and attending and graduating from public school in the area all throughout his childhood. Now 34, Flanigan said poverty in Athens has only worsened.
"My mom and dad, they weren't the most stable when I was growing up because of their [drug] addiction. We did experience poverty, and I experienced it firsthand growing up here," he said. "That's why I started doing some of the work I've been doing with the youth."
Since returning to Athens, Flanigan has worked with children in the area through his portrait studio and local non-profit youth outreach programs. He said a lot of the responsibility for "handling" poverty is placed on non-profit organizations.
One nonprofit is Chess and Community, a youth mentoring organization that uses the analogy of chess to help teach low-income children how to make a plan for their lives.
At the beginning of April, the organization hosted its annual conference where children can learn about and hear from adults who've experienced poverty.
LaRoche sits at the head of the organization and agreed with Flanigan that systemic and structural change is the clearest answer to poverty and childhood upward mobility.
"The programming is all cute, but if we're not talking about providing any real opportunities for these kids," LaRoche said, "We could have program after program, and it's going to get to a point where it gets old and kids say, 'Okay, now I need a job.'"
Although the dozens of local organizations seeking to help those in impoverished conditions are doing great work, Flanigan said, the organizations are simply treating the symptoms of poverty.
"As time went on, I started to realize that just working with the youth isn't going to fix the problem of poverty," Flanigan said. "So that's when I started just looking at other mechanisms that created the systemic poverty or oppression or large concentrated areas of poverty."
Those mechanisms, Flanigan said, include the job market and housing affordability.
The state of Georgia has the lowest minimum wage in the country at $5.15 an hour despite the federal minimum wage being $7.25. While the federal wage applies in most cases, several workers in agriculture, seasonal workers, health aides and workers who receive tips are exempt from the federal law.
"This needs to be a government-led process," Flanigan said. "It's time for us as a community to get serious about addressing poverty and the government needs to be front and center in leading that conversation and not passing the responsibility off to a non-profit."
Breaking the university 'bubble'
Despite support needed from public schools, nonprofits and government initiatives, the future success of children from poor families is also influenced by another factor: the university.
Anna Scheyett, the dean of the School of Social Work said the university provides opportunities to support this community, but said the school could do more to break up the "bubble" that makes the university seem unaccessible to low-income children.
"One of the things that the university does is making efforts with the Clarke County School system to try and get kids from those schools onto campus," Scheyett said. "So they can see from day one, yes, you can be here and you can see yourself on this campus even if you're someone currently in poverty."
The poverty rate in Clarke County in 2016 was 35.2 percent, compared to the national average of 12.7 percent, according to United States Census Bureau data. This equals 39,327 total people, more than the entire student population at UGA.
Of that student population in 2016, there were 24 students from Clarke Central High School and 15 from Cedar Shoals High School who were enrolled as incoming freshmen at UGA, according to the university factbook.
In 2017, both high school's numbers fell below UGA's minimum threshold of 14 for each school and were not included in the factbook's report.
Many of the students attending UGA from Clarke County come from Athens Academy, a private school, where it costs a high school student and their family almost $19,000 a year to attend. UGA's in-state tuition, without student fees, is $11,818 a year.
"While I love Athens-Clarke County a lot, I think it's relatively clear that there's almost two Athens," Scheyett said. "There's the very comfortable middle-class Athens around the university, and then there's the Athens that still significantly struggles with poverty."
Athens Academy declined to comment.
Other barriers that affect low-income students' access to UGA include the legal status of that student or their family. Social work professor Larry Nackerud said much of the action to help fellow neighbors, especially those in the immigrant and Latino communities, should be led by the university.
"I think the university should be ashamed of itself for not allowing undocumented children who have graduated from Clarke Central and Cedar Shoals, and did well..." he said.
The Board of Regents at the University System of Georgia have established policies that ban undocumented students and recipients of the Deferred Action for Childhood Arrivals program from being admitted to UGA and other universities in the state.
"I think sometimes we need to lead rather than follow," he said. "I think that sends a poor message to the community, the Latino community in particular in this regard."
Of those who identify as African American in Clarke County, 40.4 percent are in poverty. Of those who identify as Hispanic or Latino in Clarke County, 44.4 percent are in poverty.
UGA's director of communication Greg Trevor said the university "supports our international faculty, staff and students."
"Additionally, university leadership has instituted a number of initiatives with the goal of increasing diversity at UGA," Trevor said in a statement. "However, UGA does not enroll undocumented students, per Board of Regents policy, alongside Georgia Tech and Georgia State University."
The outlook
Scheyett said while the university is symbolically and geographically a central part of the Athens community, there is still a great disconnect between children attending public schools in Athens and their ability to enroll at UGA.
"If you are a kid in this condition, the idea of going to UGA may be kind of foreign to you, even if it is a mile and a half away," Scheyett said.
Scheyett said Clarke County is one of the poorest counties in the state, and most of the impoverished areas are located in North and East parts of the county.
Clarke County is among some of the worst counties in the country when it comes to income mobility for children in poor families, according to a 2015 report from The New York Times. The report estimated that growing up impoverished in Clarke County takes away $4,240 from a child's income.
"I think that if you have a university, the businesses and students will want to live and be around there," she said. "In order to change that, there has to be some real intentional action."
Another report from the Times found that only 3.8 percent of students who attend UGA come from the bottom 20 percent of income. Of those who graduated from UGA from a low-income family, only 1.1 percent of them grew from the bottom 20 percent to a top income quintile.
LaRoche said the outlook is grim for many children in the community, and he said everyone should see it as their responsibility to shift the mindset and initiate change.
"As a parent, it's my job to build the best community I can so he and the other kids in this community can see the future," he said. "They will be the ones to take it forward."
---
Grace Walker contributed to reporting.