Editor's note: Some of the photos in this story are graphic.
Juan Angulo did not expect a peaceful protest to end with him barely being able to walk. He was one of three protesters who were hit with sponge and bean bag rounds during a peaceful protest on May 31.
The protest, which was organized by District 2 Commissioner Mariah Parker, attracted around two thousand people downtown to protest against police brutality. It ended with Athens-Clarke County police tear-gassing the couple hundred protesters that stayed into the evening.
The protesters stayed near the University of Georgia Arch, where the police tear-gassed them around midnight, a move ordered by ACC Police Department Chief Cleveland Spruill.
Angulo, who recently graduated from UGA with a plant biology degree, went to the protest at 6 p.m. and left when Parker ended the official protest around 7:30 p.m. Some protesters stayed at the Arch. Angulo returned that night around 9:30 p.m. He said the organizers made a point to tell him when he returned that the protest would remain peaceful — if he were to instigate violence, he should leave.
After the police sent warning drones that played messages asking protesters to disperse, they began throwing tear gas canisters around midnight.
Angulo said he was trying to put out tear gas canisters with water bottles when he started running away. He was shot twice in the leg, which immediately went numb, he said.
"It wasn't localized. It was throughout my entire leg and reaching into my lower back," Angulo said. "It was just quite possibly the worst pain I've ever experienced. I've broken bones, I've broken my ankle, I've been in car accidents. This tops that by so much more."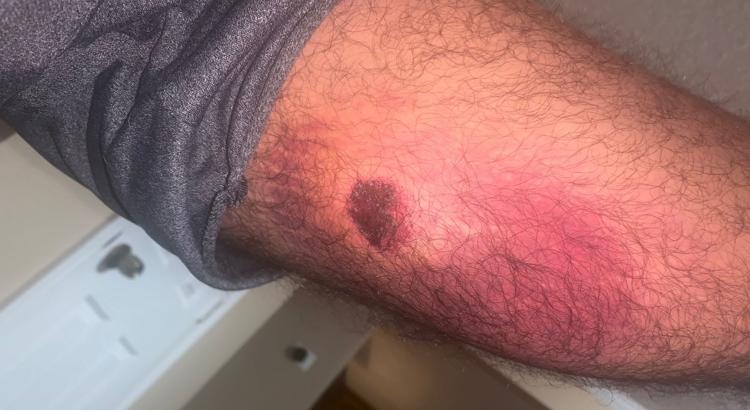 Angulo said he managed to run away from the protest and make it back to his friend's apartment. He also experienced the effects of the tear gas — his face, hands and lungs began burning.
He said the swelling in his leg persisted even a week after the protest. He used crutches to attend the weeklong peaceful protests at the median of Broad Street.
Spruill said during a June 4 livestream that the ACCPD used "sponge rounds and bean bags" on three people in a "defensive posture" to prevent them from picking up tear gas canisters and throwing them back at police officers.
Angulo said he didn't throw any tear gas canisters at the police and didn't see anybody attempting to. Grayson Pynn, another protester who was hit with the ammunition, said he also didn't throw any of the canisters. Steven Elliott, who lives in Athens, said he nudged the canister with his foot to move it away from protesters when he was hit.
During the protest, Pynn used a leaf blower to try and blow the tear gas away from the crowd, a move which he said wasn't very effective. While he was using the leaf blower, he said he looked up to see an officer pointing at him.
"I got hit in the gut and knocked the wind out of me. It's like belly flopping, you know, off a 20-foot diving board," said Pynn, a rising junior music composition major. "I didn't expect that to happen at all because it was just tear gas up to that point."
Pynn said he couldn't breathe for 20 seconds after being hit. After catching his breath, he said he left the protest.
Angulo said he wished the police department spent more time discussing the use of sponge and bean bag rounds.
"That stuff is actually insanely powerful. I'm not sure what kind of sponge they are using, but it didn't feel like just a sponge that you clean dishes with," Angulo said. "I felt like that was addressed simply so they could say they addressed it."