If you've been to downtown Athens, you've probably seen someone asking for money or help. When asked, you're forced to make a decision: to give or not to give.
If you're Marcus Guthrie, you see these requests as a means of survival and are hoping someone chooses to give.
Guthrie, a 58 year old from LaFayette, came to Athens in 2016. Since living here, he has panhandled and knows others who do as well.
"Sometimes, being homeless, people take advantage of being homeless. They take advantage of being kind," Guthrie said. "They use their money for drugs, prostitutes and gambling, like lottery tickets, and that's their everyday cycle."
Harvey Evans, 59, has lived in Athens for a little over a year. He asks people downtown for money but said he is only looking for enough to pay his power bill.
Originally from Chicago, Evans said he served in the Navy from 1979-1983. Veterans Affairs awarded him with a voucher for an apartment in Athens. His social security check pays the rent, but he said it's not enough to pay his light bill.
"I'm on the pay-as-you-go plan. So every four or five days I gotta give them $20 or $30 ... That's what I do this for," Evans said.
Community efforts
Jennifer Davidson, a cashier at Horton's Drug Store, has gotten to know many people who ask for money downtown.
Unless someone spends the time to get to know those asking for money, Davidson said it's difficult to fully understand what people's situations are.
"There is a really big misconception about what homelessness means," Davidson said.
Davidson has personal relationships with 12 people downtown who she describes as "chronically homeless." To help, she creates care packages with items tailored to people's unique needs.
"You know, I'm employed. I'm blessed and able to have a vehicle to come to work with and park over there, and when it rains, I put on my rain jacket, I get in my car, and I go home," Davidson said. "But I see what happens, and I take interest in what happens with the outdoor living human beings."
---
"There is a really big misconception about what homelessness means."
- Jennifer Davidson, Horton's Cashier

---
Government efforts
Davidson said she's seen the old parking meters downtown that read "Donations here will provide help for the homeless. Please do not give cash to panhandlers."
The four meters were set up around downtown in September 2003, and Hayley Banerjee, the community development coordinator for Athens-Clarke County Housing and Community Development, said the meters have collected $222 so far in 2018, which is up from $106 from all of 2017.
Banerjee, also treasurer for the Athens Homeless Coalition, said the Athens Downtown Development Authority designates money collected from the meters for the AHC, a planning body that works with government and other groups to prevent and end homelessness.
As designated by the AHC, the money from the homeless donation meters has previously been used for bus pases for the homeless. The AHC, however, will announce a new use for the money put in the meters next January to ensure it's used in the most responsible way, Banerjee said.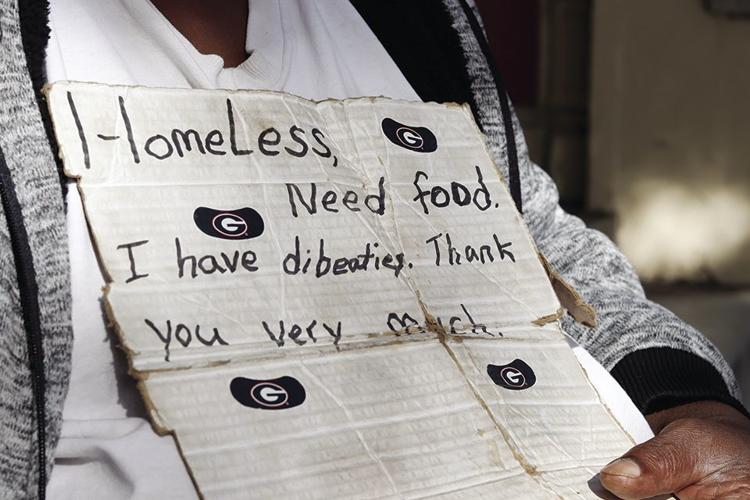 The verbiage on the meters' signs, which Banerjee said the AHC had issues with, is planned to be changed to say, "Looking for a way to help? Donations to these meters support the work of the Athens-Clarke County Homeless Coalition." The AHC's website will be added to the signs as well.
"It's complicated, because often people who are panhandling aren't necessarily homeless and so these issues of homelessness and panhandling get tied up together when really they're kind of separate things," Banerjee said.
Although the message on the meters' signs discourage giving to panhandlers, the ACC code does not prohibit panhandling.
Among other goals, ACC's Housing and Community Development Department aims to reduce homelessness. It also administers grants from the U.S. Department of Housing and Urban Development. Grants that have been awarded to ACC include the
Continuum of Care grant, which was $709,605 in 2018, and the Community Development Block Grant, which allocates more than $1 million to ACC for 2019 — $44,592 less than last year's allocation.
The science of giving
University of Georgia professor of social psychology Leonard Martin takes professional and personal interest in people's giving practices, especially to panhandlers. Martin said as people age, rather than learning to share and give, they learn to create excuses as to why they shouldn't.
"It seems to me we have something we're supposed to do by nature, and if you don't do that, you have to come up with some reason," said Martin, based off in-class experiments with students.
Despite this, Martin said he does not always give when asked.
"I tend not to give to these people, which sounds weird ­— I don't trust that they all need it the way they think they need it," Martin said.
Guthrie and Davidson said they know people who panhandle whose needs are not as great as they make them out to appear.
"I know some people on the street have a nice home and a nice car. They will park their car, catch the bus and put on homeless clothes and bring their dogs or their animals and their kids to places they feel like they can get revenue or funds from people, and they use that for their advantage, and they never work," Guthrie said.
Even knowing that some who panhandle are being deceptive, Davidson said she is not discouraged from helping.
"There are certainly some people that are scammers. There are people that are scammers in the business world, too. Those people are not my concern," Davidson said. "People who need genuine help and could be doing better if we offer that help six months from now, that's where my focus is. That's where I care about helping."