Scientists Paul Skinner and Mark Johnson have known each other for over 25 years, and been coworkers for most of it. Now, they're taking their skills to a new venture — starting a craft brewery.
The brewery's name is Athentic and its location is off Prince Avenue in Normaltown. The two are looking to open some time this fall.
With several other successful breweries already operating in Athens (Terrapin, Creature Comforts, Southern Brewing and Akademia,) Skinner sees Athentic's niche as providing a smaller destination for the Athens community. Ideally, it will be the type of place for families or coworkers to hang out in the evenings, he said.
"Primarily we're gonna be small and … not looking to become a big distribution brewery," Skinner said, adding that they plan to brew small batches, selling beer out of their taproom and to local restaurants and bars in the Athens area.
Skinner and Johnson are microbiologists at Boehringer Ingelheim, a German animal health company with facilities in Athens. Skinner described their relationship over the years as being sometimes adversarial, but always friendly.
"You want to work with people that are not entirely like minded … if we have a good debate about something it usually ends in us agreeing on something in the end," Skinner said.
Skinner is mostly interested in beer production, while Johnson is "more on the business end of things." Kimberley Wise coordinates marketing and events for Athentic, although the three said they all do a bit of everything. Skinner got his start homebrewing with fellow parishioners from Oconee Presbyterian Church in Watkinsville.
Athentic's logo, a red guitar pick with a yellow 'A' in the center, reflects their hopes that the brewery will serve as a popular music venue for local artists and bands.
"Unlike other breweries … we're going to be trying to promote more things here to really give you a reason to come and make this more of a destination type of event than just the beer," Wise said.
Skinner and Johnson looked at a few downtown options for the brewery, such as the location for the now-defunct Copper Creek brewery and the old Greyhound Bus Station on Broad Street.
The building they ultimately chose is at 108 Park Ave in Normaltown. Once the home of Guest Printing Company, the building has 10,500 square feet that will be used for a self-serve taproom, brewing area, and an outdoor patio/beer garden.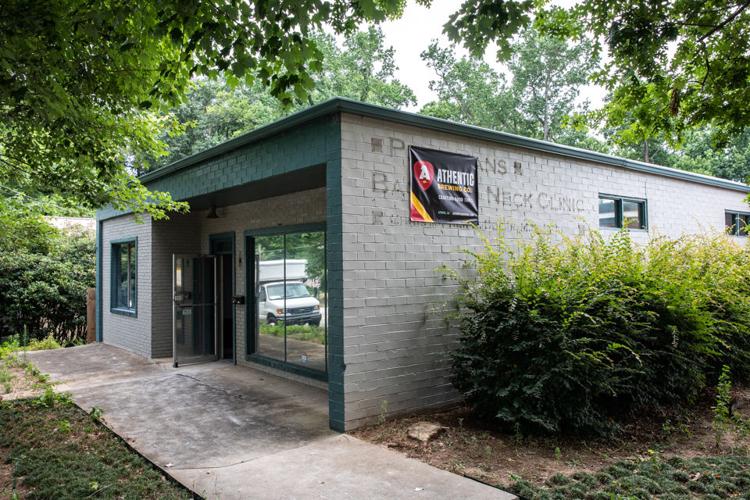 The self-serve taproom will be a distinguishing feature among Athens breweries, though they exist in other cities. At Athentic, customers will insert a card provided by the brewery into a slot that connects them to their account. Once synced, customers can pour as small or large a glass of beer as they please — their account is charged by the ounce.
The self-serve model allows people to sample different beers and shop around to see what they like before filling their glass. Nearby, Athentic employees ("beer ambassadors") will help customers with pouring and provide recommendations. A real-time screen will inform you how many ounces you've poured and the correlating price.
Price-wise, a full pint will be somewhere around $4-6. Skinner describes what he thinks of as the three types of customers: "value-seekers" who want whatever is cheapest, "beer snobs" and people in the middle who just want to hang out.
The duo have developed more than 20 recipes, ranging from dry irish stouts to pale ales to brown ales and IPAs. In April, they participated in Classic City Brew Fest at the Athens Cotton Press, debuting "a wee Scottish called 'My Naughty Little Pet' that got good reviews," Wise said.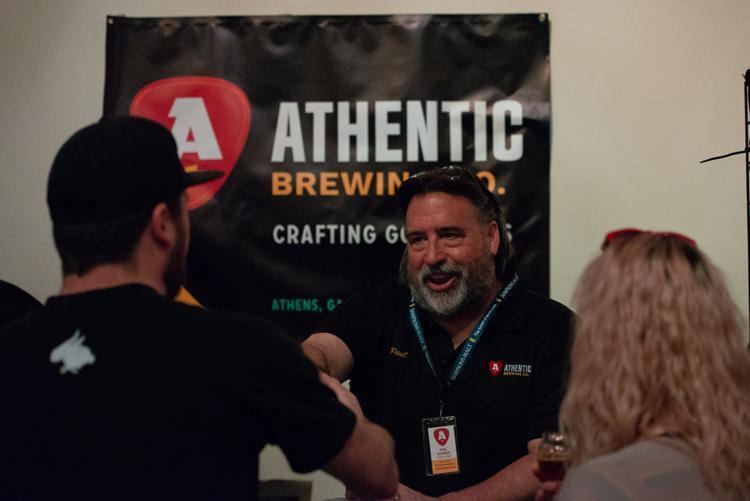 Athentic's beer lineup will have some consistent staples, but others will change throughout the year based on the season. During hot weather, for instance, Skinner said they will be brewing "easy-drinking, quench-your-thirst" beers, while still keeping a stout on tap, just in case.
The work they've done so far has been in their free time, but Skinner and Johnson agree that they'll know when it's time to shift their focus completely to the brewery.
"Projects take money, time and energy … and we're still working our day jobs," Skinner said.