The smell of books and the sound of chatter filled Avid Bookshop on Sept. 27 for the Banned Books Bash hosted by the Georgia ACLU and Avid.
Speakers, ranging from mayor-elect Kelly Girtz to writer Valerie Boyd, read selected excerpts of banned books and poems of their choice as a part of the Bash.
Before reading their selection, speakers explained their decisions for selecting certain excerpts, gave background on the writers of the work and gave details about why the book was banned.
Some speakers spoke about their personal connections to the writing they read.
Deborah Gonzalez, State Representative for District 117, read from "The House on Mango Street" and said she selected this book in honor of Hispanic Heritage Month.
She read two excerpts, and she explained that the second excerpt was important to her because it involved names, in which she could relate to her Spanish last name.
"The second is about name, and it really resonates with me because when I started running, one of the things they wanted me to do was to change my name and to take my husbands name. So he is Scott, and I am Gonzalez, and so when I read that passage, what she says about her name, I can completely relate in one way to it," Gonzalez said.
Some speakers gave their opinions on banned books and its place in society.
Sam Franco, radio host of 960 The Ref, explained his feelings concerning banned books before reading an excerpt from "To Kill a Mockingbird."
"I worried about reading some of the language in his closing argument to the jury because of its coarseness and its racial insensitivity, but I kind of feel like that's what this is all about," Franco said. "When you read a banned book or when you read something that means so much to you and can mean so much to you, you kind of have to feel uncomfortable."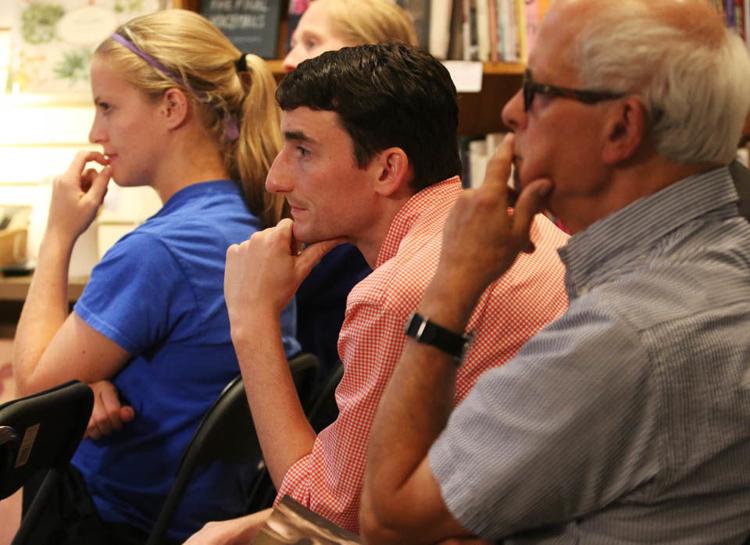 The bookshop was filled with people from different backgrounds, such as teachers, writers and politicians.
"We had a lesson with the students, my third graders, and they had never heard the concept of a book ever being banned, and so I feel like if it weren't for librarians or people like this doing these events, they wouldn't even know that that was an issue, and that would be something that could happen, so censorship is something we want to make people aware of," said Feliscia Parrish, a Howard B. Stroud Elementary teacher.
John Farina, events coordinator at Avid Bookshop, was glad to see the diverse crowd the event drew, from state representatives to yoga teachers, he said.
"Especially bringing it to Avid, where we so believe everything deserves a chance, and we're all equal, and we all deserve to be on this earth, and it puts banned books in perspective because people didn't think these books deserved to be around, but here they are, and here we are," Farina said.