Broderick Flanigan has lived in Athens for most of his life, only leaving the city during his time in college. After opening his art studio, Flanigan Portrait Studios, Flanigan said he's been working to advocate for people in the black community within Athens.
"I started off doing mentoring, a lot of youth development work when I came back to Athens in 2011," Flanigan said. "I noticed a lot of things going on with different families that I was coming in contact with, and I wanted to give back in a way to help not only the youth develop, but their families as well."
In recent months, conversations about the removal of confederate monuments and the push to create more high-paying jobs for the black community have come to the forefront of conversation among black activists.
The conversation
Flanigan has been working to find solutions to these issues with Mokah Jasmine Johnson, president and co-founder of the Athens Anti-Discrimination Movement, as well as Irami Osei-Frimpong, a Ph.D. candidate in the University of Georgia Department of Philosophy and host of The Funky Academic.
Osei-Frimpong began a series of videos, "The Black Athenians," with the intent of educating the community about racism. Previously, the Athens-Clarke County Planning Commission dismissed his proposal to hire a percentage of black contractors reflective of the black population in Athens for the building of a new downtown apartment complex at a meeting on Sept. 13.
The activists have focused on educating the community on historic implications behind black poverty in Athens today. Johnson and her husband have worked to organize events to rally the black community in Athens, including the Athens Black Market & Swadeshi Coop, which is held at Max Canada on the fourth Saturday of every month.
At the Black Market on Sept. 30, Johnson asked those in attendance to join her in fighting for a change in Athens.
"I remember when I came here and called on you, black Athens, when I got here and the only one who came and stood with me was Tim Denson," Johnson said. "We need to come together if we want to see some change."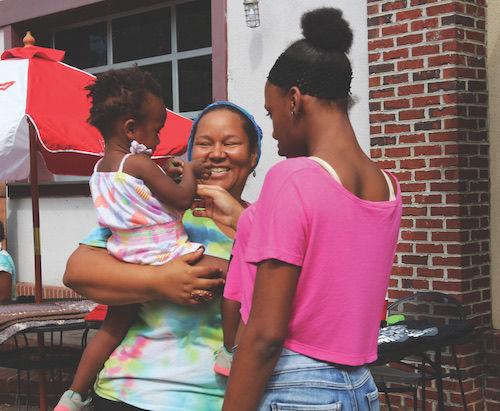 Osei-Frimpong, after a year in Athens, has become an advocate for the black community in Athens to discuss problems in front of a broader audience in his latest series, "The Black Athenians" on his YouTube Channel.
During his speech at the Black Market, Osei-Frimpong said he is tired of the stories of successful black people being used as evidence for black economic equality.
"I don't want another black billionaire," Osei-Frimpong said. "I want a black middle class."
In one of his videos shot in front of a live audience at the resource center on Vine Street, Osei-Frimpong said working toward change in Athens is just a first step and could lead to progress in other cities as well.
"If we can get black people political and economic power in Athens, we can do it Macon, we can do it in Savannah, we can do it in Columbia, we can do it in Gainsville," Osei-Frimpong said. "All of these, they share black generational poverty and honestly, white wealth."
'Band-Aid on a larger problem'
Osei-Frimpong discussed how historic events have created the current racial economic disparities in Athens as well as throughout the south by showing an image of the all-white Athens-Clarke County Planning Commission, which deals with community and development-related issues.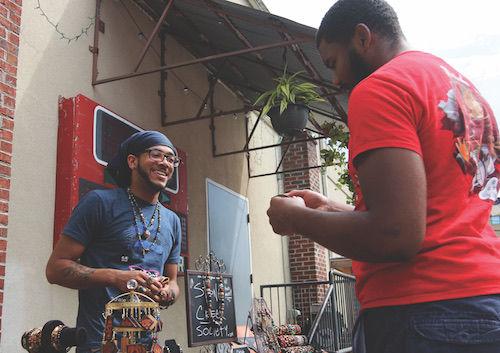 "This is your planning commission in a town that's a third black," Osei-Frimpong said. "The culture we're in today is black people do not know how to ask and will not summon the will to demand and contend for political power because of the effects of white supremacy after the Civil War."
Flanigan said he has first-hand experience with the ideas Osei-Frimpong discussed in his show in Athens. Flanigan said it is important to understand the historic aspect of poverty in Athens in order to find solutions for the future.
"A lot of nonprofits are only putting a band-aid on a larger problem. We can't rely on nonprofits to get to the root of a larger problem," Flanigan said. "I've been in conversation with people who say we need more representation in the planning commission. We need to make sure we're including people of different backgrounds at the table."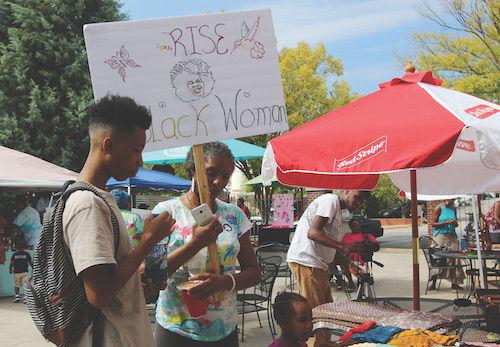 Flanigan said he believes it is important for all people advocating for different causes to support each other.
"You have to trust that people will be there for you as much as you're going to be there for them. I try to reciprocate my energy," Flanigan said. "But a lot of people don't have that trust, and people get burnt out really quickly when they put a lot of time and energy into their own causes."
The root of the issue
Osei-Frimpong also said the origin of the poverty in Athens is not the fault of black people, but rather is caused by the actions of white people in past generations.
"When you ask people about black poverty, the first thing they usually try to do is blame black people, but that's just not the case. Black poverty is directly related to white terrorism," Osei-Frimpong said. "So we're going to talk about white terrorism and how lucrative it was."
---
"When you ask people about black poverty, the first thing they usually try to do is blame black people."
-Irami Osei-Frimpong, a Ph.D. candidate 
---
In the same video, Osei-Frimpong went through a timeline detailing historic racism throughout Athens, pulling from an investigative report done by Al Hester, a retired UGA journalism professor and the UGA Special Collections Library's Athens Klan No. 5 records, which are records of Ku Klux Klan membership, minutes and correspondence from 1921-1930.
Many of the letters Osei-Frimpong read during his discussion were from the black community in Athens as well as from Georgia cities nearby where newly freed slaves were fearful of the Freedman's Bureau leaving their cities.
One letter written by black people in Athens on Oct. 15 of 1868 described "armed white citizens" who were "roving" throughout Athens, threatening to harm black people who did not vote in the way they were told.
Osei-Frimpong compared the actions described in the letter to modern terrorism.
---
"I need you, if you're a true ally, to say something when we're not in the room."
-Broderick Flanigan, local artist 
---
"What that [letter] sounds like to me, that sounds like Taliban Afghanistan," Osei-Frimpong said. "If that's not domestic terrorism, I don't know what is. Can you imagine a roving army of ex-Confederate soldiers saying, 'If you don't vote this way, we're coming to find you.'"
Flanigan said moving forward, the best way to make changes happen is for people to stand together.
"Just supporting our causes and helping your brothers and sisters who don't look like you organize can help," Flanigan said. "But just be that voice of reason. A lot of times, if we aren't in the room, we aren't really brought up. I need you, if you're a true ally, to say something when we're not in the room."