After a two-month lull in the conversation about Chick-fil-A coming into downtown, the Athens Historic Preservation Commission approved the plans for the popular chain to move into the former Five Guys location.
The commission met today, March 21, to further discuss and approve storefront modifications after drafts of the building went through the Athens-Clarke County Planning Department.
Design plans for the new restaurant are in full motion with plans to make this Chick-fil-A different from other locations.
Since downtown Athens is a walkable area, Thagard plans to create both Chick-fil-A and Athens' first walk-up restaurant.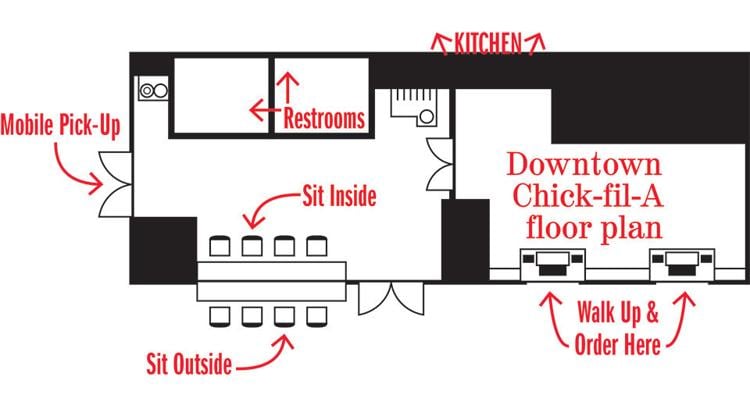 "It is not only a Chick-fil-A original but an Athens original, too," said Kent Thagard, design and construction manager from Chick-Fil-A Corporate.
People of the Athens community will be able to walk up to an outdoor window, place their order and then pick it up inside. There will also be a separate entrance for mobile orders where online customers can quickly and conveniently retrieve their food.
Chick-fil-A's design for the building also includes casement windows which provide a clear view to the outdoors and can be easily opened with the turn of a handle. The restaurant expects future approval for outdoor patio furniture and seating.
"On a nice day, the casement windows will open, and the entire area will open up," Thagard said. "It'll be a both an indoor and outdoor seating space that really pulls the inside outdoors."
Other considerations include brick for the exterior of the building, glass blocks for the storefront and a non-shed style awning. Thagard drew inspiration for these ideas from the prior location of The Varsity that closed back in the '80s.
"We want to go back to its original look and feel," Thagard said.
The Historic Preservation Commission approved the plans and modifications for the restaurant with exception to a change in the size of the sign on the exterior of the building.
The current design plans for the "C" in Chick-fil-A sign to be 5 feet tall with the rest of the letters of the sign at 2 feet For comparison, the "H" in the Horton's Drug Store sign downtown is 4 feet tall.
The HPC requests for the "C" in Chick-fil-A to also only be 4 feet tall, and Chick-fil-A plans to accommodate its request.