Bringing the three-day Biennial Institute for Georgia Legislators to a close, Governor-elect Brian Kemp delivered a speech on Dec. 11 to Georgia House and Senate members during a luncheon.
With campaign season over, Kemp focused on uniting the House and Senate members across party lines.
"I know that we we're all not on the same team in the primary, the runoff or even the general election," Kemp said. "But the campaign is over, and it's time to put politics behind us."
A prominent theme of his campaign, Kemp's speech focused on supporting rural Georgians and helping local business.
"Some [rural communities] continue to struggle, and in some areas, it feels like they're still in the Great Recession," Kemp said. "As governor, I will work to ensure that someone's potential is not determined by their zip code or the county where they reside."
Kemp said he hopes to work with the House Rural Development Council to better the lives of those in rural, impoverished communities.
"We can expand access to high-speed Internet, quality healthcare, good education, and by working with economic development leaders with a renewed focus on rural Georgia, we can grow high-paying jobs and expand investment in small business," Kemp said.
Kemp spoke about safety during his speech, claiming street gangs to be an issue in rural, suburban and urban Georgia.
"Georgia is a distribution hub for drug cartels. These violent criminals use street gangs to traffic meth, illegal guns and beer," Kemp said. "Now, I have a plan to dismantle street gangs: deport cartel leaders and protect our children in school."
Before stating what he plans to do when he assumes the governorship on Jan. 14, Kemp spoke about the achievements of his predecessors Sonny Perdue and Nathan Deal, pointing out the low unemployment rate, which is 3.6 percent as of July 2018.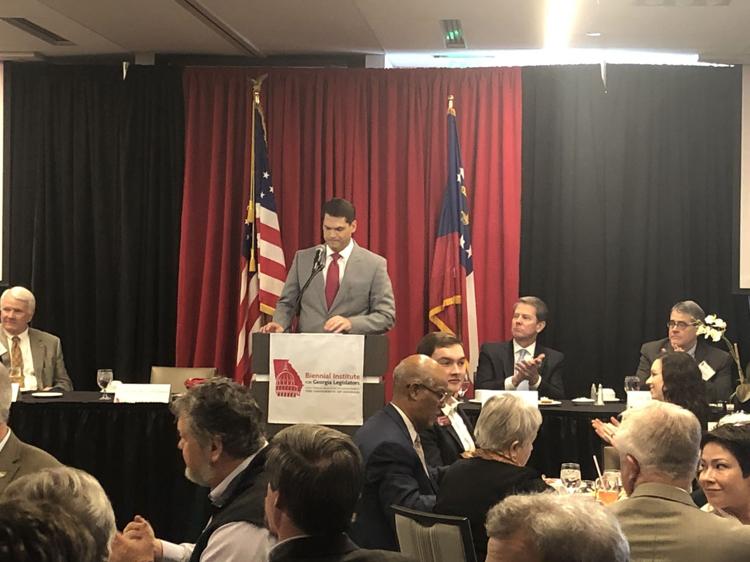 "Because of their leadership, our state has weathered the Great Recession, and, quite honestly, has emerged stronger than ever," Kemp said.
Geoff Duncan, lieutenant governor-elect, introduced Kemp by saying the gubernatorial election drew their families together.
"Anybody who has ever been around Brian understands that he didn't get into this to make a point; he got into this to make a difference," Duncan said.
Kemp reminisced about his days as state senator for District 46 from 2003 to 2007, telling recently-elected Georgia legislators serving is just as hard, if not harder, than campaigning.
And before closing his speech, Kemp said he anticipates meeting with the newly-elected legislators and asked them to join him as they "tackle the challenges" Georgia faces.
Kemp and Duncan were joined at their table by high-ranking Georgia legislators, including Senate President Pro Tempore Butch Miller, House Majority Leader Jon Burns, Senate Majority Leader Mike Dugan, House Speaker Pro-Tempore Jan Jones and University of Georgia President Jere W. Morehead.