Over its three years of operation, the downtown Athens Einstein Bros. Bagels sporadically closed several times with no warning, only to reopen a couple of days later. The store fell back into the same pattern last January by shutting its doors unexpectedly.
But this time was different.
Located on East Broad Street, catty-corner from the Arch, the store occupied a prime location for Athenians and students alike. The coffee and bagel joint had cultivated some regulars. As spring rolled into summer, the doors remained locked. Now, the storefront stays dark. Local government offices that are typically notified about business closings received no such indication about the bagel shop's closure.
While the precise cause of the closing in January is unknown, court records indicate the former bagel business owner lost possession of the rental property in May following a civil lawsuit, in response to allegedly missed rent payments from February 2015 to October 2018. Additionally, the business is said to owe thousands of dollars in unpaid taxes to local and state governments. As it stands, court documents and government tax liens alleged that the business currently owes more than $120,000 to its landlord and various government entities.
A bumpy business
Opened in late 2014, the coffee and bagel store was a franchise store operated by Soar Bagel & Coffee Company, LLC. The company rented space on 259 E. Broad St. from Madhusudhan R. Sabole, the property's owner.
Soar was administratively dissolved on Aug. 26 of this year. Greg Lewis Hawkins served as the company's one-time CEO and the company's last registered agent. Hawkins, the Atlanta Tribune's Man of the Year in 2011, also served from 2011-2013 as chairman of 100 Black Men of Atlanta, a nonprofit organization dedicated to helping underprivileged youth in Atlanta.
The Red & Black has attempted to reach out to Hawkins through multiple methods listed on his business filings. The Red & Black messaged him through Facebook, sent three messages to his company email and made multiple calls to the phone number listed in the company's business filings, all to no avail.
Sabole versus Soar
According to a complaint filed in the State Court of Clarke County by Sabole and his lawyer in October 2018, from February 2015 to October 2018, Soar "failed and refused" to pay rent on several occasions, missing a total of approximately $63,000 in payments. Sabole alleged that Hawkins personally guaranteed the payments.
Sabole sued Soar and Hawkins to acquire the months of unpaid rent. Sabole also sued for possession of the property, attorney's fees, court fees and other such costs.
Court-appointed process servers from Crawford, Shaney & Rasco were commissioned to deliver court summons to Soar and Hawkins.
Soar and Hawkins were reportedly served with the lawsuit but did not respond timely to the court, according to a Feb. 20 motion. In response, the court set a March 21 hearing.
The day of the hearing, Sabole and Soar reached and the court entered a settlement to end the lawsuit.
As outlined in the settlement, Soar agreed to three demands in exchange for Sabole not pursuing his claim of $94,921 — pay $23,846 by April 15, arrange for a new tenant to lease the location at $6,500 per month for at least five years and pay $25,000 by July 1.
Failing to meet the conditions carried various consequences, including losing control of the property and facing asset seizure for the full amount of Sabole's claim plus interest.
Soar failed to fulfill the first deadline on April 15, according to an April 30 affidavit filed by Sabole's lawyer.
On May 2, based on the settlement, the court entered a judgment in Sabole's favor for $94,921 plus interest and issued a writ of possession allowing repossession of the premises by Sabole.
According to the public lien docket from the ACC Clerk of Court's office, rent was not the only thing Soar was not paying.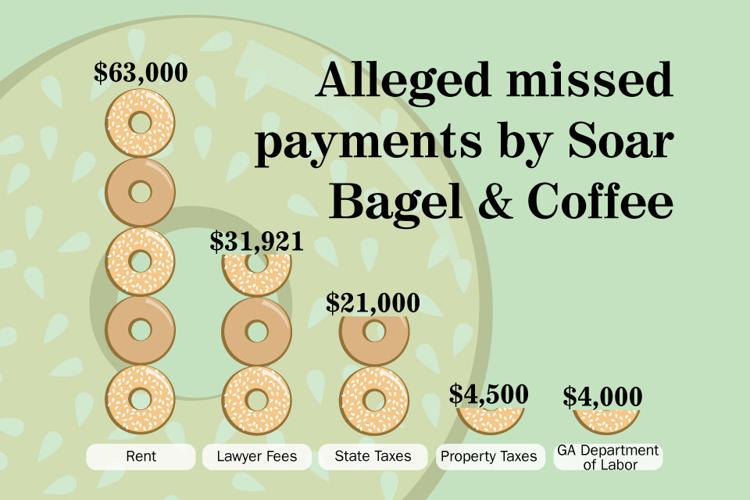 Unpaid taxes
From its opening months, Soar has reportedly been a delinquent taxpayer. According to the public lien docket, the company has had six separate tax liens placed on it from three different agencies.
A tax lien — or Fi.Fa — is a government order that prevents a company from levying or selling its available goods, property, equipment and other such items until the company has paid back its outstanding taxes.
The docket indicates Soar owed approximately $21,000 in unpaid taxes to the Georgia Department of Revenue over six separate tax periods from late 2017 through May 2018. In addition, the company also owed over $4,000 to the Georgia Department of Labor through three unemployment contribution tax liens.
After reviewing multiple documents and talking with local government officials, it appears that taxes owed in each state lien are separate from the other amounts owed in other liens and none of them have been cleared since 2015. According to the ACC Clerk of Superior & State Courts's office, if a lien has been settled, a copy of the lien with an approval stamp will appear near the initial lien in the Clerk's database. As of press time, no such copies were found.
In county-issued liens, Soar owed more than $4,500 in business personal property taxes to the ACC Government, according to two tax liens for 2017 and 2018. According to the ACC Tax Assessor's office, the company had not filed any business personal property tax returns to the local government since 2015.
In response, the ACC Tax Assessor's office has had to estimate how much Soar has to pay in business personal property taxes. The tax commissioners then designated that value estimate as the amount of taxes Soar owes, and the tax commissioner charged that value estimate to the business. According to the ACC Tax Commissioner's office, neither county-issued liens from 2017 and 2018 have been fully settled.
Unknown prospects
In early June, a local real estate company, Boswell Group, hung its sign in the property's storefront window. Company representatives declined to comment beyond that they are representing a client in negotiation with Sabole to rent or own the now-vacant property.
Sabole's legal representative David Brisendine stated that his client's immediate priority is selling or renting out the vacant property. Later down the road, he said, Sabole will seek to collect the money owed to him by Soar.