A black clad group of protesters, American flags, Make America Great Again hats and chants of "USA" and "Lock her up" constituted the scene at the Classic Center in downtown Athens on Tuesday night, Oct. 9.
The event, called "Campus Clash," was hosted by the University of Georgia's Turning Point USA chapter and featured Donald Trump Jr., his girlfriend Kimberly Guilfoyle and TPUSA executives Charlie Kirk and Candace Owens.
About 1,500 people were in attendance, according to TPUSA estimates.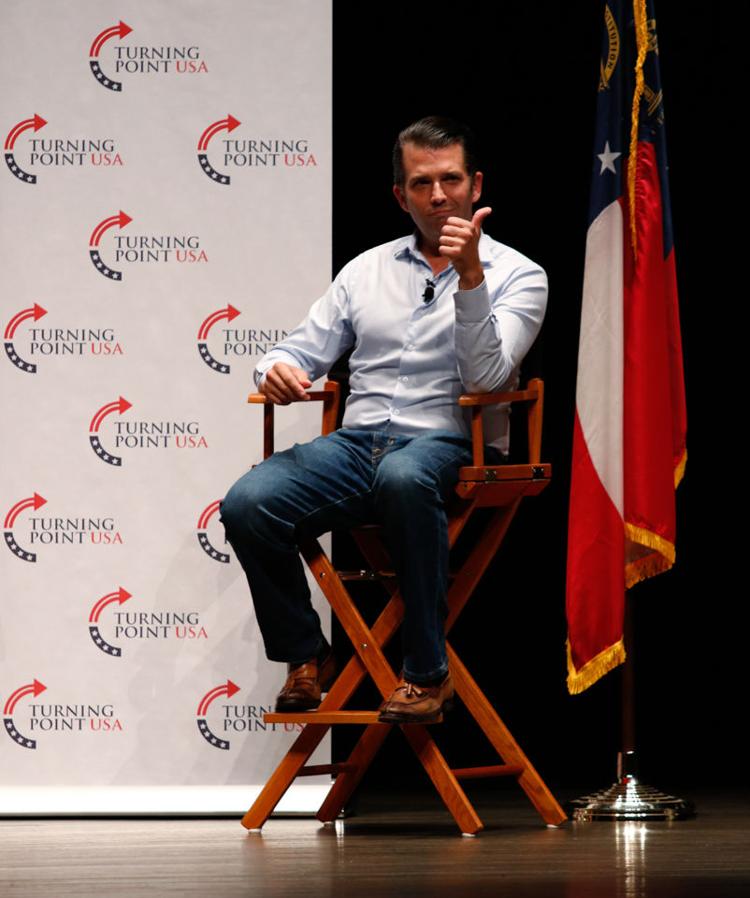 Trump Jr. gave a nod to the football fans in the house as the panelists started speaking, mentioning his friendship with legendary UGA running back Herschel Walker.
"Herschel Walker was the first man to take me to Disney World when I was 6 years old. He called me and wanted me to make sure I said hi to all of you," Trump Jr. said, which was met with dog barks from the crowd — a signature chant for the UGA Bulldogs.
In the beginning of the discussion, the panelists praised the Trump administration, calling it the most successful in history, touting stock market trends and GDP growth and celebrating the recent appointment of Justice Kavanaugh, with Owens calling the treatment of him "horrific" and Kirk sporting a T-shirt with Kavanaugh's image and the word "JUSTICE" on it.
"I understood [the #MeToo movement] to be a major threat to the men in this country," Owens said. "We're at a strange place in this country, and it's time for girls to speak out and defend our boys and defend our men against toxic feminism."
Owens compared Christine Ford's accusations against Kavanaugh to the accusations made by white women against black men in the Civil Rights Era.
"Black men were lynched," Owens said, mentioning Emmett Till, who was "lynched and burned beyond recognition."
"Based off of just [Ford's] testimony, [Democrats] were demanding that black people stand on their side, that black people represent Christine Ford and speak out for her," Owens said. "This is absolutely ludicrous. This is why we need due process."
Panelists also criticized the press, including CNN, while Owens complained about her Wikipedia page.
"In every regard, this has been such a tremendous presidency that it's difficult to understand why the press lies," Owens said. "Why can't they just tell the truth? I made an awful mistake and read my own Wikipedia, and I cringed. They have me painted as a Nazi-sympathizer [and] anti-black."
Black Conservatism
Throughout the event, Owens spoke on the role of black Republicans, saying they receive backlash for their views from liberals.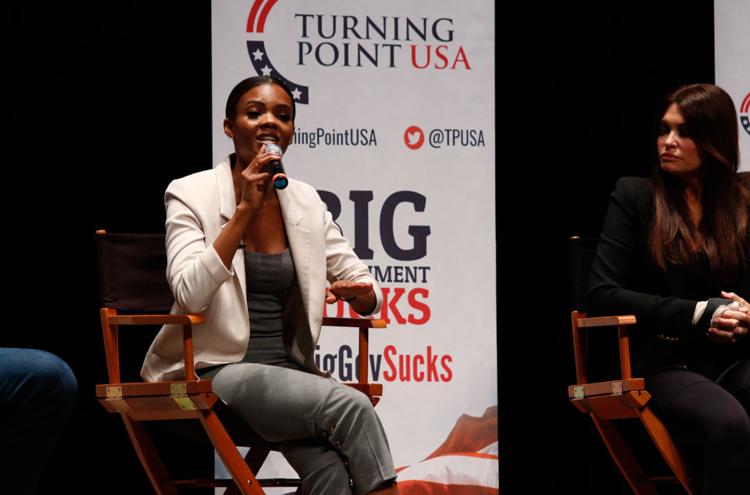 "I'm outraged that [the Democrats] would rather put illegal children before black children. We've been here since 1619," Owens said. "Now the black community is waking up. Guess what, [the Democrats] don't like that their voting mules are waking up to what's going on, but I'll tell you what. We're just getting started."
The panelists repeatedly said black unemployment is the lowest it's ever been and said Trump and his policies were improving the status of minorities.
Guilfoyle's mother is from Puerto Rico, and her father is from Ireland, but she thinks immigration should be done "the right way."
"It's the greatest country in the world, and we want to keep it that way, but we must have law and order," Guilfoyle said.
Owens said she leaned toward the political left until recently after the 2016 presidential election. She believes the main reason for her initial political views arose from the notion that black people must be Democrats.
"A big part of this element in how they've been able to brainwash the entire [black] community, they selectively edit out history," Owens said. "When I graduated when I was 18 years old, I thought that Republicans were racist, that every point in history when blacks had progress was because of Democrats."
Kirk agreed.
"They believe someone loses their blackness when they become a conservative," said Kirk, which received a "boo" from a black man in the crowd.
The opposition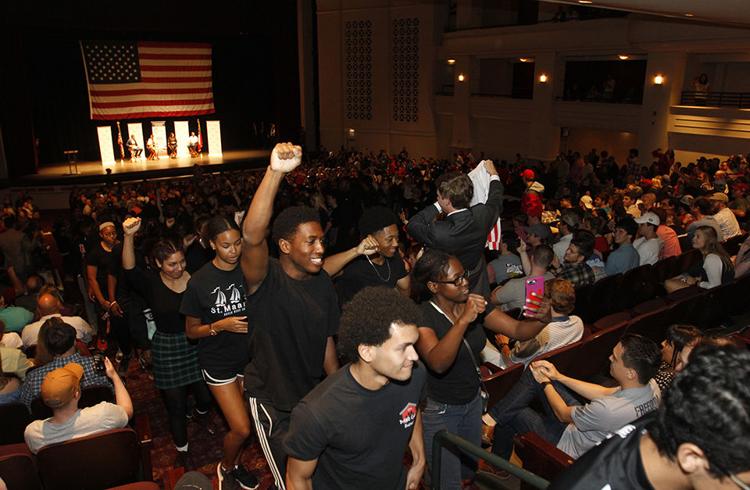 Around 7:30 p.m., a group of about 75 protesters held their fists in the air, rising from their seats and walking out of the auditorium. The protesters, dressed in all black, sat together and often interrupted the panelists who were speaking, booing and yelling "Candace, leave us alone."
"We've got a group of protesters that are sitting in the middle section. They're planning a walk out because as you know, most of these protesters are petulant children who need attention," Owens said near the start of the event.
The protesters had met at the Arch downtown before walking together to the event. At the same time, a smaller protest took place outside on East Washington Street.
Back and forth
In the last act of the event, the panelists welcomed attendees to line up and ask questions, ranging from environmental concerns, religion, foreign policy, the recent confirmation of Kavanaugh and celebrity endorsement of politicians.
"The bravest man in America right now is Kanye West," Owens said prior to the Q&A.
This prompted a question from an audience member who said he was in support of what the panelists were doing. However, he had one concern.
"Two days ago, [Kirk] said that Taylor Swift knew nothing about politics, but she endorsed the Democrats," the audience member said before pointing out what he saw as a double standard.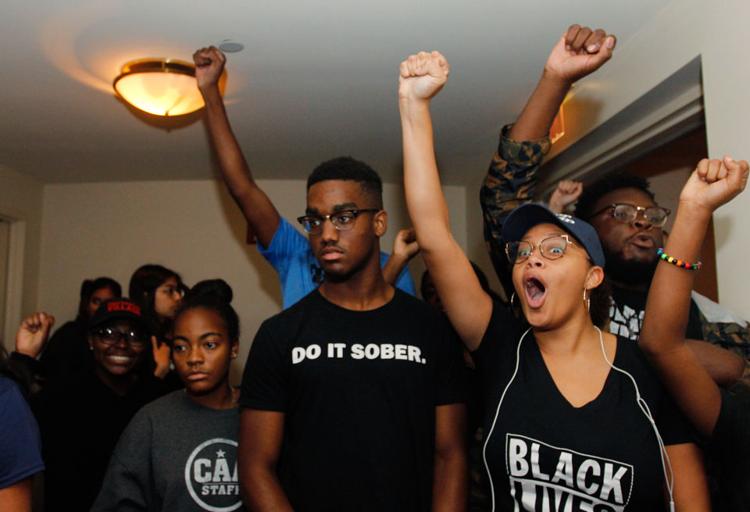 Owens countered by saying Swift tells voters who to vote for, while West allows people to choose for themselves.
"It's time for people to stand up and be brave, like Kanye West was brave," Owens said. "[He] has not told anybody what they should think [or who to] go vote for. He simply said he supports the president."
One supporter of the event asked Donald Trump Jr. if he would accept a challenge to fight Michael Avenatti, lawyer for porn star Stormy Daniels, in an MMA match for charity. Avenatti had challenged Trump Jr. to such a fight on Twitter just a few hours prior.
"My boyfriend would kick his ass," Guilfoyle said, and the crowd erupted in applause.
"They have to resort to violence because they can't win with facts. They can't win with logic," Trump Jr. said. "The media, because he's an adversary to Trump, will give this loser this platform."
The final question taken by the panel came from a Georgia College & State University sophomore, Ellie Hicks, asking Trump Jr. to say hello to her brother Robert, who is deployed on an aircraft carrier, the U.S.S. Harry S. Truman. Trump Jr. agreed and addressed him in a video.
"Hey, Robert. Thank you for everything that you're doing," Trump Jr. said. "You exemplify this great America."
Hicks originally had a policy question for the panel, but thought the one she went with would be more meaningful to her brother.
"I figured that that question was not as important as the joy my brother might get seeing the video I send him [of Trump Jr.]," Hicks said.
---
Correction: An earlier version of this story misidentified the position Herschel Walker played at Georgia. The error has been corrected. The Red & Black regrets this error.