The Clarke County School District, which educates around 14,000 students, recently made a series of announcements regarding budgets, new initiatives and awards.
Ending the fiscal year with a surplus
Although CCSD projected a budget deficit at the beginning of the 2018 fiscal year, the district raised the deficit and ended up $600,000 ahead, according to Larry Hammel, chief financial officer of CCSD.
According to Hammel, the county does a causal analysis every year in which they take the budget and break it down from prior percentages.
 Hammel said at the end of May the district originally planned for a deficit of about $3 million. After an analysis, they realized they had a surplus of about $600,000.
"Typically, we try to be as accurate as possible, so our revenue projections are 100.05 percent and our expenditures are at about 98 [or] 99 percent," Hammel said.
This small surplus ended up taking place because the school district spent about $3 million less than projected a year to date, according to Hammel. The funds from the surplus will go into the fund balance for next year.
"We're only in the second month into the budget right now, and we're still trying to close up last year, but we should be on target for where we think we should be for this time of year," Hammel said.
New plan for academic growth and achievement
CCSD is launching a new strategic plan this school year to ensure academic growth and achievement of its students. 
According to an Aug. 21 CCSD press release, the planning process was initiated by CCSD superintendent Demond Means, who gathered a committee of educators, parents and community members to review student learning and district practices.
The committee identified strengths and weaknesses within the district and specific steps for the district to take to improve student learning and development.
"The first priority of the strategic plan is academic growth through a relentless commitment to educational equity," the press release said.
According to CCSD, "its goal is to increase the number of students reaching the proficiency level in literacy and numeracy by 12 percentage points by the end of the 2020 school year over the district's 2017-2018 performance."
The school district also plans to address the gap between students who are low-income and from historically-marginalized groups and their peers, the press release said.
In Clarke County, 49 percent of the student population are black students, who account for 79.5 percent of behavior incidents.
The district plans on doing this by providing all students with engaging and challenging instruction, as well as broadening access to rigorous classes and reducing the disparities in discipline.
Launching of Georgia Possible
CCSD and the University of Georgia are partnering up to launch a new three-year pilot program called Georgia Possible.
The program will focus on providing leadership development and college readiness to CCSD high school students. Students who participate in the program are committed to the program for three years and will meet monthly.
Georgia Possible's goal is to bring together CCSD high school students to better prepare them for success in the classroom and increase their awareness of postsecondary options after high school.
CCSD says that students will develop leadership skills, explore potential career opportunities, engage in academic guidance, and participate in community and cultural experiences.
Plans include helping students with effective communication, conflict and stress management, goal setting and understanding the college application process.
Students will also be connected to a mentor, and parents and families will be engaged with the program by attending bi-monthly meetings, so that they can monitor their students' progress.
Teachers receive awards and grants
Several teachers in the Clarke County School District have been recently chosen as the recipients of awards and grants. 
Angela Gay, the school social worker at Cedar Shoals High School and Howard B. Stroud Elementary School, received the Jenny Penney Oliver Chair for Counselors and Student Support Personnel.
Gay, a native Athenian and University of Georgia alumna, has worked for 18 years as a school social worker and has previously worked with the Clarke County pre-kindergarten program for seven years.
"I was humbled, really. I was nominated, and just to be nominated meant a lot to me. I did not know if I would win because we have some outstanding support staff in our district, some incredible social workers and counselors that were nominated as well," Gay said.
School social workers' primary function is to address any social, emotional and academic needs students might have that interfere with learning.
Gay believes what helped her stand out were some of the initiatives the school has started to address economic and financial barriers. Initiatives include providing a food pantry, clothing closet, school supplies and personal care items within the school's "care closet."
Gay and Jenny Penney Oliver, who the award is named after, share similar missions, she said.
"Dr. Oliver's mission was always to bridge gaps between groups of people that didn't always converse together … that's always what my mission is too, to make sure that we're taking care of all children, no matter where they come from," Gay said.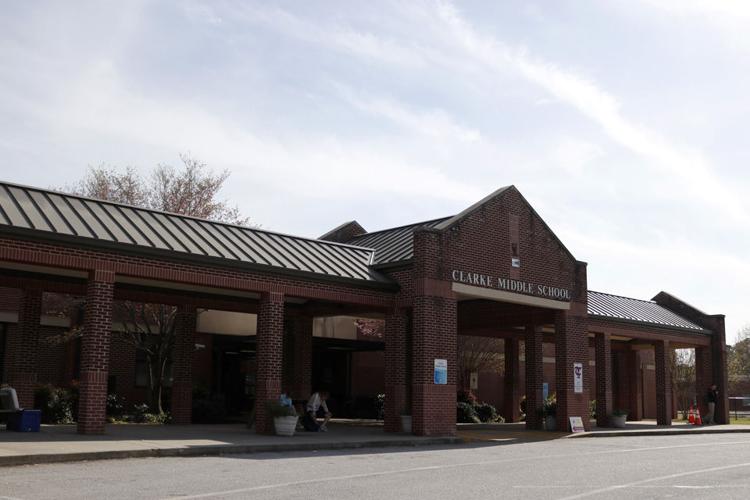 Brian Parido, a band teacher at Clarke Middle School, received the Lamar Dodd Chair for Teachers of Fine Arts.
This is Parido's sixth year at CMS. During these years, the band has taken trips to Universal Studios and Disney World to perform. The band was also rated superior by the Georgia Music Educators Association for the last four years, according to Parido.
"Clarke County is known for its fine arts program, and it wasn't just me going up against music teachers. It was against any type of fine arts teacher in the whole district. To have my name be considered up there with some of the awesome educators we have was pretty awesome," Parido said.
Parido said the process for being considered for the Lamar Dodd award consisted of receiving award details in the spring followed by nominations by someone such as a staff member, parent or coworker.
The nominees then had to answer a few essay questions, and two other people wrote recommendations on the nominee's behalf. Finally, an administrator completed an evaluation of the nominee.
Parido said he's inspired as a teacher most by his wife Sarah, an orchestra and guitar teacher at Burney-Harris-Lyons Middle School.
The Foundation for Excellence in Public Education presents thousands of dollars in awards and grants each year to honor outstanding teachers and administrators in the CCSD. Awards and grants range from different categories, such as teaching, counseling and community service.