When University of Georgia student Tyler Medders first started using e-cigarettes to wean off of cigarettes, he found himself getting addicted to yet another source of nicotine. 
E-cigarettes, considered tobacco products by the U.S. Food and Drug Administration, have been cited as the cause of multiple deaths and lung illnesses across the United States in recent months. With sales decelerating in the midst of recent medical warnings and deaths, quitting is still easier said than done. 
The first death linked to vaping was reported in Illinois on Aug. 23 following a slew of vaping-related illnesses. Since then, the national death toll has risen to 26 people. On Sept. 25, the Georgia Department of Public Health officially announced the state's first death from a vaping-linked illness. 
In September, the Trump Administration proposed a ban on flavored e-cigarettes to curb use of appealing flavors like mango and creme. Both the FDA and the Centers for Disease Control and Prevention issued statements in October citing the uncertain ramifications of e-cigarettes and announced investigations to identify their long-term effects. 
UGA adopted the University System of Georgia's ban on all forms of tobacco products from USG properties in October 2014. However, the UGA Office of Public Affairs told The Red & Black in March of that year that the policy serves as an encouragement to limit tobacco use, rather than a punishment. 
The rise of vaping
The attention to and restrictions on e-cigarettes comes after an explosive growth in the sales of these devices in recent years, coinciding with the fall of cigarette usage. After entering the U.S. market in 2007, e-cigarette companies marketed their products as alternatives to traditional cigarettes. The World Health Organization reported 41 million vapers in 2018, a 34 million increase from 2011.
The number of cigarette smokers reached a record low of 14% adult users in 2017, according to the CDC. While the stigma around cigarettes increased, e-cigarettes became a trendy alternative.
Senior geology major Cash Owens first began vaping about a year ago and recalled a period where his dependance on nicotine kept him from quitting. 
"I picked up vaping because I enjoyed how discreet it was," Owens said. "There was no stigma, no bad looks from people." 
According to the CDC, JUUL, one of the leading producers of e-cigarettes, has seen a 641% increase in its sales from 2016-2017, in part after investments from Altria, one of the largest tobacco companies in the world. According to a study by the Journal of American College Health conducted in April 2018, 36% of college students reported having used a JUUL and 28% of participants recorded current use.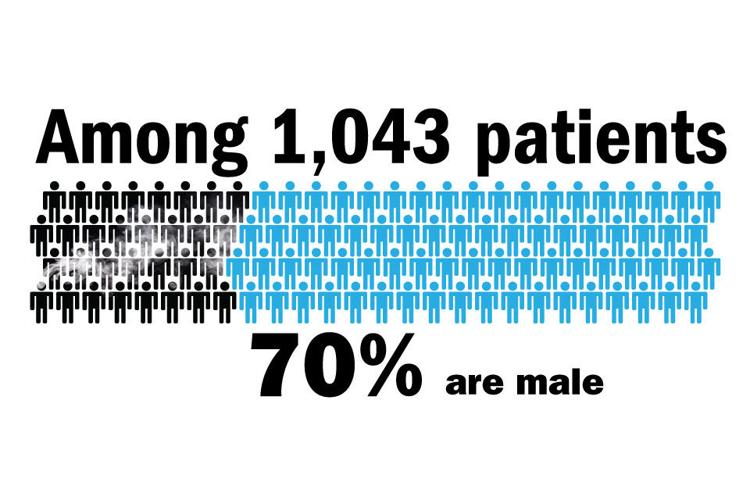 However, the recent deaths and illnesses have led retailers such as Walgreens, Kroger, Walmart and Rite Aid to discontinue the sale of e-cigarettes. 
More nicotine, more money
Most vaporizers are modest in size. The devices heat the e-juices to a gaseous form that can be inhaled. 
Owens, now a former user, said a JUUL pod used to last him about two weeks. 
"It tasted amazing, and it was so easy to use," Owens said. 
JUUL markets their products to adult smokers and claims to "accelerate cigarette displacement," but admits their product can create "dependency." 
By design, JUUL's were created with "cigarette-like" nicotine levels to "satisfy" adult smokers. A 5% JUUL pod equals the amount of nicotine in a 20-count pack of cigarettes. Other e-cigarettes in the market contain 0.3-1.2% nicotine.
Medders, a junior marketing major, originally used a JUUL to stop smoking cigarettes. He didn't realize it would worsen his cravings. 
"Cigs are easier to quit. They smell and taste nasty, unlike JUUL's," Medders said. "Plus, JUUL's have a way higher nicotine level." 
Todd Drake, a respiratory therapist at St. Mary's Health Care System in Athens, said several of his patients began vaping to quit smoking cigarettes only to see their dependence on nicotine increase. 
"Nicotine can calm you down, it can wake you up and stimulate you," Drake said. "In any form or device, it's addictive."
The CDC found 15% of patients reported to have lung illnesses related to vaping are under the age of 18 and 21% are between 18 and 20 years old.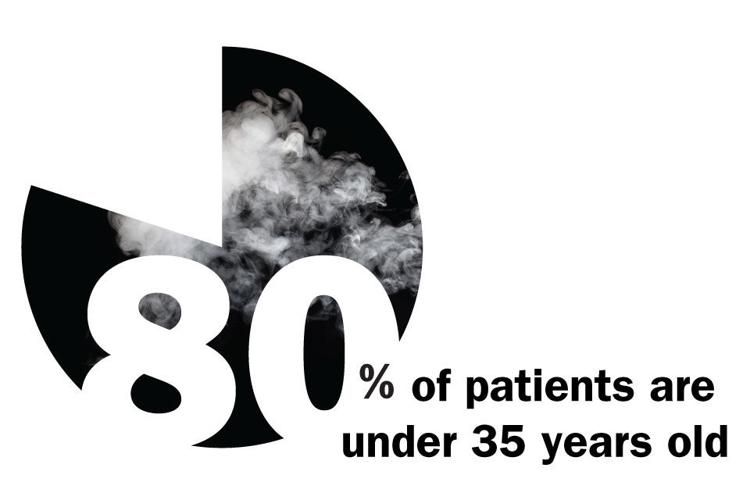 As someone who experienced nicotine addiction and withdrawal, Owens would not recommend the habit to anyone — especially young adults, who have access to e-cigarettes from the age of 18. 
"It's horrible, but the nation's decided 18 is the right age to become addicted to nicotine," Owens said.
Health effects 
While the exact causes of vaping-related deaths and illnesses has not yet clearly been identified, symptoms include shortness of breath, chest pain, abdominal pain and nausea. 
In addition to instances in which the consumer exclusively used nicotine-containing devices, products with THC have also been linked to these symptoms. 
Derrick Gable, director of Health Promotion and Disease Prevention for the Northeast Health District which operates community health clinics, said e-cigarettes are not a safer alternative to cigarettes and still cause health damage.
"A lot of substances that are in the cartridges or liquids, we don't know how they are going to react with lung tissue," Gable said. "Eating lemon juice is not a problem, but you might not want to inhale it in to your lungs. Just because it's safe in one way doesn't mean it's safe in another."
Gable said the long-term health effects of e-cigarette products will take time to understand, and the trend for e-cigarettes in the future could resemble the decline in smoking after researchers connected cigarette use to lung cancer. 
Vape-less future 
With the proposed ban on flavored e-cigarettes, local vape shops are fearful of its consequences on the market and users. 
Elizabeth Bogue, an employee at Voodoo Vapes in Athens, called the potential ban on e-cigarette flavors "ridiculous." Bogue, an active vape user for the last three years, said if flavors the Trump administration is attempting to ban are removed, people will revert back to cigarettes or e-juices with higher nicotine concentrations. Bogue believes e-cigarettes help people wean off of their nicotine addiction, as they did with her father.
"It will be more unsafe with the ban," Bogue said. "People will just go back to tobacco." 
Since Trump's proposal, Bogue said there has been a price drop on e-cigarettes flavors such as mango. Some customers raised concerns over "vaping killing people," but Bogue told them THC cartridges are to blame, not the e-juice in the shop. 
"I've been an active user for three years and never experienced any health effects," Bogue said. "I believe vaping is a huge, safe way to battle nicotine addiction." 
Owens believes the proposed ban is the "right step forward," while Medders believes it may lead to other unwanted complications.
"The ban will lead to questionably sourced pods or juice that isn't regulated and may have unknown dangerous ingredients," Medders said.
Trey Young, a junior journalism major, sees the national attention to the proposed ban as a distraction from more pressing issues. 
"Other things like guns and opioids have caused much more carnage in American society than e-cigarettes ever will." Young said. "To act as if e-cigarettes are the next existential crisis is ludicrous to me."