As the crowd began to settle down at the sound of her microphone feedback, Deborah Gonzalez provided a simple reason for launching her radio show "Open Records with Deborah Gonzalez" at its kickoff event Sunday night.
"How did it start? Why am I doing this? Well, I kinda lost an election," Gonzalez said.
Gonzalez, a first-time legislator, was ousted as a member of Georgia's House of Representative for District 117 by Houston Gaines in last November's midterm elections after flipping the long-time red district to blue in 2017. Now, her show will air Sundays from 5 p.m. to 5:30 p.m. on WXAG 92.7 FM & 1470 AM.
"[WXAG] is the station of the people," Gonzalez said. "This is the station of the community. And when I went and did my work, that's what I wanted to do. I wanted to extend the voice of the community."
Episodes are pre-recorded before it airs on the radio. The following Monday after episodes air, they will be made available as podcasts on Podbean. Gonzalez has already uploaded three episodes where she discusses issues such as the meaning of heritage and talks about 2019 SPLOST proposals that range from affordable rental housing to new recycling facilities.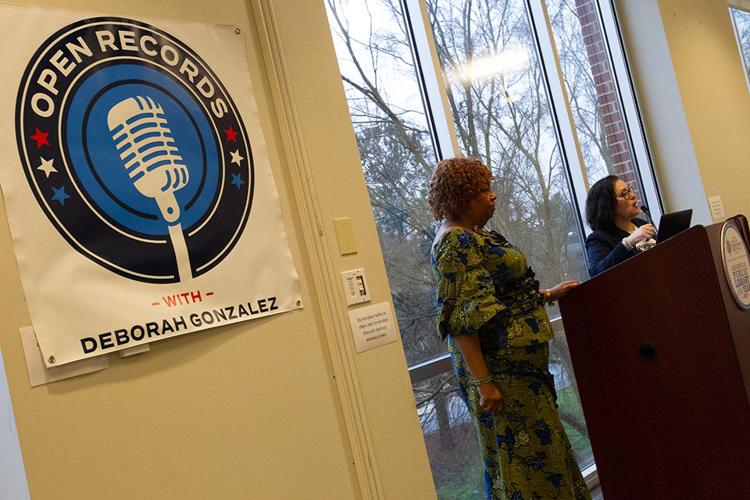 The show has episodes outlined until summer 2020. During the celebration on Feb. 10, Gonzalez mentioned the purpose behind her show.
"What we wanted to do with this show is show why [a person's vote matters].  Just so many times, we're not given the opportunity to understand, we are not told what is happening and we need to be told that," Gonzalez said.
After letting the other members of her new WXAG family introduce themselves and their shows, Deborah Gonzalez brought up a few of her attending interns and had them introduce themselves.
Kianna Lanier, one of the introduced interns, explained interns are responsible for covering a beat and sending in research for the show. Additionally, each episode will feature a 'millennial minute' each week where interns can discuss topics that interest them.
Lanier, a fan of Gonzalez and her political stances, is a third-year political science major at the University of Georgia who said she "definitely" wanted to apply when she heard about the internship through UGA.
Near the end of the launch party, Gonzalez aired the second episode of her show, where she sat down and talked about education with Celeste Ngeve, the director of Rutledge Academy. The first episode premiered on the local radio at 5 p.m. during the launch party.
Helene Marotta, a friend of Gonzalez, attended the event in support. The two women drew close over this past year and a half through their joint interest in politics.
"I respect her tremendously and all the work she does for this community," Marotta said. "I love the fact she had represented us in District 117 for a while and now that she's got this radio show. I think she will continue to bring to this community lots of interesting subjects and topics and interviewing people we would want to hear about."
Losing her seat as a state representative didn't diminish Gonzalez's drive to improve her community.
"I discovered that I really enjoyed doing the work with the community," Gonzalez said, "The one thing as I said as soon as I lost was that I was not going to go away … There is still a lot of work to do."