Four white participants of the Dignidad Inmigrante en Athens' "Caravana de Carros," or a caravan of cars, volunteered to serve as marshalls for the group in case any of the 14 participating cars were pulled over by police. The marshalls don't live with the same fear as many immigrants do of arrest for driving without a license.
The car caravan drove down Atlanta Highway, around downtown Athens and to the parking lot across from The Grit on Jan. 11 to protest arrests by Athens-Clarke County police officers of unlicensed drivers.
This was Dignidad's second "Caravana de Carros." The first was on July 27.
The car caravan, as described by the coordinator of the Athens Immigrant Rights Coalition and Dignidad Inmigrante Beto Mendoza, is symbolic.
"It sends the message that everyone has to drive— to drive from school, to drive from work, to drive in emergency. But also to drive to go to the mall, to church, have fun in the park. Athens-Clarke County don't have a real good transportation system," Mendoza said.
The group gathered at Georgia Square Mall at 4 p.m. to adorn their cars with signs reading phrases such as "No Ban No Wall," "No Human is Illegal," "Migration is Beautiful" and "Change Unjust Laws," to prepare for their drive.
The "change unjust laws" sign references Georgia Senate Bill 350 which, when passed in 2008, increased penalties for unlicensed drivers.
Leanne Purdum of the Athens Immigrants Rights Coalition, a partner organization to Dignidad, was one of the 25 members present and said the purpose of the caravan was to call for change within the police force's standard protocol.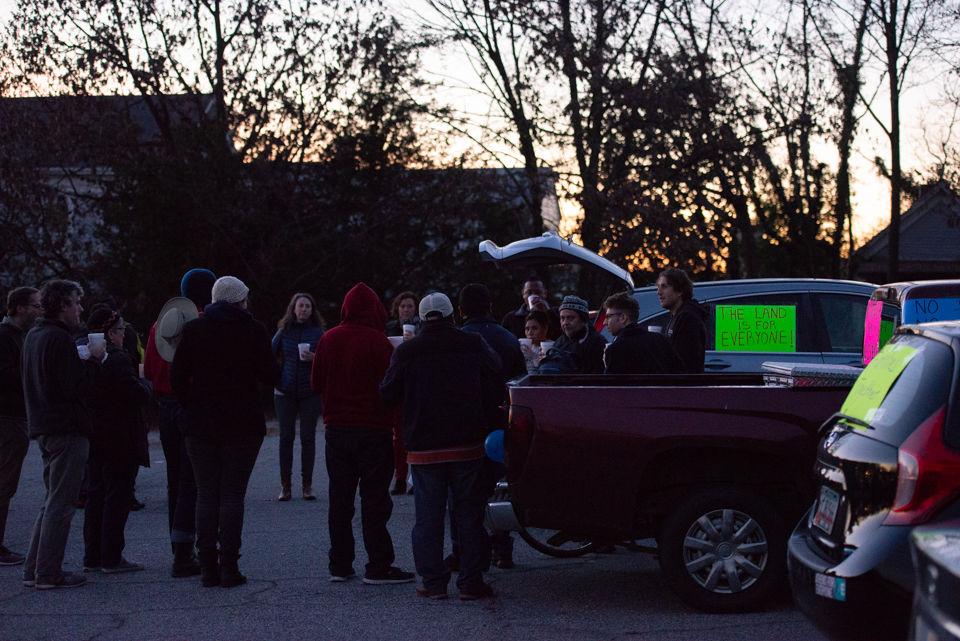 "What we're looking for is for the police department to use their discretion to not arrest people for not having a license," Purdum said.
Non-U.S. citizens are required to present valid immigration documents and possess a Social Security number to obtain a driver's license, proving problematic and dangerous for undocumented immigrants. Receiving a minor driving infraction can lead to arrest and potential deportation.
Robert Foster, a religion professor at the University of Georgia, is a part of the Interfaith Sanctuary Coalition which has hosted events with Dignidad before. Before the drive, Foster said it's important to let people speak for themselves.
"Why we're here, we're sort of like, 'This is what Dignidad has decided -- that they want to do this to have their own voice,' so we're just coming along to stand in solidarity," Foster said. "We're not trying to invent for them what their needs are."
Following chants of "hey hey, ho ho, la migra has to go," or "hey hey, ho ho, immigration has to go," the caravan ended around 6:30 p.m. with immigrant testimonies, donuts and atole, a warm Mexican drink.