The Athens-Clarke County Mayor and Commission is currently considering a proposal to designate the western side of downtown Athens as a local historic district. The plan has drawn both vocal supporters and outspoken detractors to commission and community meetings since its inception in early 2019.
ACC Assistant Planning Director Bruce Lonnee said during an Oct. 5 public virtual meeting that the mayor and commission will discuss the specifics of the government designation of the district during their Oct. 20 agenda setting meeting and potentially vote on the item during the Nov. 3 voting session.
"We don't want this to be a closed discussion by any stretch, and neither do the elected officials," Lonnee said during the meeting. "They put a high priority on us trying to get the word out."
The proposal seeks to put protections over the western side of downtown Athens. During the meeting, District 3 Commissioner Melissa Link mentioned the recent development of highrise student condominiums on the other side of downtown and said the western area is "in the crosshairs" for similar development, despite its historical significance.
Buildings such as the First African Methodist Episcopal Church, the First Baptist Church, the Morton Theatre and the Hot Corner district fall under the new proposed district. Although the area is currently within a national historic district that was established in 2006, the national district doesn't afford the level of protections as a local historic district.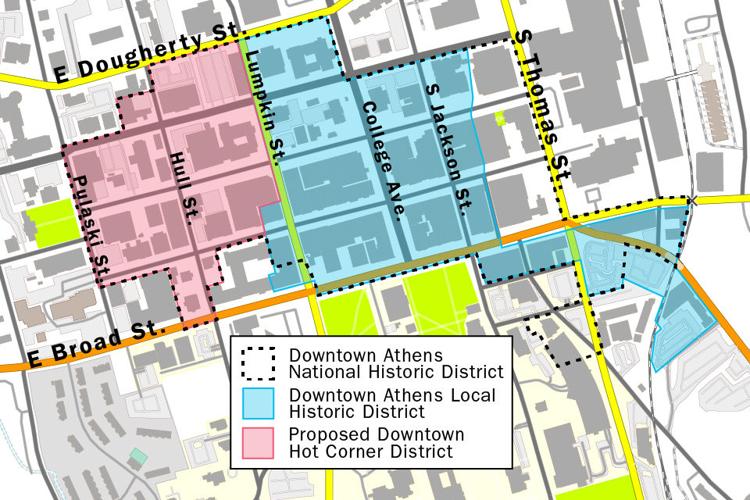 A local historic district requires more oversight of less-obvious aesthetic changes to a structure, such as adding a window, according to the current local district guidelines. The district would require property owners to complete a multi-step approval process to change the facades of their buildings so as to comply with design guidelines set by the local government.
Some business owners and groups like the Athens First United Methodist Church, fear the regulations will stifle the area's economic growth.
Athens First UMC building committee chair Jill Bateman told The Red & Black in early 2020 it fears the district would prevent the church from demolishing one of its buildings ­— the Saye Building at 110 W. Hancock Ave. The church wants to demolish the building to help expand its facilities.
"I feel like this is the only way to truly preserve and protect that historic and cultural infrastructure  that is so vital to the history of this town, so vital to the diverse culture of this community," Link said during the Oct. 5 meeting. "It's really the only evidence we have … of the prosperity of the African American community in pre-segregation years. I think it tells a story that often doesn't get told."
The Planning Department is inviting stakeholders to share their opinions to help move the process along through a survey on their website, which they will review later this month.
"This is important. This is big. It carries weight," Lonnee said during the meeting. "It's worth doing thoughtfully, and we would love to help you work through those thoughts."