Linqua Franqa's eyes darted wildly through the crowd as she skipped around the small, roped off space that was now an impromptu AthFest stage. With the wiry snarl she's known to wield while performing, the tails of her pink dress danced around her. Her words were fast, emphasized and peppered with high pitched peaks throughout.
Linqua Franqa, also known as Mariah Parker, magnetically pulled AthFest attendees into the corner of a cramped beer garden tent around 10 p.m. Friday night, two hours after her slotted performance time. The crowd nodded along to her eclectic, politically-minded lyrics and jazz-inspired hip-hop beats as she danced in circles on the pavement.
The area she performed in was no more than the size big enough to squeeze sound equipment, complete with twinkling lights stretching from corner to corner and a circle of kids lining the front. Bad weather postponed Linqua Franqa's performance slotted for the Southern Brewing Main Stage and rendered the stage, along with Hull Street Stage, unuseable for the rest of the night.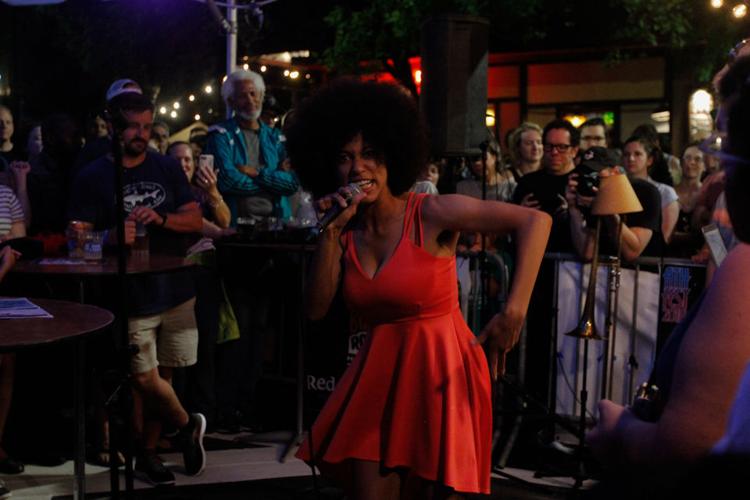 Though the area was small, the crowd was mighty, energetic and equipped to enjoy the performance. She rapped songs like "Breathe In" and "The Con and the Can," among others, making politics and femininity the forefront of her performance.
"This next one's for all the women," Linqua Franqa said to the crowd. "Even if you just like to wear dresses sometimes … I love you. This one's for you."
Linqua Franqa holds more to her identity than just a hip-hop queen. She was sworn in as the new Athens District 2 commissioner within the last month, an event that made national news as she put one hand on a copy of Malcolm X and her other hand as a fist in the air.
Her fans are already seeing the parallels between her plans for local politics and her passion to create and share hip-hop music with this town.
Emma McLeod, Parker's friend and campaign volunteer, said the passion guiding Linqua Franqa's narrative is "intersectional" with the change she hopes to see enacted within Athens-Clarke County.
---
"What she's tapped into is bigger than one election. This is a broader narrative that will bring more people to the table."
- Gabe Shippy, campaign volunteer
---
Given the historically political nature of hip-hop culture, McLeod said Parker plans to affect change in every neighborhood, whether that's through policies or her music.
"It's hard not to get on board with her," McLeod said. "It's just the enigma of Mariah."
When Parker performed "The Con and the Can," Athenians were dancing and belting the lyrics right along with Parker. Fans were banging on tables, raising their hands in a fist and nodding along in agreement.
"Cause everyone wantin' to complain about the state of the system, congratulate themselves on Facebook for paying attention," Parker raps. "And homie, I know you're right, but if nobody mobilizes and nobody fights, shit, We staying slaves for centuries."
Another supporter in the crowd, Gabe Shippy, said though he's seen Parker perform multiple times, this impromptu performance "will go down in history as one of the best."
Shippy, also a volunteer for Parker's campaign, said he's excited to see Parker in action in the commission considering the work it took to take her there.
"What she's tapped into is bigger than one election," Shippy said. "This is a broader narrative that will bring more people to the table."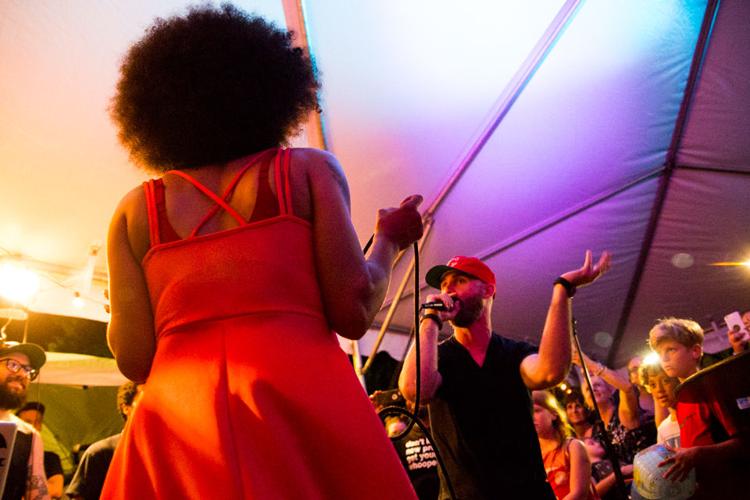 Toward the end of Parker's performance, she and her beatmaster-in-chief WesdaRuler took a short interlude to allow another politically active Athenian speak and rap to the crowd.
Tommy Valentine, recent candidate for District 9 commission who lost to Ovita Thornton, and a veteran in the hip-hop scene in Athens, addressed Parker and the crowd about the potential for a more progressive future of Athens.
Valentine ended the rap battle with seven words that made the progressive fans in the crowd shout in agreement: "The only thing we need is Our Revolution."
---
"It's hard not to get on board with her. It's just the enigma of Mariah."
- Emma McLeod, friend
---
Parker's status as a public figure, though daunting to some, seemed to fit in naturally with her persona as a hip-hop artist. As she ended her show, she thanked the attendees in the crowd not only for sticking around for her show, but also for helping to get her elected to her commission seat.
"This is your time now," Parker said to the children sitting on the floor at the front.
The crowd chanted along as Parker closed out her set: "Ain't no power like the power of the people 'cause the power of the people don't stop."