With summer quickly approaching, local students from Cedar Shoals High School and Clarke Central High School are more focused on achieving their leadership goals than eating popsicles and swimming with friends.
In August 2018, the University of Georgia and Clarke County School District finalized their collaboration called Georgia Possible, a leadership development program for high school freshmen to prepare them for college and leading their peers.
Georgia Possible was initiated by talks between UGA President Jere Morehead and ACC community members. The Office of the President and UGA's J.W. Fanning Institute for Leadership Development collaborated with faculty from CCSD to create the first cohort of the program, which will start again next school year.
Thirty-seven high school students met for nine sessions over the course of this year — 19 incoming freshmen from Clarke Central High School and 18 from Cedar Shoals High School were chosen by their principals to make a three-year commitment to the program, Harris said.
Factors such as projected timely graduation, attendance, personal motivation, demonstration of leadership potential and the opportunity to be a first-generation college student were taken into consideration, said Executive Director of Secondary Teaching and Learning for CCSD Michael Harris, via email.
'Equity, access and progress' 
"The program is designed to support students entering high school, providing them with skills needed to be successful students in and out of the classroom," Harris said.
Harris believes this program will increase opportunities given to CCSD students to showcase their potential.
"One of our core beliefs as a district is to ensure that equity, access and progress towards excellence are the basic rights that must be afforded to every individual in our system," Harris said. "This partnership is important because we bring in the broader community to provide additional exposure for post-secondary opportunities for our students."
Another core belief is to engage students, families and educators with the broader community.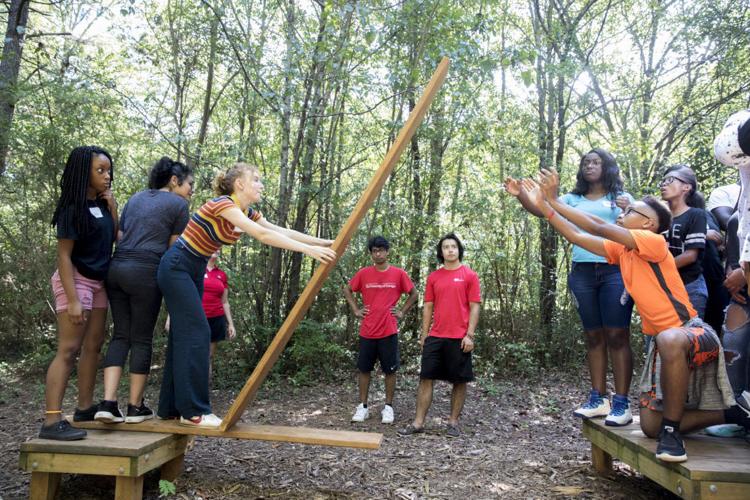 "As educators, we understand that our collective good will have the best impact on our students," Harris said. "We also believe that students, families, staff and the broader community benefit mutually from active engagement with one another."
Harris said some of Georgia Possible's goals include cultivating student self-identity through the sharing of common experiences, informing families of different opportunities for life after high school and preparing students for personal and professional success.
So far, feedback from students and both UGA and CCSD administrators has been positive, Harris said.
"The first year of the program has exceeded expectations," Harris said. "We meet after each session to reflect on the students and adult experience and adjust to ensure that we are meeting our goals."
Seeing results
Cedar Shoals counselor Ariel Gordon has noticed a significant change in her students who participate in Georgia Possible.
"I've watched them develop their identity, confidence, drive, and most warmly, develop strong bonds with the Clarke Central cohort, as the two groups of students are combined for activities," Gordon said via email.
Gordon expressed the importance of a leadership program for high school-aged students.
"This is the time where we're seeing students with initiative wanting to change things about the world around them," Gordon said. "They are thirsty for making positive impacts towards those around them."
Growth has also been noticed by the teachers at the local schools.
"I'm seeing them grow with their willingness to be vulnerable with one another," Cedar Shoals English teacher Katie Baker Johnson said via email. "I've also seen them become more confident in interacting with adults and advocating for themselves. They've set some summer goals too which they had not previously thought of doing."
Georgia Possible allows teachers to provide more opportunities for their students and to help them grow and mature, Gordon said.
"If teachers, counselors and leaders can provide them the platform and a little direction and feedback, we can watch their leadership skills unfold which greater prepares them for living a life of purpose," Gordon said.