In an attempt to find out what his parents were doing behind closed doors, Athens resident Shane Sims's life was changed forever. At the age of 11, Sims witnessed his parents fall victim to the crack cocaine epidemic that swept the nation in the late 1980's.  
"It's almost like all of the institutions of life crumbled on me," Sims said. "It's almost as if I literally walked into the world outside of my home."
Due to his parent's drug addiction, Sims bounced around from household to household, staying with different relatives. His parents stopped monitoring his activity and he no longer had a traditional family structure to guide him. 
---
"It's almost like all of the institutions of life crumbled on me. It's almost as if I literally walked into the world outside of my home."

-Shane Sims, program coordinator at People Living in Recovery
---
Over the last 15 years, two local programs that provided mentorship programs for youth in the area shut down due to budget cuts and unknown circumstances. Another program that was also discontinued in the 90s, a youth mentorship program called Genesis, that helped Sims during the rocky period of his life. 
"I just remember how it felt to be a part of a family and part of a structure, to feel loved and to feel privileged," Sims said about the program.
Sims was five years into his mentorship when Genesis unexpectedly shut down due to a lack of funding. The program was a nonprofit, funded by the community.
Facing insufficient funds
Sims recalls his middle and high school years, witnessing the stress of friends whose parents were also struggling with addiction. His friends no longer participated in school events and they stopped playing sports. Friends and other peers in East Athens began to sell drugs because their stability was gone and it was a mechanism for survival, Sims said.  
At the age of 13, Sims became a part of Genesis. The program was led by an Athens pastor with the goal of mentoring Athens' youth outside of school. Sims eventually became a peer mentor during his five years with the program from age 13-18.     
Another mentorship program, Friends for Life, focused on promoting a better life for youth whose parents were incarcerated. Established in 2004 and run by the Institute for Community and Organizational Development, inc, the program was shut down due to federal budget cuts in 2011.
In order to fund its establishment, F4L was given a three-year, $720,000 grant from the U.S. Department of Health and Human Services that was to $900,000 in 2007 and 2010. 
At its peak, over 700 mentees residing in Barrow, Clarke, Elbert, Greene, Jackson, Madison and Oglethorpe counties participated in the F4L program with about 700 volunteers, former Assistant Director of F4L and current Family Connection-Communities In Schools Project Manager Patricia Sims said. Mentors included community leaders, volunteers and University of Georgia students.
"Mentors and mentees were matched on a one-to-one basis, which was best practice at the time and may still be," Patricia Sims said. "Our mentor pool was very diverse, and many UGA students served as mentors." 
For more than 20 years, the University of Georgia ran the Big Brothers Big Sisters program that helped bridge the gap between Athens and UGA. Children ages six to 11 living in Athens were mentored by UGA students, before the program shut down due to unknown reasons. 
Shane Sims recalls seeing BBBS having a major influence on a few of his friends that participated in the program. 
"The three that I know that went through that program all went to college, and are doing relatively well now," Shane Sims said. 
Today, UGA students and community leaders have filled in some of the gaps left in the midst of these types of shut downs by establishing new programs.
Whatever It Takes at UGA
Whatever It Takes at UGA is a student-led organization consisting of UGA students that mentor elementary, middle and high school students in combatting educational inequity. Mentors focus on building a personal relationship with their mentees while helping students with academic tutoring. 
Elementary school students who participate in the program are bused to either East Athens Community Center or Rocksprings Park and Community Center, depending on their school location. 
The program runs Monday through Friday from 3-5 p.m. and students meet with their mentors once a week during this period. Middle and high school students meet with their mentors once a week for an hour during their connection period. 
"I see the benefit of connecting with kids who are struggling with school and in their personal lives," said Erin Henry, UGA graduate and co-executive director of WIT. "Having them be able to see your success and how you got through your hardships can benefit the students." 
As an education major, Henry joined WIT to be able to experience the community off campus.   
Clarke County Mentor Program
The Clarke County Mentor Program is a nonprofit program that connects community mentors with students in Athens-Clarke County through a partnership between Clarke County School District and the Athens Area Chamber of Commerce.
"Having someone you can talk to, share your interests with and having someone you can engage with is really important," CCMP mentor Zariah Lewis said. "It's super important for them to have a different perspective and different outlook." 
Lewis joined the program to give students a "different outlook and different perspective." 
The program takes place at the mentees' school during their lunch period, after school or other times agreed upon by the counselor with mentors. Following three months of successful in-school mentoring, there is also an opportunity for community mentoring, which involves going to the movies, a museum or a UGA event. 
Students that are chosen for the program are recommended through their parents, counselors or teachers. CCMP currently has about 500 mentors and over 500 mentees, according to Lewis.  
Family Connection-Communities In Schools 
Family Connection-Communities In Schools of Athens works with schools, social services, businesses and community volunteers to help students with basic support including mentors, tutors and after-school help. FC-CIS includes site coordinators, collaborators and neighborhood leaders. 
Site coordinators work with CCSD to help identify "at-risk" students. Coordinators then offer support and develop plans to help students, including recommending mentorship programs. 
Collaborators work with over 100 nonprofit, community, education, government and health organizations to help implement programs and policy changes for students. Neighborhood leaders live in the areas they serve and understand the needs of the local community. Leaders help build relationships with families and inform communities about available programs for their children, along with community planning. 
"It's such a cliche, 'it takes a village,' but it's absoulutely true," FC-CIS Board President Alice Kinman said. 
Tim Johnson, FC-CIS Athens Executive Director, shared a similar sentiment. 
"Engaging with somebody who has experience in education and building a personal relationship with the student is life changing," Johnson said.
Diversity and commitment 
Besides funding, some obstacles mentorship programs have faced are a lack of diversity and commitment in mentors.
WITUGA and the CCMP emphasized the need for a diverse group of mentors that includes minorities and men.
"We want students to see themselves in their mentors," Henry said. "Being able to see the small connections with someone can make it a lot easier to make a relationship." 
Additionally, volunteers who become a mentor for a short period of time becomes an issue when they're assigned a mentee, Johnson said. 
"Research says if a kid has a mentor who sticks with him for less than a year, the kid is actually worse off than when he never had a mentor to start with," Johnson said. "The mentee is going to blame himself because they will think they are not good enough and that's why the mentor disappeared on them." 
Seeking recovery
Today, Shane Sims continues to mentor youth in Athens, as well as people who are seeking recovery from addiction. He is currently the program coordinator at People Living in Recovery, a nonprofit organization that helps people who suffer from active addiction, are in recovery, seeking recovery and issues with homelessness.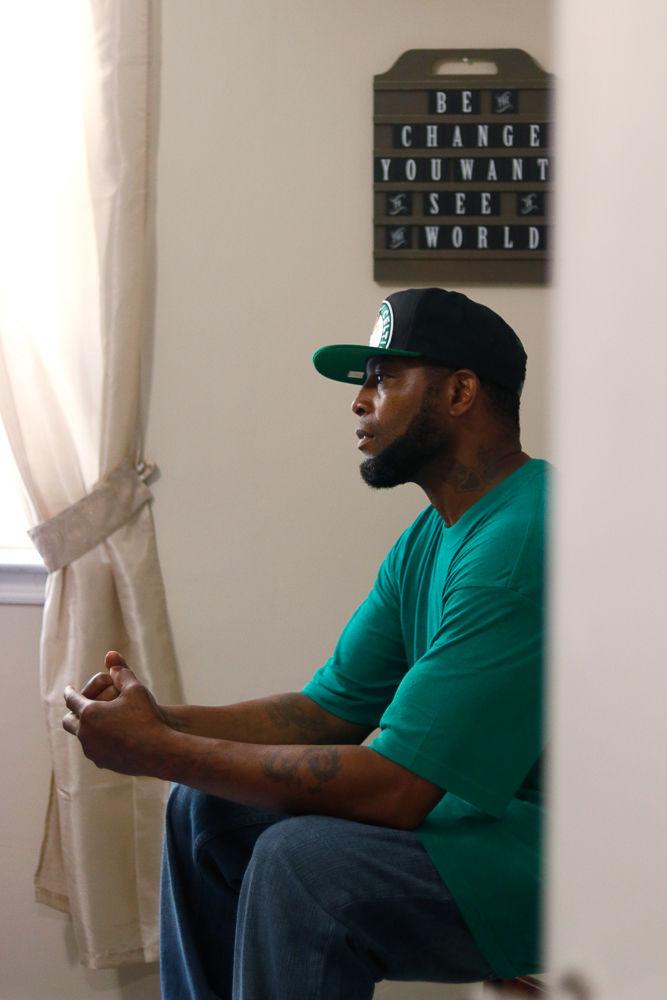 Sims job is to coordinate programs and reach out to the community for support to fund the organization.
"For those of us that work here at PLR, we all have lived experiences," Sims said. "It creates a connection with the ones that we want to reach out to and creates an automatic hope for them that, hey, if you can do it, I know I can trust you to teach me how to do it." 
When it comes to mentoring, Sims said it often doesn't work the way we visualize it. 
"Often, mentorship only plants seeds." Sims said. "The mentor program as well as my father and my mother's involvement in my life, prevented me from just a quicker deterioration and losing my values and my morals out there."