Athens is considered a home away from home for University of Georgia students, but for others, Athens has always been home.
After moving away for various reasons, three former Cedar Shoals High School athletes returned to the Classic City to build and run an athletic facility, United Team Sports Center, for children who may not otherwise have access to such a facility.
The 40,000 square-foot facility is home to a 7,500 square-foot artificial turf, gymnastics area, basketball and volleyball courts, weight equipment and batting cages. It was built in April 2017, with a new mural painted on Sept. 16. The mural, which depicts a bird breaking out of chains, is a metaphor "to show that you can break out of your chains from where you came from," said Daniel Chapman, co-owner and 1996 graduate of Cedar Shoals High School.
Dusty Gunn, athletic director of UTSC, moved back after 27 years of working at a corporate job to follow his passion.
---
Video by Veronica Ogbe
---
Gunn, former quarterback of Cedar Shoals High School and 1991 graduate, said he grew up poor with a mom who had a drug addiction. But he knew he wanted to go to college and was able to achieve his goals with the help of mentors.
In third grade, he discovered Maplewood Boys Club in Maryland that "really saved my life," Gunn said.
"It was the first time for me that I had positive male influences," Gunn said. "That's had a really lasting effect on me, and I want to try to be able to give back."
Just as Gunn would ride his bike for two miles to make it to practice at the Boys Club, one parent does the same by walking four miles to pick up and drop off his children who practice at UTSC.
One afternoon, Gunn said a man picked up his children from the facility, raving about how much his kids loved it. When the man and his children left, Gunn noticed they were walking.
The man told Gunn he had walked three or four miles, about an hour's walk, to pick up his kids. He also walked when he dropped them off that morning and then walked to his job. Although his car broke down, he didn't want his kids to miss an afternoon at the athletic facility.
"It had such an impact on me," Gunn said. "The next day I took the oldest boy aside and said, 'Do you know how much your dad loves you? He just wanted you to be somewhere safe and positive, that he's willing to walk miles and miles just to get you here.'"
About half of the children who visit UTSC come from low-income families, Gunn said. Some 20 kids are on scholarship — 10 from Cleveland Elementary and 10 from Timothy Road Elementary. About 20 kids pay out of pocket. The after school sports program costs $65 a week.
Although Gunn and his coworkers try to blend the different socioeconomic demographics of kids, the goal is still the same.
"We're not a poor kid hangout. We're here to build excellence and help people live to their fullest," Gunn said.
Building a 'Strong' foundation
Providing leadership to the Athens youth was needed in the 1990s just as it is now.
Carlos Strong, coach at UTSC and 1990 graduate basketball star of Cedar Shoals High School, saw the need at the time.
Strong also played for UGA and three NBA teams.
"You don't miss what you don't have. You make do with what you have. But we saw the need for it. [There are] so many kids out there that had it tougher than me … those kids we wanna reach," Strong said.
Serving kids is what the company was founded on, Chapman said.
"It doesn't matter if you're the poorest kid in the county … or if you just need a coach in your life ... That's what [this place is] all founded on," Chapman said.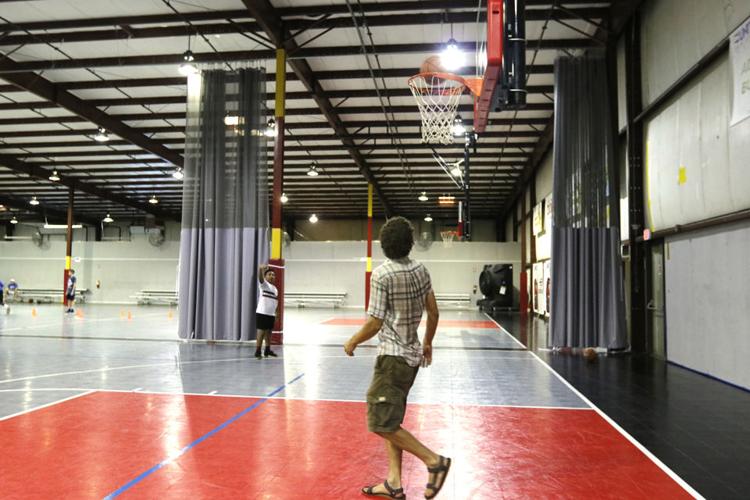 Although primarily sports driven, the staff at UTSC wants to encourage leadership and "teach these kids how to get out there and lead by example," Chapman said.
UTSC didn't start out as an athletic facility, however. The idea began with selling athletic products, from team uniforms to detachable sports sleeves.
The company still sells athletic products, such as light-up shoes and uniforms, but its primary focus is outreach to the community, through eight-week programs each summer and semester-long programs with about 40 kids.
"Athens in general has suffered," Gunn said. "It kills me that you have a university, the University of Georgia … and right across the street you have kids that can't eat dinner."