When Nikema Stovall went to juvenile prison, he was already growing up in a "broken home."
Stovall said his mother went to prison when he was five years old, and he never knew who his father was. While he went to live with his grandmother, Stovall said he "did what the other children did," "followed the crowd" and "got in trouble." This would land Stovall in juvenile for the first time.
On Jan. 8, Stovall spoke on a panel of former inmates, as the panelists discussed their experiences inside and outside of prison as black men.
Hosted by Athens-Clarke County District 8 Commissioner candidate Andrea Farnham and sponsored by Athens Area Democratic Socialists of America, the four panelists were Stovall, Irami Osei-Frimpong, Torrance Wilcher and Terrance Pattman. Approximately 50 people filled room A of the ACC Library, including government candidates and officeholders.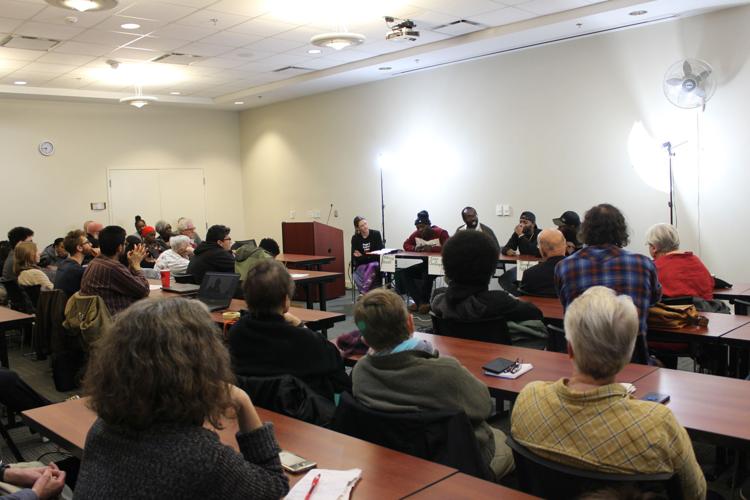 The panelists, who spoke for more than two hours, touched on topics such as mistreatment of inmates in jail, the persecution of black men by the criminal justice system and the cyclical discrimination of black people in impoverished communities. The panel and audience also heard from elected officials' and candidates' proposals to address the inmates' concerns.
A system of racism
While the panelists served time in jail for different reasons, they all had shared experiences in their upbringings and adversities. Through job pursuits or police encounters, the panelists relayed their sentiments as black men in the United States.
Growing up, Wilcher said he has been affected by the stereotypes imparted on black men. Wilcher said society has conditioned him to fear the justice system and other black men as well.
"I live in fear. I live in paranoia. I live thinking that if I'm in the wrong place at the wrong time, I could die or go to jail," Wilcher said. "We live in a system that teaches us that we're dangerous. We fear our own people because we have been conditioned."
However, Wilcher said in taking the time to study the law and recognize his rights, he now has greater confidence in defending himself and his children. Wilcher said now he is "not ashamed to be black anymore."
Stovall pointed to a society that favors white people as the standard to abide by, from the workplace to social settings. Stovall said this bias fuels the discrimination against black culture, such as slang or habits not accepted outside of black communities.
"Society has trained us to think that white is right, that anything black is wrong, is dirty, is nasty, is filthy, is just plain-out nothing," Stovall said. "This is how I talk. Black slang — that's how we talk."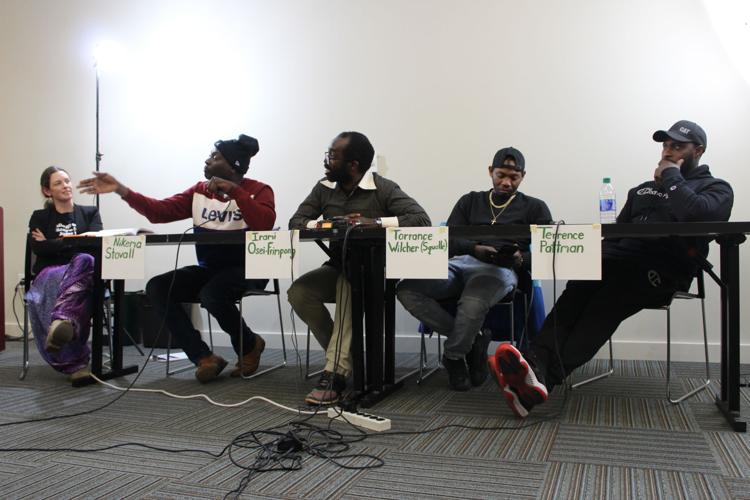 The four panelists all cited discrepancies in pay and treatment throughout different jobs, and because of their backgrounds, they said finding a sustainable job with appropriate working conditions was difficult.
Osei-Frimpong called for reforms in job policies to address the discrepancies between white and black people in the workforce. Both in terms of salary and treatment, Osei-Frimpong said poor working conditions inhibit black people's social mobility.
"White people don't understand because they're treated like employees," Osei-Frimpong said. "We're still kind of treated like slaves. I've never actually had a job where I was treated like an employee."
Discrimination in Athens
Patton grew up in Athens Gardens Apartments, a low-income housing community. Decades later, the community is still around, but Patton said amenities as simple a basketball court have not been constructed. On the other hand, Patton said college students in Athens live in communities with pools and gyms.
Patton said the disparities between the lives of native Athenians and college students are prevalent throughout the city, from poor sanitation to disheveled streets. As a result, Patton said this fosters a negative environment for young people raised in these communities with nowhere to turn.
"If you keep trying to get a job, and you keep getting denied, you're going to turn to something else — it can be legal or illegal," Patton said. "If you put a person in a situation where they have no choice but to go down the wrong road, they're going to go down the wrong road."
Once the children grow up, Osei-Frimpong said support from programs in the community is stripped from black people. Osei-Frimpong pointed to local business owner Lil' Ice Cream Dude as a black male who could become disenfranchised by the Athens community.
"I worry about Lil' Ice Cream Dude because pretty soon he'll become Lil' Ice Cream Man, and I don't know what happens to him after he stops being cute," Osei-Frimpong said. "I do think it's kind of cheating to always focus on children and pretend that black 24-year-olds are doing well because they're not."
Toward the end of the discussion, Osei-Frimpong gave elected officials and candidates a moment to address the panelists' concerns and propose their solutions. For approximately two minutes a person, the candidates pitched their ideas.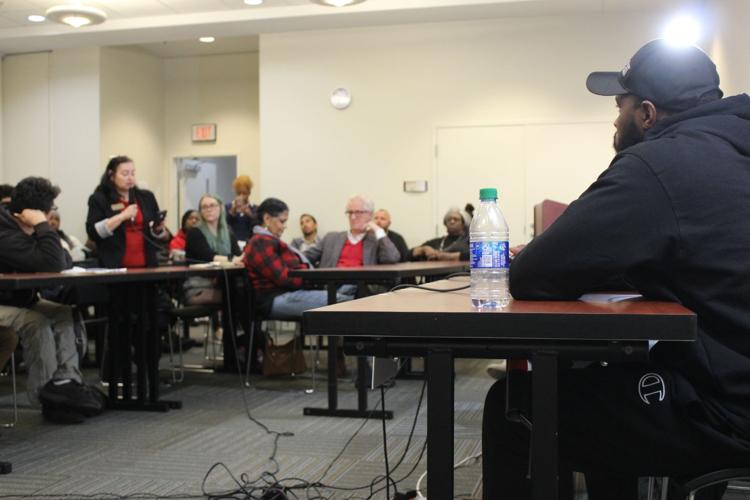 Richard Winfield, a candidate for U.S. Senate, proposed the removal of plea bargaining and reformation of cash bail. Deborah Gonzalez, a candidate for district attorney, expressed her concerns over the lack of diversity in the justice system and pledged to reform the district attorney's office. John Q. Williams, a candidate for sheriff, proposed treatment programs over immediate jail sentences for drug charges and addressing the issue of sex trafficking.
Farnham concluded the discussion on a note for candidates and elected officials to consider the inmates "as a part of the whole" of the constituency they are serving.