It's a world without phones and a car-ordering app to transport you to the nearest Steak n' Shake, Cook Out or The Varsity. No late night snacks to curb your munchies. It might seem crazy to students, but really it was the world of our parents — about 30 years ago.
That was the world of the 1980s when Walter's Barbecue was the prime hangout spot for University of Georgia students, Athens locals and the popular local stars of R.E.M.
Both R.E.M. and the owner Walter Rittenberry were featured in the 1987 "Athens, Ga - Inside/Out" documentary.
That same year, R.E.M. dedicated a song, "Walter's Theme," to Walter's Barbecue. "Put on my boots and going down to Walter's, get me some barbecue," the band sings.
Walter's Barbecue lived out its heydey at 1660 W. Broad St. for approximately six years.
After closing in 1990, the low-ceiling, 1,267-square-foot building couldn't keep a name. About six restaurants called the location home, most of them lasting less than a few years.
Nearly three decades after Walter's Barbecue, fully vegan Eden's Cafe will hope to mimic its success when it opens in mid-May.
---
Vegan food on Broad, take two
Julie Hutchins, co-owner, of Eden's Cafe, hopes to "rekindle the plant-based history of this building and work within the space provided," referencing the vegan restaurant, Broad Street Coffee, that was here from November 2012 to December 2013.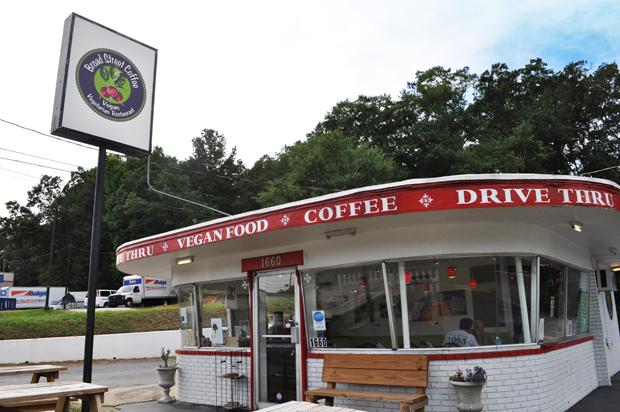 When in business, Broad Street Coffee even had a BBQ sandwich — tofu, of course — as a nod to Walter's.
Eden's Cafe already has at least one customer lined up for its grand opening. Elena Bianchelli, an Athens resident since the 1980s and a UGA lecturer, plans to be there the day it opens to support her long-time friend, co-owner Nick Bradfield.
"Previous places have come and gone, so I hope that this will be a successful place that will stay around for a long time," said Bianchelli, a customer of previous restaurants at this location.
---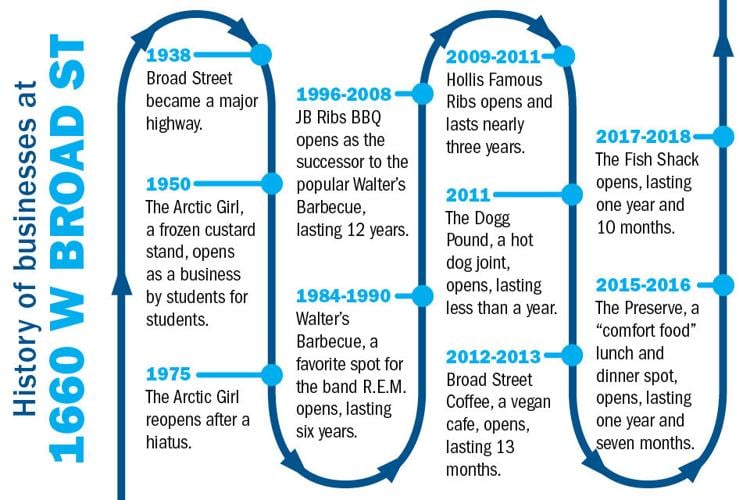 A long history
Current students remember this local spot best as the Fish Shack, which was open from February 2017 to December 2018.
Before that, the little building held many different names as the area around it continued to develop, including being a hot dog joint and another barbecue place.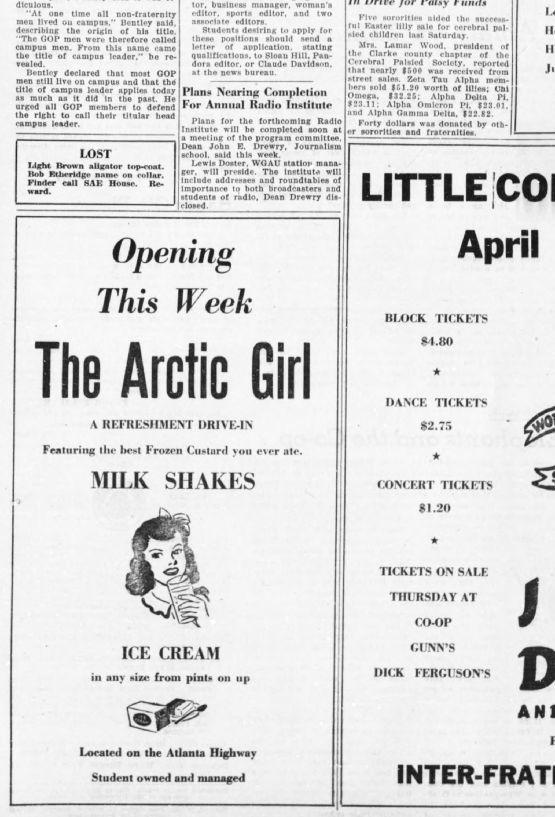 One of the first restaurants to open here was in 1950. The Arctic Girl, a frozen custard stand, was advertised as a business for students by students.
About 20 years before that, Broad Street was just starting to become the busy four-lane highway with which we're familiar, said Steven Brown, university archivist at the Hargrett Rare Book & Manuscript Library.
In 1938, Broad Street was the site of a U.S. Army camp, dairy farm and Athens' "west side school for black children," Brown said. Once the area became urbanized, restaurants dotted the landscape, ranging from coffee shops to barbecue eateries.
It'll be a waiting game to see if Eden's Cafe can mimic the success of Walter's. Who knows — maybe the next band to come out of Athens will be writing about grabbing a vegan snack at this Broad Street spot.