The protesters lining the sidewalk were silent, but their signs and images read loud and clear. A chorus of "animals deserve better" and "stop this cruelty" were unavoidable to drivers and customers.
The Sept. 8 protest, called Athens Protests McDonald's was a peaceful stand against the fast-food chain's welfare policy for chickens.
The protest was organized by Brooke Shephard who said this was her first time volunteering with The Humane League, a nonprofit that works to reduce the suffering of farm animals.
"I had been wanting to align my actions with my words, and the opportunities that The Humane League has given me are beyond what I could ever have hoped for," Shephard said. "I'm very excited for this opportunity to help so early in my life."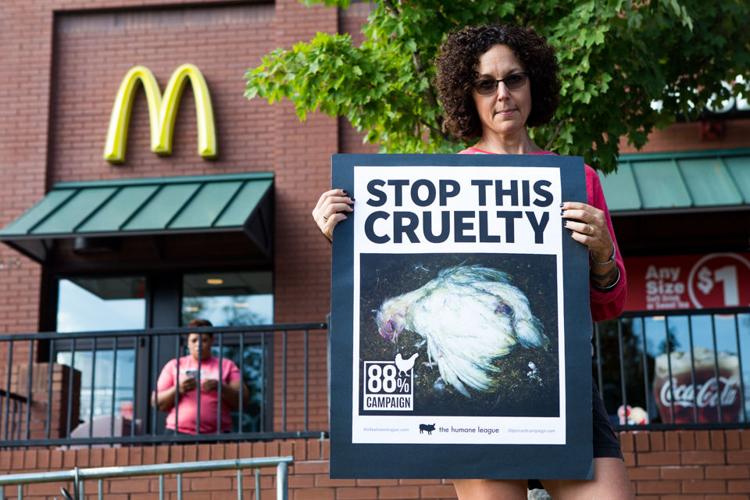 As for the solemn demeanor of the event, Shephard said their appearance is an important part of getting their message out.
"The Humane League believes in presenting in a professional manner so that McDonald's will not disregard our campaign," Shephard said. "We are serious about animal protection and want the public to know that we don't blame them. It's up to McDonald's leadership to do the right thing."
One McDonald's customer was exiting the drive-thru when protesters first arrived. She told them she was vegan and only there to get a sweet tea and later returned to grab a sign and join the protest.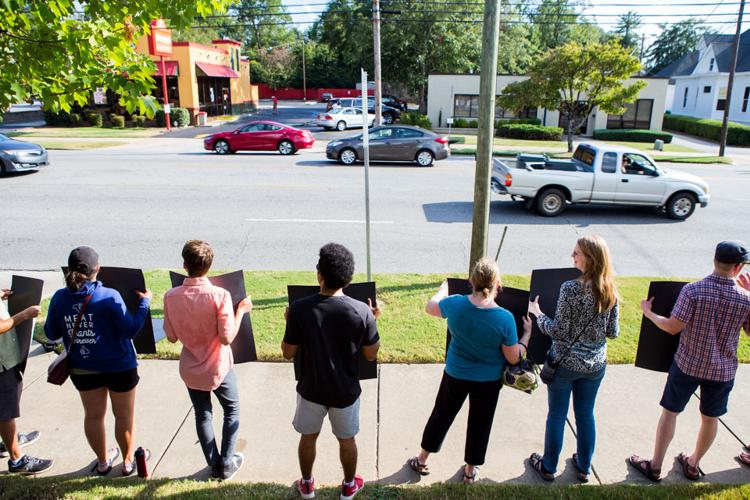 According to a March press release from The Humane League's campaign against McDonald's, their goal is to convince the fast-food giant to produce a more comprehensive policy to address the basic welfare for the chickens in its supply chain.
"We would like to see environmental enrichment for these animals such as natural light and straw bales as well as reducing stocking density to give the chickens more room to live," Shephard said. "We would like McDonald's to move to higher welfare breeds of birds to reduce health issues and crippling injuries."
In October 2017, the McDonald's Newsroom announced eight new commitments to advance chicken welfare, which included the establishment of McDonald's Advisory Council for Chicken Sustainability.
According to the statement, the changes will be implemented on or before 2024.
Shephard, however, remains unimpressed.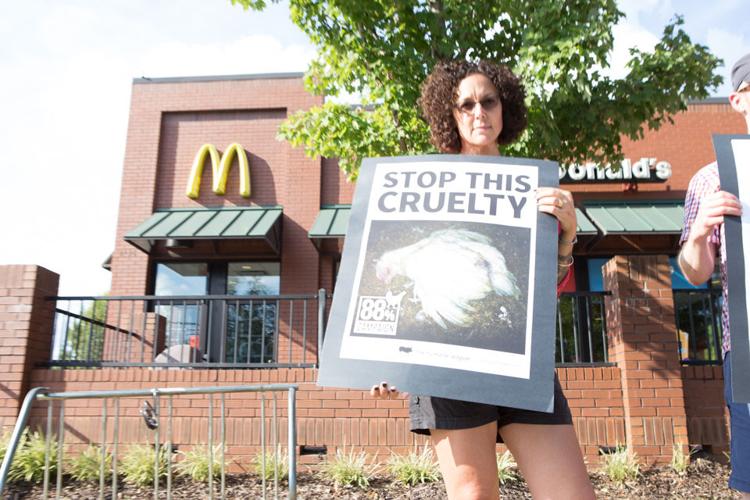 "I believe they are as vague as possible so that McDonald's can have as much wiggle room as possible with how they treat their chickens," Shephard said. "Their welfare policy does not protect or better the lives of these animals before they are slaughtered."
The Human League claims even under McDonald's new welfare policy, its chickens are still mistreated.
According to The Human League's campaign, McDonald's chickens are forcefully bred to grow so large that they become paralyzed under their own bodies and are still forced to live in overcrowded, dark, barren barns, sometimes resulting in ammonia burns on their chests and legs.
Protester Robi McGarvey, a senior ecology major from Lawrenceville, heard about the protest through UGA's Speak Out for Species club.
"I just want people to care enough to look into where their food comes from," McGarvey said. "I think if more people researched how these animals are being treated, they wouldn't be okay with it, and they wouldn't support the meat industry."
Alexandria Ellison, a senior journalism major, came to the protest to work on a project for her video journalism class.
"Everyone here is so peaceful. People aren't attacking one another or demonizing people because of their lifestyle choices," Ellison said. "They're just trying to spread awareness in a peaceful way, and I think that's great."
McDonald's employees declined to comment.
---
Correction: In a previous version of this article, The Red & Black misidentified McDonald's chickens as weighing upward of 660 pounds. The Red & Black regrets this error and it has since been fixed.