If you purchased a wristband, T-shirt, vendor spot or even just a beer at this year's AthFest, the profits from your purchases will finance children's music and arts education in Athens-Clarke County.
The annual music and arts festival channels funds toward programs that benefit kids grades K-8.
AthFest Educates, the nonprofit that hosts AthFest and the AthHalf marathon every year, gives its profits from the events away through annual grants. The grants are given out in October to select educators who meet the application requirements. Applicants must provide information for their proposed project and its estimated cost.
All applicants have a chance to be given up to $5,000 for a project of their creation, and during the 2017-18 grant cycle, the AthFest Educates awarded more than $28,000 to 10 recipients.
Many beneficiaries are educators who could not otherwise afford such expenses. While every school has at least one fine arts teacher, budgeting for fine arts changes yearly, Chief Financial Officer of Clarke County School District Larry Hammel said.
"That's the other problem, you never know [how much] you're going to have," said Sarah Parido, music teacher at Burney-Harris-Lyons Middle School and a 2017-18 grant recipient.
Annual budgets are typically spent on necessities like equipment repair or general supplies.
Grants, however, provide an opportunity for educators to create new programs or enhance existing ones, something they could not typically do without pulling from their own pockets.
Every penny counts
Parido was awarded a grant of $2,454 from AthFest Educates this past year to purchase 15 new acoustic guitars, along with accompanying bags and stands for her eighth grade music class. The guitar program previously had about 20 used guitars. Parido said introducing the new instruments allowed more students to play.
"Most of our students can't afford to have their own, so if they didn't have one provided by the school for free, then they just wouldn't be able to participate in music," Parido said.
At most of the schools where teachers received 2017-18 grants, 92 percent of students qualify for free or reduced meals, according to the Georgia Department of Education in 2018.
Melanie Powers, music teacher at Whitehead Road Elementary School, said her class could not have normally afforded the 21 tubano drums that were purchased with an AthFest Educates grant of around $4,000.
---
Athens is a musical place, and these students really deserve to have that in their lives.  -  Sarah Parido, music teacher at Burney-Harris-Lyons Middle School and  2017-18 grant recipient.
---
Powers used the drums to establish an African drumming program in hopes of improving students' literacy, coordination and self-esteem using methods like asking students to create drumming beats from syllables.
"Music is a real level playing field," Powers said. "The kids that don't always excel academically sometimes are the absolute best performers in music."
The brand-new drums provided are the kind of long-lasting equipment music teachers need, Powers said. She plans on applying for future AthFest Educates grants, as does Parido.
Dan Smith, an art teacher at Barnett Shoals Elementary School, has been a public school teacher for about 20 years and at Barnett Shoals for the past two. He received a $1,147 grant from AthFest Educates and used it to bring local watercolor painter Jamie Calkin to his fifth grade classroom.
The students had the chance to produce artwork that will be incorporated into a larger "legacy" project, Smith said.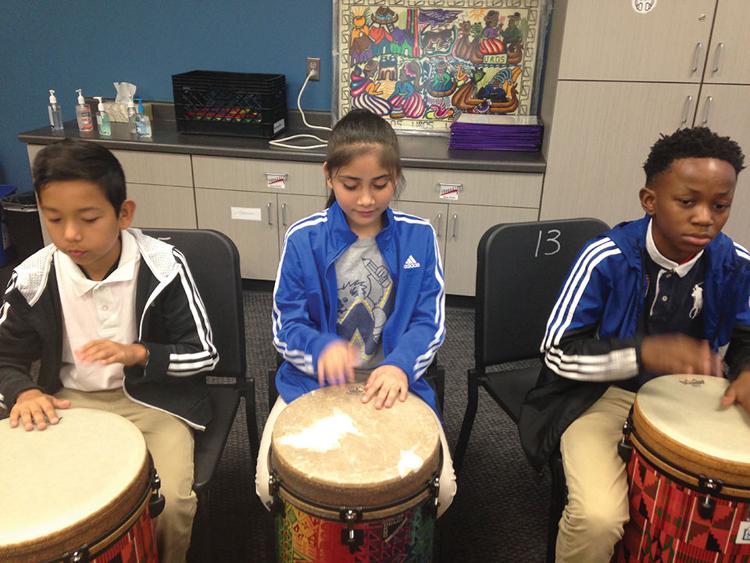 "That's something you can do with art, you make an artwork and you leave a little bit of yourself around the world when it's displayed. [Students] get to be part of that," Smith said.
Smith was also the recipient of a 2014-15 grant when he taught at New Gaines Elementary School. Smith brought in local artist Patrick Dean to assist in a comic book creation activity with his fourth grade class.
Art teacher at Winterville Elementary School Carlin Brownlee took a different approach in her grant project, using an app to let her students create stop motion videos. The $4,213 grant went toward purchasing 12 iPads, as well as cases and modeling clay for her fourth and fifth grade classes, she said.
"Kids are just drawn to technology," Brownlee said. "Maybe sometimes a little bit too much, but it is the world we live in. They love it, and it's just such a cool connection to a real world art career."
Festivals for funding
The selection process for grant recipients is determined by the AthFest Educates Grants Committee, using a rubric to score project proposals. Applicants with the highest scores receive grants.
AthFest is "not a huge money maker," said Rachel Allen, media representative for AthFest Educates. Costs include paying the bands, renting equipment and hiring people for set up, Allen said.
In 2016, the festival costed approximately $200,000 to put on and raised almost $15,000 in profits, a "great year" according to Allen. The goal is that this amount, combined with the profits from AthHalf, will raise $50,000, which AthFest Educates says is the average amount of grant money.
The profits from this years festival have not yet been calculated.
While many recipients are music or art teachers, educators in any school subject, as well as local nonprofits and government agencies, can apply, as long as they propose a project centered around music and art. Guidelines for the project are left up to the applicant.
Regardless of who receives the grants, Parido believes providing these new opportunities for students in fine arts programs is vital for their future growth and that of the community.
"Athens is a musical place, and these students really deserve to have that in their lives," Parido said. "I will definitely not stop applying."