On a normal Friday night in Athens, bar manager Scholl Wright would be opening up On the Rocks at 8:30 p.m., prepping for the 11 p.m. rush. His night would consist of tending bar, refilling syrup, monitoring the computers and making sure the occasional bar fight was handled until things quieted down again around 1:30 a.m.
When downtown Athens bars first closed in March, Wright was out of a job. As local and state governments implemented shelter-in-place policies to prevent the spread of the coronavirus, Wright, along with all other bar workers in the city, didn't know when their businesses would reopen.
Gov. Brian Kemp recently extended his order for bars and nightclubs to remain closed until May 31. Nevertheless, in the roughly two months these businesses have been closed, they have already lost more than an estimated $4 million in sales and fixed expenses.
"We may very well see a shrinkage in the industry, which will mean that some of those places that are diverse and that allow people to have their niche, they may not be able to make it," said Jarrod Miller, chief operating officer of 1785 Bar and Grill (formerly Jerzees Sports Bar), OTR and Moonshine.
In addition to employing members of the community, Athens bars contribute to the culture of the city and the county's tax revenue.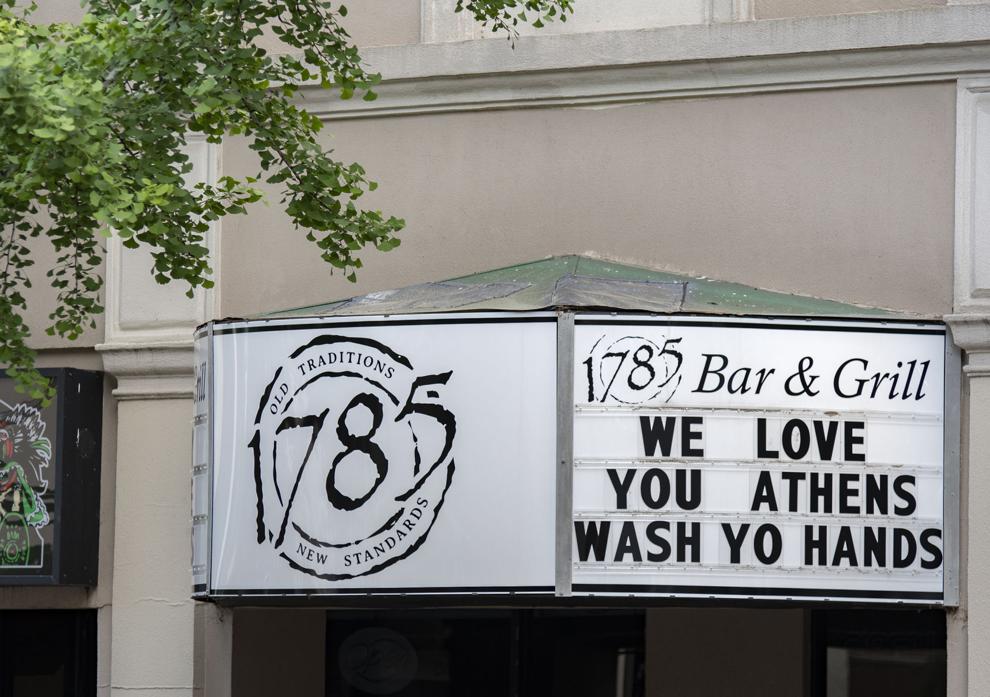 The Athens-Clarke County government has not declared whether it will choose to place further restrictions on bar reopenings as of press time, but any actions would have to be after Kemp's executive order expires on May 31.
Athens businesses licensed to sell alcohol reported a 70% decrease in gross mixed drink sales from February to March, according to April 30 county excise tax reporting. Bar closures occurred in mid-March.
While some establishments attempt to support their employees during this time, they must also keep up with fixed expenses, which include an annual alcohol license payment, monthly utility bills, insurance and — for those who do not own their buildings — rent.
Despite government aid and actions taken to support these businesses, owners and Athens Clarke-County officials said none of the efforts can make up for the bars' losses in revenue.
Alcohol makes Athens go round
For licensed alcohol establishments in Athens, the sale of mixed drinks determines how much the business must pay in taxes. The ACC government collects a 3% excise tax on all mixed drinks, which includes any distilled spirit or liquor, as well 1% in sales tax. So, if you spend $2 on a bourbon and coke happy hour special, the county gets 8 cents.
According to county records, Athens establishments made $24 million in gross mixed drink sales in 2019. The 4% in excise and sales taxes paid to ACC on that total would be about $960,000. This represents a sizable portion of ACC's total tax revenue, which in 2019 was about $700,000 in excise tax revenue and $24 million in sales tax revenue.
All licensed alcohol establishments averaged about $2 million a month in gross mixed drink sales last year, meaning establishments potentially lost more than $4 million in the past two months not counting sales of beer, wine or food.
"You have to sell a lot of vodka sodas to eke out a profit," Jon McRae, owner of Sister Louisa's Church bar, said. "And if you're not selling any vodka sodas and you still have to continue paying all of your expenses, then you're going to be in trouble."
As part of their fixed expenses, bars pay for a series of alcohol licenses ranging from $600 to $5,000 per year, depending on the type of alcohol they sell. For licenses to sell wine, beer and liquor, establishments must pay $7,000 total annually. These expenses are what make the margins in the industry so thin, McRae said.
For some relief during the pandemic closure, the owners of Church and Flicker Theatre and Bar have negotiated with their expense holders, such as insurance companies, landlords and utility companies, for temporarily reduced rates. Kim Long, one of the owners of Flicker, said Flicker's landlord has provided a discount on the rent while Flicker is closed.
While individual establishments may bring in hundreds of thousands of dollars on their own in a year, Athens also has owners and management groups which run two or more bars, as is the case with Miller's bars.
While these may make more sales, they also face double or triple the fixed expenses a single bar may face. For example, the cost of rent for each bar's location may vary, meaning that during the pandemic, owners could have to negotiate rent with multiple landlords.
"I can tell you, hands down, our bar scene here in Athens is second to none, but [the pandemic] could very easily be a cleanser," Miller said.
'A drop in the bucket'
Some of the fixed expenses for bars, like rent, may be renegotiated, and utilities may be low due to little use while bars are closed. However, Long is worried about reopening Flicker.
Flicker, like other establishments such as the The World Famous bar, is selling its alcohol inventory for take-out as permitted by a March ACC emergency ordinance passed to help businesses licensed to sell alcohol earn revenue despite the closures.
"Once we're open, we're going to be in the negative twice because we're going to have to replace the stuff we sold," Long said.
Long said 100% of Flicker's current sales are going back into operating costs, but McRae said Church has enough savings for the time being. McRae and Miller chose to hold on to their inventory for when they reopen.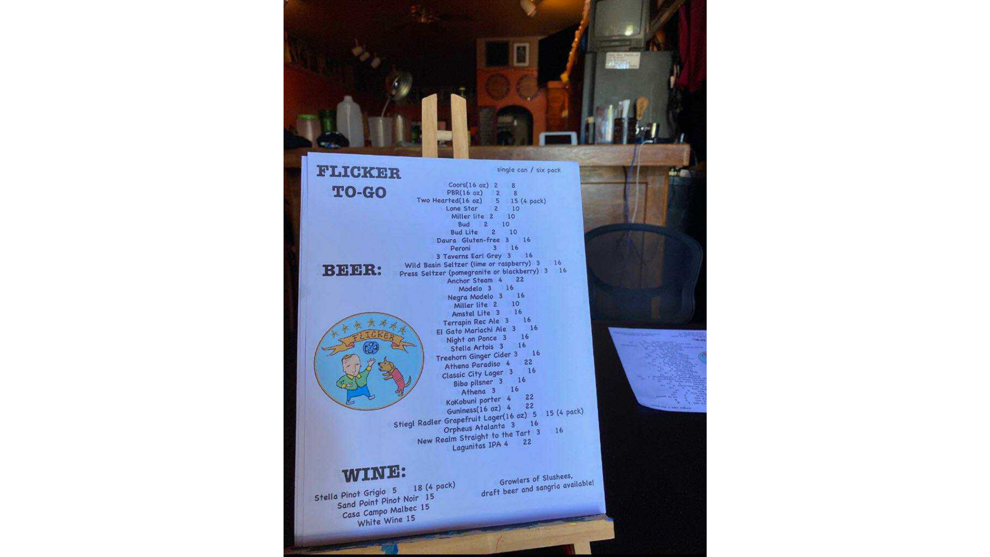 Though there are options for federal grants, ACC is looking at ways to keep these establishments going. However, there is no guarantee any efforts will keep some businesses from shutting down.
In addition to the take-out alcohol ordinance, downtown businesses could have applied for a $1,000 grant from the Athens Downtown Development Authority through March 30, said David Lynn, ADDA's director of planning and outreach. Long and McRae said the grant money was primarily used to make their most recent payroll.
Due to its limitations in providing grants, ACC is set to create a development authority with the city of Winterville to provide grants to businesses. However, the authority does not know how much money it can grant businesses yet, said District 3 Commissioner Melissa Link, who represents downtown Athens.
The commission is also discussing refunding the annual alcohol license, but this would not be determined until June, Link said.
"It's not a whole lot — it might get some places a couple extra thousand dollars — but that is a drop in the bucket for most. It could help a little bit," Link said.
The owners of both Church and Flicker applied for the federal Small Business Administration's Economic Injury Disaster Loan advance and the Paycheck Protection Program. The EIDL loan was supposed to provide up to a $10,000 advance. Though Church has received $1,000 per employee from the EIDL so far, McRae said the amount alone would not be enough to "hold them over." Flicker has yet to receive any loan money from EIDL as of May 17.
For Flicker, Long said the full $10,000 loan would keep them going for about a month, but $20,000 would provide them with some "wiggle room." Owners from both businesses said the unemployment benefits they applied for on behalf of their employees pays more than the PPP would.
However, none of these grants, loans, local government waivers or refunds total up to the estimated $4 million loss of business these establishments have experienced in the past two months, or the amount in fixed expenses they continue to pay.
There is fear for what the future holds after the pandemic winds down.
Miller worries about people avoiding Athens altogether. McRae does not want to think about what Athens would look like if half of its bars and restaurants do not reopen. Long fears people will be too scared to go out.
"This is the time when we all need to stick together because if one of us closes, it's not long before we're all closed," Long said.
---
This story was updated to clarify details about the stream of excise and sales tax revenue to Athens-Clarke County.
---
This article is part of ongoing coverage of bars and restaurants and how they are impacted by COVID-19. Please contact Anila Yoganathan at ayoganathan@randb.com with any news tips or updates.