ATLANTA — Brian Kemp spent much of the big moments of his campaign in his hometown of Athens, but for his official inauguration as Georgia governor, the backdrop was gold and white instead of red and black.  
Kemp and other officials elected to statewide positions last November took the oath of office at the Georgia Institute of Technology's McCamish Pavilion, with an audience of about 8,000, The Atlanta Journal-Constitution reported.
"Together we will put hardworking Georgians first," Kemp said. "I know there will be adversity, those that would like to tear us down. There will be difficult days and dark nights, but together, we will overcome."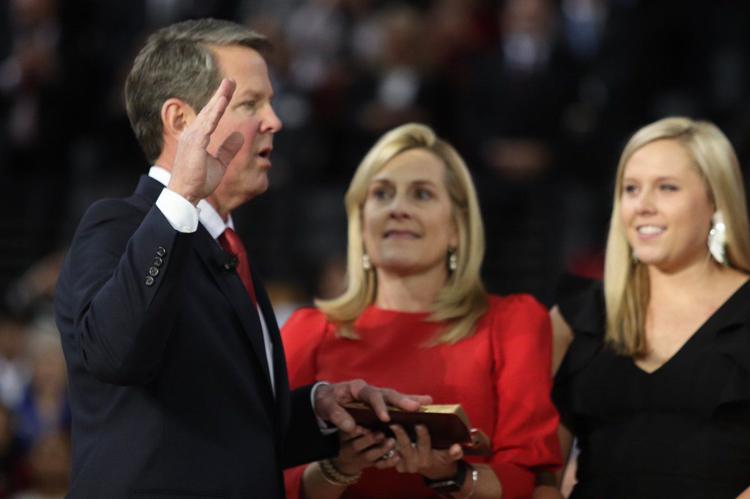 After being sworn in, Kemp's first order of business was administering the oath to Lt. Gov. Geoff Duncan, who, as a Tech graduate, joked about their college rivalry.
"I was slightly concerned where our relationship got started because of the whole Georgia-Georgia Tech divide," Duncan said. "We seemed to be always meetings in Athens, but the selection of this ceremony on Georgia Tech's campus, we're finally ready to work through that divide."
In their remarks after inauguration, Kemp and Duncan both emphasized they plan to make Georgia a hub for technological development, with Kemp calling Georgia the "soon-to-be cyber capital of the world."
Though Kemp wasn't in Athens, he did give a shoutout to former Georgia football coach Vince Dooley and former Georgia running back Herschel Walker along with other "hardworking Georgians," including Martin Luther King Jr. and Supreme Court Justice Clarence Thomas.
---
"Together we will put hardworking Georgians first."
— Brian Kemp, Georgia governor 
---
The inauguration started at about 2 p.m. with a prayer service in The Cathedral of St. Philip before moving into the McCamish Pavilion.
Kemp administered the oath of office for Brad Raffensperger as secretary of state, Chris Carr as attorney general, Gary Black as agriculture commissioner, Jim Beck as insurance and safety fire commissioner, Richard Woods as state school superintendent, Mark Butler as labor commissioner and Chuck Eaton and Tricia Pridemore as public service commissioners.
Kemp takes office as the 83rd governor of the state and the third Republican in a red streak, promising another four years of conservative leadership.
Though his audience at the inauguration enthusiastically supported the incoming leadership, clapping during speeches and standing multiple times for the new officials, a group of Georgia Tech students outside the pavilion were much less excited.
Touting handmade signs with messages such as "Brian Kemp rigged his own election" and "53,000 Georgians silenced by Kemp," the group chanted across the street from the pavilion behind a metal railing.
Georgia Tech students protest outside the inauguration with signs, remind students of how the governor could influence their college president. #gapol @redandblack pic.twitter.com/v2TTkYTLx0

— Erin Schilling (@erinschilling85) January 14, 2019
Mitch Veazey, a junior computer science student, said the protest was organized through a Facebook event and wasn't attached to any particular organization.
Different students used a bullhorn to express outrage about the former Secretary of State allegedly purging minority voters.
One student reminded her fellow protesters that Kemp will directly affect them as students since Georgia Tech President Bud Peterson will be retiring, meaning the new governor's University System of Georgia Board of Regents appointees will be choosing their next president.
Kemp's conservative ideals follow in the footsteps of former governors Nathan Deal, who is set to start teaching at the University of Georgia later this semester, and Sonny Perdue, who is now the U.S. Secretary of Agriculture.
Though Kemp is not the first University of Georgia alumni to become governor, he is the first Athens native to make the Governor's Mansion his home.
Former Mayor Nancy Denson presented him with the key to the city on Saturday, Jan. 12 during the "Keep Chopping'" reception in the Classic Center toward the end of his "Georgians First" celebration tour, which included stops in Augusta, Savannah and Columbus.
PHOTOS: Gov. Brian Kemp swears in at Georgia Tech, met with supporters and protestors
Gov. Brian Kemp and other officials elected to statewide positions in November 2018 took the oath of office at the Georgia Institute of Technology's McCamish Pavilion in Atlanta, Georgia on Monday, Jan. 14. Kemp takes office as the 83rd governor of the state of Georgia and the third republican in the past three terms.
This tour, which he took during his last days as governor elect, emphasized Kemp's desire that the "Georgians first" campaign slogan be more than just a catchphrase now that he's in office.
He campaigned heavily on this idea and wants to focus on increasing resources to rural Georgia, strengthening small businesses, improving programs to fund education and protecting traditional values and rights and reiterated this to the audience at the inauguration.
Though he and Democratic gubernatorial candidate Stacey Abrams squared off in a long, contentious race, Kemp is encouraging bipartisan teamwork going into office.
"We will put people ahead of divisive politics," Kemp said in his inaugural address. "We will be known as the state united. It can be done."