If you send a Snapchat message to #CanIRecycleThis, you may receive a message back from a green bitmoji character that tells you whether or not a certain material or object can be recycled in Athens-Clarke County.
Behind the phone screen is Katherine Elizabeth Shayne, a University of Georgia graduate student in environmental engineering. She has been working alongside a team of all female engineers to develop Can I Recycle This, a project that uses social media to instantaneously respond to recycling questions.
Shayne said since launching, she receives about five Snapchats a day. People can send a photo of an item to the "green girl" that represents the account and ask whether or not it can be recycled.
"What we're finding is that people don't want to go search for 10 minutes on a website what they can or can't recycle," Shayne said. "They want something that's immediate and something they already have."
Shayne and fellow environmental engineering college graduate Kathryn Youngblood are advised by Jenna Jambeck and April Crow, both professionals in the sustainability field. Crow has prior experience in corporate sustainability, while Jambeck is a global leader in the study of ocean plastic waste.
The project was launched on Sept. 3, and so far the team has put up flyers in major locations on North and South Campus as well as community boards around town. Shayne said she wants to create stickers displaying the Snapchat code to put on the recycling bins on campus, but this would require approval from the university.
The team has already been working with the ACC Recycling Division. Mason Towe, program education specialist in the division, said the department is in full support of the project and will continue to work with the team to promote it.
For the future of this project, the team is developing an artificial intelligence system to automatically reply to messages. The AI will use image recognition to determine what material is in the photo and reply with scripted messages.
Shayne said the team has only tested image recognition using a Facebook messenger "bot," but the technology is still in the works.
Shayne called Athens "ground zero" for the project, as it still lives on a very small scale even within the community. The team plans on expanding, both to in-state cities such as Columbus –– Shayne's hometown –– and other states such as North Carolina. If it were to expand, Shayne said they could brand their project as a service cities could pay for, creating profit for its creators.
"We definitely want to take this and bring it to other cities and help populations understand their waste," Shayne said. "There's a lot of contamination that happens in the recycling facilities that cost cities money, so we're trying to save them money too by providing this service."
Recycling is an extremely localized operation, with each city having its own dos and dont's for accepting certain materials. For example, Marietta no longer accepts glass bottles in single-stream recycling while ACC does. The team plans on tackling these specifics, using GPS to determine where a recycling question is coming from, similar to social media apps using GPS to customize experiences.
Expanding the project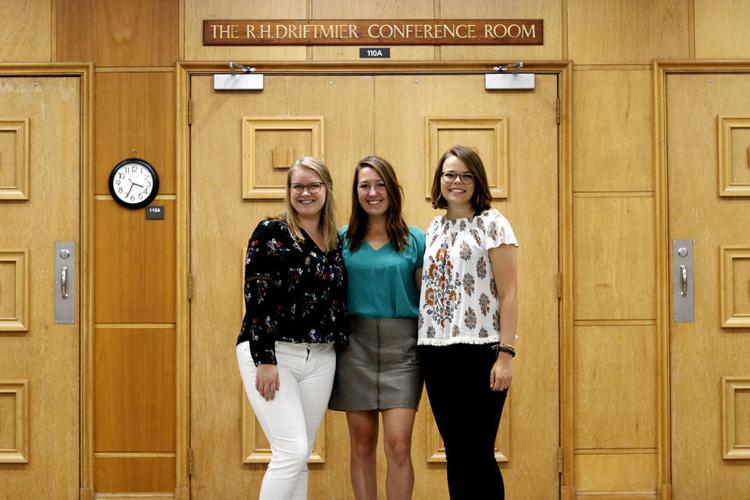 Through Can I Recycle This, Shayne believes she is doing her part to curb pollution from entering oceans — what she calls "a tragedy of our generation." She hopes pollution numbers start to go down. Solid waste departments around the globe are a big part of the equation.
Towe is one of five employees in the ACC Recycling Division. While staff members provide educational resources and personal responses to recycling questions, he said they would be unable to manage a program such as Can I Recycle This.
"We have talked about different models like this in the past, what can we do as ACC and also as the recycling education community," Towe said. "But it kind of came down to staff time and if we would be able to effectively do this."
Crow, one of the team's advisers, thinks this project has great potential at a business level. She previously worked for the Coca-Cola Company as senior director on environment and sustainability, consulting on more sustainable packaging methods and practices.
"I think that it's the really smart approach, just building onto something that already exists versus trying to create something that people have to remember to go to," Crow said.
When she attended UGA between 1991-1995, Crow said the term "sustainability" was not used around campus. She sees this project as coming at the perfect time when recycling and reducing plastic is becoming a more salient issue.
As for members of the older generation who may not use social media apps on a regular basis, Crow thinks it comes down to whether or not people value sustainable practices more so than their age.
"It is generational, but then it's also people values and what they're interested in, whether this would be something that they would be interested in using," Crow said.
Shayne recognizes this project is aimed at high school and college students, as well as people in their early 30s. However, the team wants to reach the largest audience possible, and Shayne hopes an older demographic is able to connect as well.